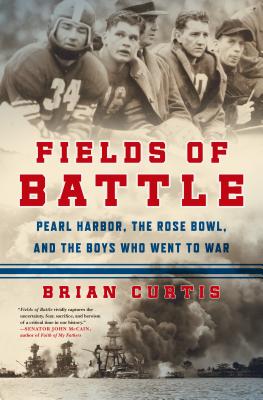 Fields of Battle
Pearl Harbor, the Rose Bowl, and the Boys Who Went to War
Hardcover

* Individual store prices may vary.
Other Editions of This Title:
MP3 CD (6/14/2017)
Paperback (10/3/2017)
MP3 CD (6/14/2017)
Compact Disc (6/14/2017)
Compact Disc (6/14/2017)
Description
In the wake of the bombing of Pearl Harbor, the 1942 Rose Bowl was moved from Pasadena to Durham, North Carolina, out of fear of Japanese attacks on the West Coast. It remains the only Rose Bowl game to ever be played outside of Pasadena. Duke University, led by legendary coach Wallace Wade Sr., faced off against underdog Oregon State College, with both teams preparing for a grueling fight on the football field while their thoughts wandered to the battlefields they would soon be on.

As the players and coaches prepared for the game, America was preparing for war. President Franklin D. Roosevelt and British Prime Minister Winston Churchill met to discuss the Allied strategy in Europe; a discussion that would change the lives of the boys and men on the field in Durham.

Finally, on New Year's Day 1942, under dark gray skies and occasional rain, the two teams clashed on the gridiron in front of a crowd of 56,000, playing one of the most unforgettable games in history. Shortly afterward, many of the players and coaches entered the military and would quickly become brothers on the battlefield. Scattered around the globe, the lives of Rose Bowl participants would intersect in surprising ways, as they served in Iwo Jima and Normandy, Guadalcanal and the Battle of the Bulge. Four players from that Rose Bowl game would lose their lives, while many more were severely wounded. In one powerful encounter on the battlefield, OSC's Frank Parker saved the life of Duke's Charles Haynes as he lay dying on a hill in Italy. And one OSC player, Jack Yoshihara, a Japanese-American, never had the chance to play in the game or serve his country, as he was sent to an internment camp in Idaho.

In this riveting an emotional tale, Brian Curtis sheds light on a little-known slice of American history and captures in gripping detail an intimate account of the teamwork, grit, and determination that took place on both the football fields and the battlefields of World War II. It was a game created by infamy and a war fought by ordinary boys who did the extraordinary.
Praise For Fields of Battle: Pearl Harbor, the Rose Bowl, and the Boys Who Went to War…
"A fascinating and inspiring book that's about football, yes, but also about a great deal more… Curtis brings to life, without glamorizing or sanitizing, the courage and determination of these young men… Deftly, never belaboring his message, he makes it clear that, sports metaphors notwithstanding, playing football is nothing compared to fighting for your life and freedom… This is a fine book. It's a riveting story—really, many stories—well told. It's also a revealing insight into our shared history and a reminder of how Americans can rise to meet daunting challenges." —Greensboro News & Record

"Fields of Battle is not a sports book or a war book as much as it is a history book, telling the story of these men from the 'Greatest Generation' who played in a historic football game, then represented their country—many of them on the battlefields—in World War II… [Curtis paints] a vivid picture of what it was like for the teams of Duke and Oregon State, blending war on the gridiron with war on the battlefields, ably telling the characters' individual stories." —Portland Tribune

"History, sports, Durham, World War II, Duke University—it's all there ... It's a story far beyond the field at Duke, and takes readers into war, too." —Durham Herald-Sun

"For history buffs Fields of Battle is worth a read." —Florida Times-Union

"In this remarkable book, Curtis masterfully connects two seemingly unrelated events: the 1942 Rose Bowl and WWII… [Fields of Battle] has much in common with Laura Hillenbrand's best-selling Unbroken and should evoke similar strong emotions." —Booklist

"A fine sports book with a stirring extra dimension." —Kirkus Reviews

"Following the players on the best two college football teams in 1941, veteran sportswriter Curtis charts a group biography of young athletes interrupted by war." —Boston Globe

"Fields of Battle is a detailed intersection of sport and war in World War II that is gripping, occasionally tragic, but always rewarding, as heroes on the field become heroes in war." —The Daily Herald (Everett, WA)

"Fields of Battle is a compelling true tale of how a Pacific wind blew the Rose Bowl from the West Coast to the East Coast and scattered its participants around the world to win history's largest war." —James Bradley, Flags of Our Fathers and The China Mirage

"Brian Curtis's gripping story about the Greatest Generation reminds us that the freedom we enjoy today came at a steep price. Fields of Battle vividly captures the uncertainty, fear, sacrifice, and heroism of a critical time in our history, and serves as a tribute to those who carried the scars of war with them—and to those who never came home." —Senator John McCain, author of Faith of My Fathers

"With meticulous research and elegant writing, Brian Curtis has put together a page-turning narrative about a group of football players turned war heroes, men who entered gridiron lore and then did their part as members of the Greatest Generation. Football fans will enjoy reading about the unusual circumstances that enveloped the 1942 Rose Bowl, but all readers will appreciate the chance to learn about the times these men lived in and the sacrifices they made for all of us. This is a terrific piece of work." —Seth Davis, CBS Sports and Sports Illustrated and author of Wooden

"College football aficionados know that the 1942 Rose Bowl was played in North Carolina, but the stories of the men who played that game and went on to fight in World War II were, until now, largely unknown. In Fields of Battle, Brian Curtis brings the WWII generation alive through the stories of these young men who moved so rapidly from the big game to the war to defeat the German, Japanese, and Italian fascists. Curtis gives us a vivid, invaluable portrait of life as it was lived in the face of so much uncertainty and danger, when nothing less than the fate of the free world hung in the balance." —Jeremy Schaap, author of Triumph: The Untold Story of Jesse Owens and Hitler's Olympics and Cinderella Man: James J. Braddock, Max Baer and the Greatest Upset in Boxing History

"In Fields of Battle, Brian Curtis takes you back to a time when honor and duty were more than mere video game taglines and athletes placed their patriotic duty above sport. Yes, it's a football story. But really, it's an American story." —Jeff Pearlman, New York Times bestselling author of Sweetness and Showtime

"Where another, less careful observer might have found coincidence in these events, Brian Curtis's keen eye found a confluence of historical circumstance. In Fields of Battle, Curtis chronicles, contextualizes, and makes meaning of the meeting of boys and men on both the ball field and the battlefield...Where Curtis most profoundly succeeds is in never once allowing the reader to forget that what happens on the gridiron isn't war, and that what war has never been—and never will be—is a game. It's a timely message." —Julie Checkoway, author of The Three-Year Swim Club

"Fields of Battle is a riveting account of the men who faced off against each other in the 1942 Rose Bowl; the only [one] to be played outside of Pasadena as a result of the Pearl Harbor attack. Tossing aside football rivalries, the men who played went on to fight alongside each other on WWII's battlefields. Football fans and military buffs will enjoy this powerful tale of courage, leadership, grit, and greatness." —Bobby Bowden, former head coach of Florida State University's football team

"A brilliantly told evocation of a time and a place… This is truly a needed book for our time interweaving the war and the game and the young men who went off the field of play to battle for their country. It is all about courage and patriotism, timely and timeless." —Harvey Frommer, Sports Bookshelf

"The stories Curtis tells are riveting… Fields of Battle is a poignant reminder of the sacrifices made by young men and women during World War II. The players and coaches were affected, but so were their families. Football is often used as a metaphor for war, but the reality is much harsher." —The Sports Bookie

"For your hard-to-shop-for Dad or father-in-law who only wants to read about history and football: a nonfiction book about a largely forgotten slice of football—and American—history ... in the vein of Unbroken." —Modern Mrs Darcy
Flatiron Books, 9781250059581, 320pp.
Publication Date: September 27, 2016
About the Author
BRIAN CURTIS is a New York Times bestselling author who has contributed to Sports Illustrated. He is the author or coauthor of several books, including The Legacy Letters: Messages of Life and Hope from 9/11 Family Members and Go Long!: My Journey Beyond the Game and Fame (with Jerry Rice). Curtis was nominated for two local Emmys for his work as a reporter for Fox Sports Net and served as a national reporter for CBS College Sports.
or
Not Currently Available for Direct Purchase