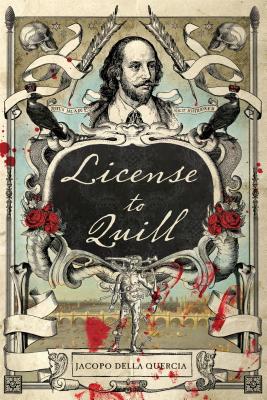 License to Quill
A Novel of Shakespeare & Marlowe
Paperback

* Individual store prices may vary.
Description
License to Quill is a page-turning James Bond-esque spy thriller starring William Shakespeare and Christopher Marlowe during history's real life Gunpowder Plot. The story follows the fascinating golden age of English espionage, the tumultuous cold war gripping post-Reformation Europe, the cloak-and-dagger politics of Shakespeare's England, and lastly, the mysterious origins of the Bard's most haunting play: Macbeth. You won't want to miss this fast-paced historical retelling!
Praise For License to Quill: A Novel of Shakespeare & Marlowe…
Praise for License to Quill:

"della Quercia...turns the Gunpowder Plot into a stage for Will Shakespeare to assume the role of a 17th-century James Bond. The premise is simple: Shakespeare and Christopher Marlowe are drawn into Guy Fawkes' revolutionary schemes...Add bull-baiting, human sacrifice, gruesome executions, and an epic London street battle, and what results is an erudite tour de force." - Kirkus Reviews

"Jacopo is an insight machine. His mind contains museums of fascinating history, and his writing never fails to change the way you look at the world around you." —Jack O'Brien, Founder, Editor in Chief and General Manager of Cracked.com, on The Great Abraham Lincoln Pocket Watch Conspiracy

"High concept and high adventure collide in a dizzying and thoroughly riveting adventure. Insanely entertaining." —Jonathan Maberry, New York Times bestselling author of CODE ZERO, on The Great Abraham Lincoln Pocket Watch Conspiracy

"A cleverly composed and daring steampunk adventure." —G.D. Falksen, author and historian, on The Great Abraham Lincoln Pocket Watch Conspiracy

"Amazing…. skillfully weaves together one of the best reads of the year as he combines "real" history with his vivid and somewhat off-beat imagination. I know of no one else who has merged Martians, speeding blimps, comets, mysterious pocket watches, accurate historical references and international intrigue into one awesome and unique read! Believe it or Not!" —Tim O'Brien, VP Communications, Ripley's Believe It or Not! on The Great Abraham Lincoln Pocket Watch Conspiracy

"With the sweep and scope of a Jules Verne adventure, The Great Abraham Lincoln Pocket Watch Conspiracy not only charts its own fantastic course through a dizzying alternate history of the United States presidency—it takes on literary history itself, turning anachronism into action, politics into pop, and a handful of America's Commanders-in-Chief into the stuff of potent yet poignantly humanized myth. If you think Honest Abe and his brethren have been resurrected to death (so to speak), think again; Jacopo della Quercia has brought the speculative presidential yarn to another level." —Jason Heller, Hugo Award-Winning author of Taft 2012, on The Great Abraham Lincoln Pocket Watch Conspiracy
St. Martin's Griffin, 9781250059659, 384pp.
Publication Date: December 15, 2015
About the Author
JACOPO DELLA QUERCIA is an educator and history writer who has authored more than 100 articles for the comedy website Cracked.com. His work has been featured in the New York Times bestseller You Might Be a Zombie and Other Bad News, BBC America, CNN Money, The Huffington Post, "The Takeaway" public radio program, Ripley's Believe It Or Not!, Playboy's The Smoking Jacket, CBS's Man Cave Daily, Georgetown University professor John Brown's Public Diplomacy Press and Blog Review, among others.