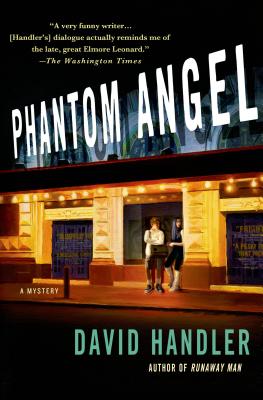 Phantom Angel (Hardcover)
A Mystery (A Benji Golden Mystery #2)
Minotaur Books, 9781250059734, 256pp.
Publication Date: February 10, 2015
* Individual store prices may vary.
Description
A wickedly funny private eye novel set in the dark underbelly of New York City, where the worlds of Broadway and organized crime meet

When it comes to tracking down teen runaways, there is no private investigator in New York City better than streetwise Benji Golden. But his newest client is Morrie Frankel, the last of the great Broadway showmen. Morrie's current extravaganza, a lavish $65 million musical adaptation of Emily Bronte's Wuthering Heights, is the biggest unfolding disaster the Great White Way has ever seen. Rumor has it, if he doesn't find a deep-pocketed "angel," or investor, soon, he might go down and take the production with him.
Morrie thought he had found such an investor in hedge fund billionaire R.J. Farnell, who promised to keep the teetering production afloat. But Farnell and his $12 million have vanished. Benji tracks Farnell to his girlfriend, Jonquil Beausoleil, who turns the investigation on its head. When Morrie is found gunned down on 42nd Street, Benji finds himself smack in the middle of a high-profile murder investigation, and he'll have to pierce through a lot of Broadway gossip before he can find the killer.
Phantom Angel is the next entertaining installment in David Handler's newest mystery series, sure to delight both old and new fans of this award--winning, unique voice in crime fiction.
About the Author
David Handler's first book in the Berger and Mitry series, The Cold Blue Blood, was a Dilys Award finalist and BookSense Top Ten pick. David is also the author of several novels about the witty and dapper celebrity ghostwriter Stewart Hoag and his faithful, neurotic basset hound, Lulu, including Edgar and American Mystery Award winner The Man Who Would Be F. Scott Fitzgerald. David lives in a two-hundred-year-old carriage house in Old Lyme, Connecticut.
Praise For Phantom Angel: A Mystery (A Benji Golden Mystery #2)…
"David Handler is back with a second case for his delightfully eccentric New York City sleuth Benji Golden…The plot is a doozy -- filled with double- and maybe even triple-crosses -- but it is the rich New York theater world background that makes "Phantom Angel" so irresistible…Although much of the book is wildly funny, Handler is such a skilled writer that toward the end of Phantom Angel he is able to mix in tragedy without it ever feeling forced." —Connecticut Post
"The madras-shorts–clad, Ethel Merman–loving, 20-something Benji is a most unlikely sleuth, but he's a smart one, and he's surrounded by a slew of flesh-and-blood New Yorkers, ranging from a sexy gossip monger to a tender, handsome urban farmer. With pitch-perfect dialogue that's often hilarious (especially the running joke about Alvin and the Chipmunks) leading up to Benji's Sherlock moment of a reveal, this entry is a wacky delight." —Publishers Weekly
"Veteran Handler… has a knack for lively plots and quirky yet believable characters… Benji's second adventure is no exception." —Kirkus Reviews
"More than a guy with fabulous contacts and a sense of old New York and a respect for all its different moving parts. Benji's a mensch. A very smart mensch whom readers will want to follow as David Handler's absorbing series continues." —Criminal Element
"Phantom Angel is a terrific quick read, highly entertaining, well plotted and satisfying. David Handler deserves a round of applause." —Reviewing the Evidence
"A fast-paced read… readers will become thoroughly engaged in its intriguing plot because it is rife with bizarre characters and has lots of human drama. … Phantom Angel will tug at your heart strings… I'm looking forward to David Handler's next installment of the Benji Golden series and am hoping the short, boyish PI will find true love." —Gumshoe Review
"That 'Runaway Man' is funny, scary and (mildly) prurient will come as no surprise to readers already familiar with the work (20 previous novels) of David Handler....What makes Mr. Handler so much fun to read is that while he's kidding around--and he is a very funny writer--he's taking care of plot business with skillful ease. His dialogue actually reminds me of the late, great Elmore Leonard." —The Washington Times on Runaway Man
"An exciting well-paced mystery novel which is sure to grab the attention of all readers, even those new to the genre. It was a fun read with a well thought-out plot. Handler's sense of humor also shines through in his writing and I appreciated the sporadic wit and dry sarcasm in balance with the otherwise serious subject material." —San Francisco Book Review on Runaway Man
"Handler, known for his quirky characters, doesn't disappoint, mixing an oddball cast with a hearty dose of wry humor and plenty of silly shtick." —Booklist on Runaway Man
or
Not Currently Available for Direct Purchase