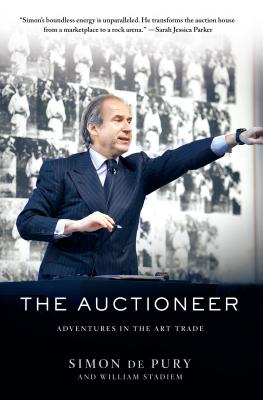 The Auctioneer (Hardcover)
Adventures in the Art Trade
St. Martin's Press, 9781250059789, 240pp.
Publication Date: May 3, 2016
Other Editions of This Title:
CD-Audio (5/3/2016)
* Individual store prices may vary.
Description
Just as William Goldman, the ultimate screenwriter, took us inside Hollywood, Simon de Pury, the ultimate art player, will take us inside an even more secretive business, whose staggering prices, famous collectors, and high crimes are front page news almost every day. The former Chairman of Sotheby's Europe, the former owner of Sotheby's rival Phillips de Pury, and currently a London-based dealer and advisor to great collectors around the world, Simon has one of the highest profiles of any non-artist in the art world. Even though he has an ancient title and the aura of an elegant Swiss banker, Simon is famous as an iconoclast and is known as "The Mick Jagger of Auctions" for his showmanship and exuberance. His whole life in art has been devoted to bringing art to the public and to the juxtaposition of high and low. Movie stars, musicians, and athletes compete with hedge funders and billionaires for the great art, and Simon is their pied piper; he wants to turn the world onto art and this book will be his message.
About the Author
Simon de Pury is the former Chairman of Sotheby's Europe and the former owner of Phillips de Pury. He co-hosted Bravo's series "Work of Art," and has written for numerous publications, including The Daily Beast. He is currently a London-based dealer and advisor to great collectors around the world.

WILLIAM STADIEM is the author of eight books, including the bestselling Marilyn Monroe Confidential; Dear Senator; and Mister S: My Life with Frank Sinatra.  A Harvard JD-MBA, he abandoned Wall Street for Sunset Boulevard, where as the screenwriter for Franco Zeffirelli's Young Toscanini, he wrote one of the biggest flops of the 80s.  As a screenwriter, a columnist for Andy Warhol's Interview, and the restaurant critic for Los Angeles, Stadiem has enjoyed a ringside seat for the decadence and outrageousness he recounts in Moneywood.  He lives in Santa Monica, California.
Praise For The Auctioneer: Adventures in the Art Trade…
"Simon's boundless energy is unparalleled. He transforms the auction house from a marketplace to a rock arena."
—Sarah Jessica Parker
"Simon de Pury is an aristocrat in the best sense of the word. His mission is to bring beauty to the people. This book is a wild ride that will get you hooked on art."
—Russell Simmons
"In The Auctioneer, Simon de Pury, former chairman of Sotheby's Europe, provides a comedy-rich account of his exploits in the treacherous art world, along with pen portraits of some of his closest allies and enemies." —The Wall Street Journal
"Let's cheer for the auctioneer Simon de Pury, the classy international star of the art world. For more than 40 years, de Pury has observed the vital signs of what he calls the 'beautiful illness' that infects the super-rich to buy art. [The Auctioneer is] brimming with history and intrigue." —The Washington Post
"In this eye-opening memoir, de Pury, a distinguished auctioneer and art dealer, provides a lively account of his flashy career and today's soaring art market…[and] the book provides an interesting glimpse into a world of artists, collectors, and dealers in which 'the call of the gavel was the call of the wild.'" —Publishers Weekly
"Renowned auctioneer de Pury presents a memoir full of gossip, anecdotes, and tales of the very, very rich…[and he] delivers plenty of juicy tidbits about some of the world's 1 percent. However, this is also the story of a man wholly dedicated to his profession, a jet-setter before the jet age…an enjoyable book that lets us live vicariously in the haut monde." —Kirkus