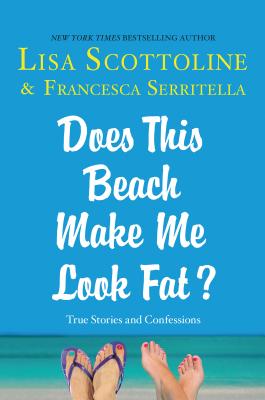 Does This Beach Make Me Look Fat? (Hardcover)
True Stories and Confessions (Amazing Adventures of an Ordinary Woman #6)
St. Martin's Press, 9781250059949, 304pp.
Publication Date: July 7, 2015
Description
The unstoppable, irreverent mother-daughter team presents a new collection of funny stories and true confessions that every woman can relate to. From identity theft to the hazards of bicycling to college reunions and eating on the beach, Lisa and Francesca tackle the quirks, absurdities, and wonders of everyday life with wit and warmth. As Lisa says, "More and more, especially in the summertime when I'm sitting on the beach, I'm learning not to sweat it. To go back to the child that I used to be. To see myself through the loving eyes of my parents. To eat on the beach. And not to worry about whether every little thing makes me look fat. In fact, not to worry at all."
So put aside your worries and join Lisa and Francesca as they navigate their way through the crazy world we live in, laughing along the way.
About the Author
LISA SCOTTOLINE is a New York Times bestselling and Edgar award-winning author of more than twenty-five novels, including Look Again, Lady Killer, Think Twice, Save Me and Everywhere That Mary Went. She is coauthor of several humor memoirs and writes a Sunday column for The Philadelphia Inquirer. She has 30 million copies of her books in print, and is published in thirty countries. She lives in the Philadelphia suburbs with an array of disobedient pets. FRANCESCA SCOTTOLINE SERRITELLA is the co-author of six humor memoirs in this series and is currently working on a novel. She is also a Sunday columnist for The Philadelphia Inquirer. Francesca is a cum laude and award-winning graduate of Harvard University and now lives in New York City with one dog and one cat, so far.
Advertisement