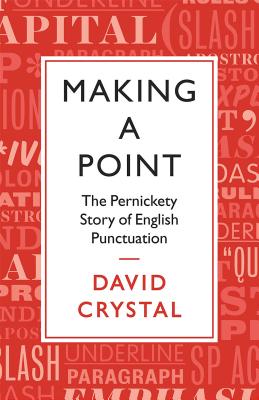 Making a Point (Hardcover)
The Persnickety Story of English Punctuation
St. Martin's Press, 9781250060419, 400pp.
Publication Date: October 6, 2015
* Individual store prices may vary.
Description
The triumphant concluding volume in David Crystal's classic trilogy on the English language combines the first history of English punctuation with a complete guide on how to use it. Behind every punctuation mark lies a thousand stories. The punctuation of English, marked with occasional rationality, is founded on arbitrariness and littered with oddities. For a system of a few dozen marks it generates a disproportionate degree of uncertainty and passion, inspiring organizations like the Apostrophe Protection Society and sending enthusiasts, correction-pens in hand, in a crusade against error across the United States. Professor Crystal leads us through this minefield with characteristic wit, clarity, and commonsense. In David Crystal's Making a Point, he gives a fascinating account of the origin and progress of every kind of punctuation mark over one and a half millennia and offers sound advice on how punctuation may be used to meet the needs of every occasion and context.
About the Author
DAVID CRYSTAL, is Honorary Professor of Linguistics at the University of Wales, Bangor. In 1995, he was awarded the Order of the British Empire for services to the English language. He lives in the United Kingdom.
Praise For Making a Point: The Persnickety Story of English Punctuation…
"The best word book to come down the pike in many a moon . . . An ingenious idea, and only David Crystal could have pulled it off." —Patricia T. O'Conner and Stewart Kellerman, authors of Origins of the Specious: Myths and Misconceptions of the English Language and bloggers at Grammarphobia.com, on The Story of English in 100 Words
"Brisk [and] exuberant . . . Crystal delights in exposing all the many wacky ways we English speakers make new words." —San Francisco Chronicle on The Story of English in 100 Words