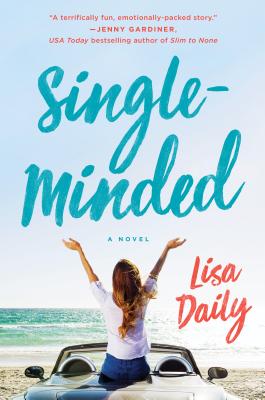 Single-Minded (Hardcover)
A Novel
Thomas Dunne Books, 9781250060440, 288pp.
Publication Date: June 27, 2017
* Individual store prices may vary.
Description
Alex has planned and executed her life with laser focus since she first met her future husband at the play-doh table on the first day of kindergarten. They have a terrific life, a gorgeous house on the bay, and fantastic careers they love. There's only one problem: Alex's husband has a secret. A big one.
Now, Alex's perfectly planned life has completely fallen apart, her biological clock is starting to feel like the timer on a nuclear device, and she finds herself drooling over her completely-dreamy-but-definitely-off-limits client, a star chef opening a hot new restaurant.
Armed with dating guidance from her oddball collection of advisers—including her gay ex-husband, a foul-mouthed political consultant, a perkily masochistic yogi, and a pot-smoking octogenarian—Alex navigates the booby-trapped world of modern dating, in her search for a second chance at love.
About the Author
LISA DAILY can tell you why he didn't call, the color you should never wear on a first date, and even where to snoop for evidence if you think your guy's been fooling around. She's the love and relationships expert on DAYTIME, a nationally-syndicated morning TV show, and a popular media guest who has appeared everywhere from MTV Live to Entertainment Tonight, and been quoted everywhere from the New York Times, Washington Post and Chicago Tribune to Cosmopolitan, Glamour, Men's Health, Christian Science Monitor and US Weekly Magazine. She's is the bestselling author of Stop Getting Dumped!, Fifteen Minutes of Shame, How to Date Like a Grown-Up, and Beauty.
Praise For Single-Minded: A Novel…
"Lisa Daily weaves a gut-wrenching yet hilarious send-up of love, betrayal and redemption.
A terrifically fun, emotionally-packed story in which I anxiously turned the pages rooting for our heroine to get her groove back." —Jenny Gardiner, USA Today bestselling author of Slim to None and the It's Reigning Men series
"Pack this book in your beach bag. Every person who has navigated the singles scene (or watched horrified on the sidelines) will find plenty to make them laugh out loud in Daily's Single-Minded." —Eileen Cook, bestselling author of With Malice, and Getting Revenge on Lauren Wood
"Single-Minded is funny and full of charm—Lisa Daily crafts her stories with heart and humor." —Mia King, bestselling author of Good Things
"Quirky and uproarious and sexy as hell, Single-Minded is as much fun as you can have sitting down. The premise is a howler. And it has MOVIE written all over it." —Michael Alvear, bestselling author of Men Are Pigs But We Love Bacon and Alexander the Fabulous, and cohost of HBO's Sex Inspectors
"Look no further—you've found your latest and most essential beach read. Lisa Daily knows exactly how to mix hilarious with romantic, topical with heartwarming, and pain with extremely satisfying vindication. With a fantastic group of characters who leap from the page, and a fast-paced, emotional journey that will keep you chuckling and cheering, Single-Minded is a winner." —Danielle Younge-Ullman, author of Everything Beautiful is Not Ruined
"Clever, warm and funny….reading Lisa Daily's Single-Minded is like spending time with your favorite single friend who has the most hilariously awful dating stories. A breezy yet empowering novel about second chances and learning to let go, Single-Minded had me craving Cajun food and dreaming of a Florida beach vacation. I absolutely adored it!" —Jess Riley, author of Driving Sideways
"Beach read perfection! Single-Minded is a witty, funny story about what happens when your life doesn't turn out like you planned. Order yourself a strawberry daiquiri, and slap on some SPF 50 — and settle in for a rocking-fun read." —Lisa Earle McLeod, Buffalo News
"That book that makes you put your hand on your heart when you read the last page—this is it. Enchanting, endearing, and endlessly funny! Lisa Daily is the hilarious new queen of the summer beach read." —Heidi Godman, WSRQ
"A smart, hilariously funny gem of a book." —Lisa Earle McLeod, syndicated columnist, Buffalo News on Fifteen Minutes of Shame

"Witty and smart, this is a must-read for any woman ready to find Mr. Right. Or at least Mr. Right Now." —Christopher Hopkins, Oprah's Makeover Guy and author of Staging Your Comeback: A Complete Beauty Revival for Women Over 45 on How to Date like a Grownup

"I was instantly hooked on this funny romance." —Clare Naylor, author of The Second Assistant on Fifteen Minutes of Shame

"Different...uplifting...and offers a money-back guarantee if you don't marry the man of your choosing in three years." —New York Daily News on Stop Getting Dumped
"Good for those looking for a fluffy, fun summer read." —Library Journal
"It's a heartwarming and laugh-out-loud funny story" —Daytime Show
"This is a great sit at the beach or take on vacation book" —Daytime Show
"It's really great...it will make you a little hot under the collar..." —Daytime Show
"Readers will want to see her happily ever after." —Parkersburg News and Sentinal
"I've read a lot of books this year and a few of them in my mind have been book of the year candidates. Then along comes another one that just blows my mind. Single-Minded by Lisa Duffy…had done that. It's just an outstanding, well-written and very funny at times look at a woman's life turned upside down." —Red Carpet Crash
"a perfect beach read!" —Clues & Reviews
"Lisa Daily's novel had me from the first page… I loved Alex and loved getting back to the novel each time I picked it up. With its short chapters, endearing main character, and a beach town setting I'll just say if you're looking for a light and entertaining novel to read you should pick up a copy of Single-Minded." —Book Fan
"Daily is a great writer, her prose is smooth and light and infused with so much humor. There were countless scenes that made me giggle and plenty of conversations that had me in stitches. The characters were realistic and relatable and Alex is the type of friend I would want to have in real life. There was a sweet romance and I so badly wanted Alex to find happiness with a man worthy of all she has to offer. This is an ideal book to pick up this summer, super light and easy going but with enough heart and substance to keep you engrossed." —Novel Gossip
"I found this to be a romance novel with a lot of twists. Daily is an amazing writer and has created an outstanding novel about first love, hope, loss, and fear of the future…Overall, I found this to be a very fun, romantic novel." —Lovely Loveday
"Single Minded is everything readers want in one book; humor, interest, a different take on an old story, and fun." —Momzinga.com.
"Daily is a splendid writer and my heart was in my throat through many of the scenes of this book…
This is a lovely women's fiction novel that I found to have quite a satisfying romance." —Reading Dilemma
"Single-minded is a story of second chances, friendship and love — how in our deepest fall, we stand and get back again." —Heartale Fix
"Daily's latest novel is a rare find, a feel good rom-com page-turner that's out of this world real, real funny, real heartfelt and real amazing. Her laugh out loud witty narrative softens the blows of her at times sober plotline and her promotion of the Sarasota sights and sounds will make readers want to book a flight. Her costars, from her octogenarian pot loving retired circus performer to her star's hilarious yet loyal besties, are awesome and her introduction to environmental psychology 101 is highly educational and absorbing but its her unsinkable, unforgettable, incredible star, Alex that rules every page of this can't put it down, keeper shelf bound, must read. Brava!" —The Reading Frenzy