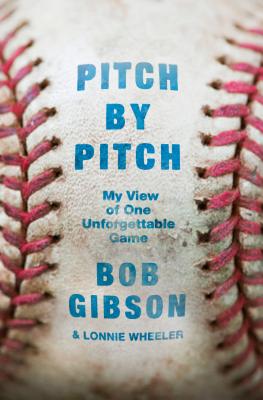 Pitch by Pitch
My View of One Unforgettable Game
Hardcover

* Individual store prices may vary.
Other Editions of This Title:
Paperback (10/4/2016)
Description
Pitch by Pitch gets inside the head of Bob Gibson on October 2, 1968, when he took the mound for game one of the World Series against the Detroit Tigers and struck out a record seventeen batters.
With the tension rising in the stadium, an uproarious crowd behind him, and the record for the most strikeouts thrown in a World Series game on the line, Gibson, known as one of the most intimidating pitchers in baseball history, relives every inning and each pitch of this iconic game. Facing down batter after batter, he breaks down his though process and recounts in vivid and candid detail his analysis of the players who stepped into the batter's box against him, his control of both the ball and the elements of the day, and his moments of synchronicity with teammate Tim McCarver, all the while capturing the fascinating relationship and unspoken dialogue that carries on between pitcher and catcher over the course of nine critical innings.
From the dugout to the locker room, Gibson offers a behind-the-scenes look at the lives of the players, the team's chemistry, and clubhouse culture. He recounts the story of Curt Flood, Gibson's best friend and the Cardinal center fielder, who would go on to become one of the pioneers of free agency; shares colorful anecdotes of his interactions with some of baseball's most unforgettable names, from Denny McLain and Roger Maris to Sandy Koufax and Harry Caray; and relives the confluence of events, both on and off the field, that led to one of his---and baseball's---most memorable games ever.
This deep, unfiltered insider look at one particular afternoon of baseball allows for a better understanding of how pros play the game and all the variables that a pitcher contends with as he navigates his way through a formidable lineup. Gibson's extraordinary and engrossing tale is retold from the unique viewpoint of an extremely perceptive pitcher who happens to be one of baseball's all-time greats.
Praise For Pitch by Pitch: My View of One Unforgettable Game…
"This book, like the man speaking it, is about a lot more than baseball… [Gibson's] voice is so witty and so wise that he's likely to win over even the most hardened skeptics… Reading this book is like sitting on a barstool next to a guy who has a hell of a story to tell, and knows how to tell it. You could listen for hours and never grow bored." —The Daily Beast
"Gibson has produced a remarkable narrative based entirely on [Game 1 of the 1968 World Series]. Pitch by Pitch is at once enjoyable and instructive. We are given a lively glimpse into the craft of pitching... The book is appealing on many levels, including its explanations of the mechanics of the game... The portraits are poignant and often surprising." —Wall Street Journal
"Pitch by Pitch redefines inside baseball. It is a pitching primer par excellence. Recreating his Game One masterpiece in the 1968 World Series, Bob Gibson grants unprecedented access to the inner sanctum of his thoughts and imagination. It is a privilege and a pleasure to be inside his wise, old ornery head." —Jane Leavy, New York Times bestselling author of Sandy Koufax: A Lefty's Legacy
"Bob Gibson lets us join him for a transcendent performance.... Gibson and Wheeler skillfully weave compelling anecdotes into the riveting thought process behind every decision on the mound that day, opening a window to the wisdom and will of a fierce competitor and baseball legend." —Tyler Kepner, national baseball correspondent for The New York Times
"Catching my friend Bob Gibson was an experience like no other-especially on that memorable autumn day in 1968, game one of the World Series. I can still see that last slider bearing down on the knees of Willie Horton. If you ever wondered what it's like to pitch or play in the World Series, this is the book to read." —Tim McCarver, sportscaster and former St. Louis Cardinals catcher
"Game one of the 1968 World Series was the height of pitching in the modern era, and here it gets the rich treatment it deserves. Bob Gibson and Lonnie Wheeler so expertly take us back to that time and place, you'll feel like you're right there on the mound with Gibby." —Tom Verducci, Sports Illustrated
"Bob Gibson evokes one game, and also an entire universe, taking the reader to the center of both. In his memoir of a long-ago afternoon when he struck out seventeen, he reminds the sports fan that the game lingers in the mind of the men who played it just as it lingers for those who watch." —Wright Thompson, senior writer for ESPN.com and ESPN The Magazine
"If I was a major league hitter who could pick one pitcher to avoid in the history of baseball, I would avoid Bob Gibson, and this fascinating book explains why. Gibson's controlled fury was never more impactful than it was October 2, 1968, when he used a World Series mound as the stage for his singular greatness. This is a must read for fans of baseball and the men who didn't need performance-enhancing drugs to dominate it." —Ian O'Connor, New York Times bestselling author of The Captain: The Journey of Derek Jeter
"[Bob Gibson] provides a fascinating peek into his complex thoughts while on the mound during one of the most memorable games in World Series History... In each anecdote, Gibson embodies the soul of baseball: fearless, intense, and talented." —Publishers Weekly
"Along with sportswriter Lonnie Wheeler, Gibson walks through every one of the 144 (!) pitches he threw that afternoon, generously explaining his thought process versus each hitter and his (strong) opinions of teammates and opponents alike, even sharing some of the early influences in his life that made him such an imposing competitor.... What an unexpected gift to the game." —Booklist, starred review
"A captivating account from one of baseball's most formidable pitchers." —Kirkus Reviews
"Maybe the best baseball book of the last five years, maybe ever." —Lincoln Journal Star
"Gibson...writes like he pitched: straightforward and honest, aggressively but without a sense of braggadocio.... Gibson and Wheeler's latest contribution makes a wonderful addition to this specialized subgenre." —Bookreporter
"In Pitch by Pitch, Gibson gives readers and baseball fans a rare and intimate account of his momentous World Series game… The well-drawn, atmospheric narrative the authors present is so rich and compelling, readers can practically feel the sweat rolling off Gibson's face, chin and wrists during the high-stakes grind of this landmark game." —Shelf Awareness
Flatiron Books, 9781250061041, 256pp.
Publication Date: October 6, 2015
About the Author
BOB GIBSON is a baseball Hall of Famer who played seventeen seasons for the St. Louis Cardinals. During that time he was a two-time Cy Young Award and World Series winner. He is also the author of Stranger to the Game: The Autobiography of Bob Gibson and Sixty Feet, Six Inches, which was written with Reggie Jackson and coauthor Lonnie Wheeler.

LONNIE WHEELER has written numerous baseball books and collaborated with baseball greats including Bob Gibson on his autobiography Stranger to the Game, Mike Piazza on Long Shot, Hank Aaron on I Had a Hammer, and Bob Gibson and Reggie Jackson on Sixty Feet, Six Inches: A Hall of Fame Pitcher & a Hall of Fame Hitter Talk About How the Game Is Played.
Coverage from NPR