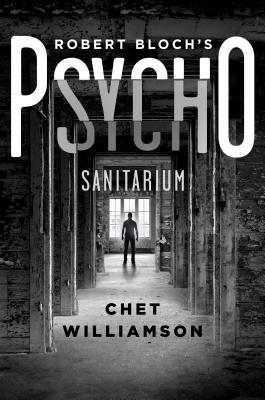 Robert Bloch's Psycho
Sanitarium
Hardcover

* Individual store prices may vary.
Other Editions of This Title:
Digital Audiobook (4/11/2016)
Description
"Horror author Chet Williamson ably succeeds in the tough task of creating a sequel to Robert Bloch's masterpiece, Psycho; a prequel to the less effective Psycho II; and a solid story in its own right…The novel shines. Whenever Norman gets the spotlight, the novel feels like a lost Bloch work." —Publishers Weekly

The original Psycho novel by Robert Bloch was published in 1959 and became an instant hit, leading to the smash movie only a year later, which brought Norman Bates's terrifying story into the public consciousness, where it still remains (proven by the success of the tv series, Bates Motel). It took Bloch 23 years to write another Psycho novel, revealing that Norman had been in a mental institution the entire time. In that sequel, Norman quickly escapes the sanitarium and goes on a killing spree in Hollywood.

But what happened in that asylum during those two decades? Until now, no one has known.

It's 1960. Norman Bates is in the State Hospital for the Criminally Insane and it's up to Dr. Felix Reed to bring him out of his catatonic state.

But Norman and Dr. Reed have obstacles in twisted fellow patients and staff members who think of the institution as a prison rather than a place of healing. And the greatest obstacle is the building itself, once a private sanitarium, rumored to be haunted. A wild card appears in the persona of Robert Newman, Norman's twin brother, taken away at birth after the attending doctor pronounced him brain damaged. As Robert and Norman grow to know each other, Norman senses a darkness in Robert, even deeper than that which has lurked in Norman himself.

Soon, murders begin to occur and a shocking chain of events plunge us even deeper into the deranged madness inside the walls of Psycho: Sanitarium.
Praise For Robert Bloch's Psycho: Sanitarium…
"Horror author Williamson ably succeeds in the tough task of creating a sequel to Robert Bloch's masterpiece, Psycho; a prequel to the less effective Psycho II; and a solid story in its own right…Williamson takes advantage of the 1960s setting to throw in plot lines generally underused in horror (including a subplot around a Holocaust survivor), and there are enough twists to keep things moving at a breakneck pace. The novel shines when he focuses on Norman and both his internal struggles with his "Mother" personality and his awkwardness around his newfound sibling. Whenever Norman gets the spotlight, the novel feels like a lost Bloch work." —Publishers Weekly

"Taking his lead from Bloch's original Psycho, Williamson devises an amazing horror story that goes a few steps beyond the first. Unique in its conception, Sanitarium details gruesome life within the walls and deals with the varied personalities therein. Several unforeseen twists lead to the surprise ending." —RT Book Reviews

"This brilliant projection of a horror classic is also a surgical deconstruction, a look not only inside the mind of a maniac, but into the milieu of "treatment" of the criminally insane. There's a million reasons to read this one, but the most compelling is the lesson it teaches: Real horror is real. And never that far from home." —Andrew Vachss, bestselling author of Mask Market

"Robert Bloch would be delighted with Psycho: Sanitarium. Chet Williamson has captured the Bloch ambiance in a twisty-turny terror tale that will keep you turning pages into the wee hours." —F. Paul Wilson, creator of Repairman Jack and author of the forthcoming Panacea

"A fresh, creepy and surprising addition to the Psycho canon, as cunningly contrived as Bloch's originals." —Kim Newman, Stoker award-winning author author of Anno Dracula

"A creeping thriller of the sort you see so little of these days. A marvelous continuation of Bloch's character and attitudes that somehow manages to stand tall on its own two feet due to Williamson's total grasp of the original material." —Joe R. Lansdale, award-winning author of The Thicket

"Chet Williamson has brought Psycho back to frightening life, with disturbing psycho-logical intensity and knife-blade glittering." —John Shirley, author of In Extremis

"Fans of Robert Bloch rejoice! Chet Williamson's Psycho: Sanitarium brings a 21st Century sensibility and edge while remaining true to the classic pulp spirit; a fun, smart, nasty, throwback. You'll want to read in a single sitting with the lights on. But as always, beware of Mother." —Paul Tremblay author of A Head Full of Ghosts and Disappearance at Devil's Rock

"Psycho: Sanitarium invites you to get inside the head of Norman Bates once again ...but you won't be alone. Chet Williamson has written a brilliantly compelling novel filled with mystery, humanity and dread." —Tim Lebbon, author of The Silence
Thomas Dunne Books, 9781250061058, 288pp.
Publication Date: April 12, 2016
About the Author
CHET WILLIAMSON's parents took him to see the film of Robert Bloch's Psycho when he was twelve, and he has been a reader and disciple of Bloch ever since. His stories have appeared in The New Yorker, Playboy, and many other magazines and anthologies. A collection of his stories received the International Horror Guild Award. He has twice been a final nominee for the World Fantasy Award, the MWA's Edgar Award, and six times for the HWA's Stoker Award. He has narrated over thirty audiobooks. Among his other novels are Defenders of the Faith, Ash Wednesday, Second Chance, Dreamthorp, Lowland Rider, Reign, and Soulstorm, as well as The Searchers trilogy, and two collections of stories, The Night Listener and Others and Figures in Rain.
or
Not Currently Available for Direct Purchase