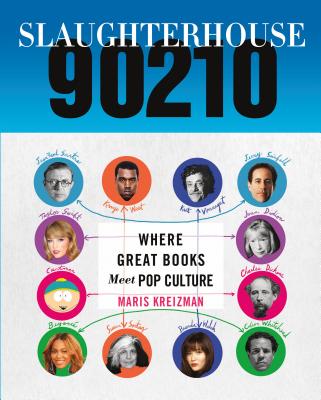 Slaughterhouse 90210
Hardcover

* Individual store prices may vary.
Description
The perfect book for anyone with a Netflix account and a library card.
"A real live cultural argument. Fun and funny, yes, but also surprising, moving, and thoughtful."
- NPR

"Smart, sharp, and hilarious, Slaughterhouse 90210 is the perfect pick-me-up and never-put-me-down book." - Jami Attenberg, bestselling author of The Middlesteins
Slaughterhouse 90210 pairs literature's greatest lines with pop culture's best moments.
In 2009, Maris Kreizman wanted to combine her fierce love for pop culture with a lifelong passion for reading, and so the blog Slaughterhouse 90210 was born. By matching poignant passages from literature with popular moments from television, film, and real life, Maris' work instantly caught the attention (and adoration) of thousands. And it's easy to see why.
Slaughterhouse 90210 is subversively brilliant, finding the depth in the shallows of reality television, and the levity in Lahiri. A picture of Taylor Swift is paired with Joan Didion's quote, "Above all, she is the girl who 'feels things'. The girl ever wounded, ever young." Tony Soprano tenderly hugs his teenage son, accompanied by a line from Middlemarch about, "The patches of hardness and tenderness [that] lie side by side in men's dispositions." The images and quotes complement and deepen one another in surprising, profound, and tender ways.
With over 150 color photographs from some of popular culture's most iconic moments, Kreizman shows why comparing Walter White to Faust makes sense in our celebrity obsessed, tv crazed society.
Praise For Slaughterhouse 90210…
"A real live cultural argument and an important one, inventively made. It is an argument that works of what we consider high and low culture can not only be appreciated by the same people but can be placed in direct conversation with each other. What Slaughterhouse 90210 does, in a gentle and curious way that distinguishes it utterly from many similarly formatted books, is to push those connections forward. It's fun and funny, yes, but also surprising, moving, and thoughtful. It's a book that makes, in many ways, the argument for precisely the kind of work that it is." —NPR
"Mastermind...It's not just anyone that can slap a David Foster Wallace quote underneath a GIF of Tina Fey burying her head into Oprah's chest and somehow make the combination meaningful. But Maris Kreizman can…" —Entertainment Weekly
"It's an instant day-brightener-a lovely little corner of the Internet." —O Magazine
"Slaughterhouse 90210 is every pop culture and book lover's dream." —BuzzFeed Books
"Touched by Bethenny Frankel's unmitigated pathos? Looking for a way to explain the tenets of Gossip Girl to your book club? Slaughterhouse 90210 pairs important literary quotes with screencaps from your favorite shows to help you feel better about your shallow side." —The Huffington Post
"The genius of Maris Kreizman's killer meme goes beyond its mere hilarity; it's also about the power of great writing to sum up feelings we didn't know we had. Feelings about, yes, Taylor Swift and Mad Men, but those can be the most important feelings of all." —Emily Gould, author of FRIENDSHIP and THE HEART SAYS WHATEVER
"Slaughterhouse 90210 makes explicit something consumers of pop culture already understand intuitively: That the boundaries between high and low culture are often blurred and sometimes non-existent; that images and text that are technically unrelated can still communicate with each other, across platforms and mediums and centuries, in ways that illuminate both; that "television" is more of an idea than a boundary-obeying, clearly-definable thing and "literature" is not exactly staying within the book-margins these days, either." —Think Progress
"A wholly remarkable book, filled with exacting quotes and insightful imagery." —HelloGiggles
Flatiron Books, 9781250061102, 224pp.
Publication Date: October 6, 2015
About the Author
MARIS KREIZMAN is the creator of Slaughterhouse 90210, a blog that celebrates the intersection of her two great loves-literature and TV. She's currently a publishing community manager at Kickstarter. A former book editor, Maris cannot get enough of critiquing her own writing.
or
Not Currently Available for Direct Purchase