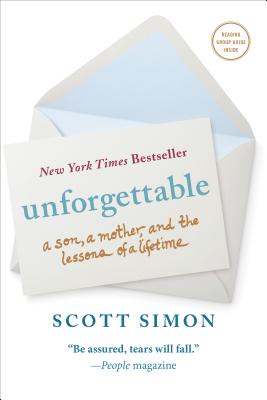 Unforgettable (Paperback)
A Son, a Mother, and the Lessons of a Lifetime
Flatiron Books, 9781250061140, 272pp.
Publication Date: March 29, 2016
Other Editions of This Title:
Digital Audiobook (3/30/2015)
Hardcover (3/31/2015)
CD-Audio (3/31/2015)
Paperback, Large Print (3/29/2016)
Paperback, Chinese (12/4/2015)
Hardcover, Large Print (8/12/2015)
* Individual store prices may vary.
Description
I'm getting a life's lesson about grace from my mother in the ICU. We never stop learning from our mothers, do we?
Scott Simon sat beside his once gorgeous and vivacious mother, holding her hand, comforting her, and reminiscing about good times and bad as she faced her final days. The result of those hours spent in the hospital is Unforgettable—a deeply moving, at times laugh-out-loud funny memoir about the colorful life of this mother and son. An instant New York Times bestseller, Unforgettable is a spirited, affecting, and personal tribute, and it is a testament to the universal bond between all parents and children.
"In a return to the bighearted storytelling that made him a star NPR correspondent, [Simon] pays full tribute to the ex-showgirl who...taught her only son to be honest, kind, and entertaining. Be assured, tears will fall."--People Magazine
"With UNFORGETTABLE, Simon reveals not the possibilities of social media but its limits. Those 140-character bursts...seem inadequate compared with the skilled unspooling of this memoir."—The Washington Post
About the Author
SCOTT SIMON is one of America's most admired writers and broadcasters, having reported from all over the world and from many wars. He is now the award-winning host of Weekend Edition Saturday. With over 4 million listeners it is the most-listened to news program on NPR. Simon has won a Peabody and an Emmy for his reporting and also has over 1.2 million followers on Twitter.
Praise For Unforgettable: A Son, a Mother, and the Lessons of a Lifetime…
"Patricia Lyons Simon Newman was a bombshell: drop-dead gorgeous, glamorous, hilarious, insightful, curious, a woman whose bounding, generous, mischievous presence beckoned to others like the first warm sunshine of spring. She was wise, irreverent, brave in loss and grateful in joy, and urgently, thankfully alive to the beauty in everything and everyone. And before anything else, she was a profoundly devoted mother to her son, NPR host, journalist, and author, Scott Simon. In his poignant, funny, intimate memoir of his last days with her, Simon reflects on the lessons she taught him, the preciousness that death gives to life, and the endless resonance of love. This is an unforgettable meditation on a life lived, as Hemingway wrote, 'all the way up.'" —Laura Hillenbrand, author of, UNBROKEN: A World War II Story of Survival, Resilience and Redemption and Seabiscuit: An American Legend on the audio recording of Unforgettable
"Unforgettable is a treasure. It is as poignant and tender and wise as Tuesdays with Morrie, with the added virtues of being unflinching and, quite often, very funny. At its center is a remarkable woman, gorgeous and charming and relentlessly honest, who remains a true star to the very end." —Scott Turow, author of, PRESUMED INNOCENT
"Who would have thought that such short intimate tweets could lead to such literature? This mother and son story is personal, universal, and filled with humor. Scott Simon reminds us of the transience of life and the endurance of love--and that beautiful writing is the best guardian of memory." —Azar Nafisi, author of, READING LOLITA IN TEHRAN
"This is an extraordinary book. Amazing. Breathtaking. Affirming. This book will change lives, restore hope to the broken-hearted, and remind the rest of us of what is truly important." —Laurie Halse Anderson, author of, SPEAK
"Simon's memoir is so captivating that everyone, not just fans of NPR's Weekend Edition Saturday, will enjoy learning about the wellspring that nourished the award-winning journalist's wit, intelligence, heart, and chutzpah. Wait, an enjoyable memoir about a dying mother? Indeed. That is part of Simon's...charisma. Every child should have such an opportunity to be there for his or her mother in those final days and hours. Every mother should have such a gifted child." —BOOKLIST (*Starred Review)
"A charming tribute to a remarkable woman and the bond between mother and son." —KIRKUS REVIEWS
"In this tender memoir, Simon finds the last week of his mother's life to be a time for them to cherish each other and tenderly reminisce. He takes his quirky, devoted, gracious mother on her own terms, and his work shimmers as a touching tribute." —PUBLISHERS WEEKLY