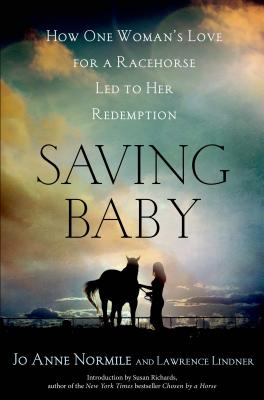 Saving Baby
How One Woman's Love for a Racehorse Led to Her Redemption
Hardcover

* Individual store prices may vary.
Other Editions of This Title:
Paperback (12/22/2015)
Library Binding, Large Print (1/1/2015)
MP3 CD (12/22/2015)
Description
"If we see cruelty or wrong that we have the power to stop, and do nothing, we make ourselves sharers in the guilt." --Anna Sewell, author of Black Beauty

Jo Anne Normile was not supposed to keep the foal, an exuberant Thoroughbred with only a few white hairs on his reddish-brown forehead. But she fell in love with the young horse, who had literally been born into her arms. The breeder finally said she could keep the colt, whom she nicknamed "Baby" – but only if she raced him.
It was difficult to take Baby away from the safety of his pasture. But Normile had made a promise. Besides, horseracing had always come across as a glamorous blend of mint juleps and celebrity, of equine grace and speed. It was a vision she found appealing.
And she fell hard for it, this "Sport of Kings." She experienced a thrill every time Baby sprinted around the track, edging out other horses. But the magic that enchants is a veneer. For every Seabiscuit, there are tens of thousands of racehorses whose lives end in pain and despair, with indifference and corruption that runs rampant through the world of horse racing.
Normile knew none of this. Not until an accident on a poorly maintained track. That's when everything changed. That's when Normile founded the most successful horse rescue in the country, an organization that would go on to save more horses than anyone else ever had. That's when she knew she had no other choice.
Saving Baby is Jo Anne Normile's story of perseverance and passion. A heartbreaking and ultimately life-affirming book, it testifies to the transcending power of hope, and the unshakeable bond of love.
Praise For Saving Baby: How One Woman's Love for a Racehorse Led to Her Redemption…
"First class story telling...action and emotion equally drive this compelling tale.... A touching narrative that transcends its subject matter." —Kirkus Reviews (Starred Review)
"Normile's... courage in exposing the dark underbelly of racing is reflected on every page.... an engaging memior that is a must-read for animal lovers." —Publishers Weekly
"In addition to being an outstanding advocate for horses, the author is a great storyteller....the story is compelling enough to interest animal enthusiasts of all types." —Library Journal
"The storytelling in this memoir...is as dramatic as any day at the races." —The Improper Bostonian
"An inspiring account of [Normile's] efforts to save the racing industry's discards." —All Animals, the magazine of the Humane Society of the United States
"An emotionally powerful read, filled with insight...and laced with the deep emotions and dedication of a woman who made a huge difference." —Today's Horse Magazine
"Saving Baby: How One Woman's Love for a Racehorse Led to Her Redemption by Jo Anne Normile and Lawrence Lindner is the remarkable story of how a woman's special bond with a Thoroughbred led her to establish the most successful horse rescue organization in the country. It is also a revealing look at the hidden underbelly of the glamorous world of horse racing that few people ever see. Jo Anne Normile tells her life-changing story of love, regret, and redemption. It is a passionate, heartwarming animal story, as well as a revealing look at the world of horse racing." —Horseback Magazine
"A rich narrative of love, loss, and redemption. " —Horse and Style Magazine
"...the true story of Jo Anne Normile, who got pulled into horse racing and had to make painful, life-changing choices she never expected, or even knew existed." —GateHouse Media
"Normile happened to have the perfect story." —Patch.com
"Saving Baby is a story of perseverance and passion, chronicling the heroic work of Jo Anne Normile, who has saved countless racing horses from the worst of fates." —Wayne Pacelle, President & CEO The Humane Society of the United States
"A beautiful story about an extraordinary bond, about what happens when you follow your instinct -- and also don't. This book will speak to anyone who has ever been moved by the overpowering combination of love and conscience." —Nicholas H. Dodman, BVMS Co-Founder, Vets for Equine Welfare; Author, If Only They Could Speak
"If you were ever faced with the choice of walking a difficult path or taking the easy way out, the story will resonate--and haunt you." —Karen Menczer, Founder & Executive Director, Animal-Kind International
"A breathtaking look at the world of horse racing, and what one woman sets out to accomplish after she scratches the surface and exposes its underbelly. Ms. Normile's extraordinary journey, and her unflinching and passionate determination to draw attention to the plight of the animals she so dearly loves, brought me to tears. Saving Baby is flat-out inspirational." —Lesley Kagen, New York Times bestselling author of Mare's Nest and he Resurrection of Tess Blessing
St. Martin's Press, 9781250061195, 320pp.
Publication Date: October 21, 2014
About the Author
JO ANNE NORMILE, author of Saving Baby, founded two hugely successful horse rescue organizations and has been featured in The New York Times, The Chicago Tribune, among numerous other publications. In addition, she has appeared on CNN and many local television broadcasts.
LAWRENCE LINDNER is a New York Times best-selling co-author who has also written for many publications including the
Washington Post, the Los Angeles Times
, and
O, the Oprah Magazine
.
or
Not Currently Available for Direct Purchase