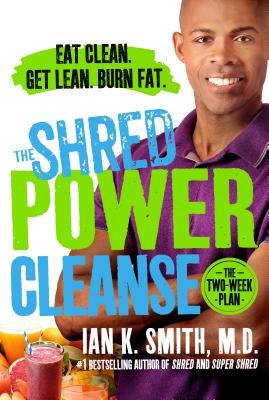 The Shred Power Cleanse: Eat Clean. Get Lean. Burn Fat. (Hardcover)
Eat Clean. Get Lean. Burn Fat.
St. Martin's Press, 9781250061225, 224pp.
Publication Date: December 29, 2015
Description
Dr. Ian is answering Shredder Nation's call for a short-term, fast-acting cleanse that will help you reset and power through to your new weight loss goal
"The SHRED Power Cleanse" takes the classic detox plan to a new level. You won't find any fiberless, anemic juices on this regimen Dr. Ian lays out each day of the two-week program, giving you everything you need to jump-start BIG change:
- More than 50 smoothie recipes built to boost your immunity and maintain your protein and fiber intake, including Dr. Ian's signature Purple Power Cleanse smoothie
- Fresh salads and other clean foods to fill you up and keep your energy level high
- Detoxifying exercise regiments for beginner, intermediate, and advanced levels
- A Weekend Power Tune-up bonus, designed to keep you on track long after the two weeks of the cleanse are up and all some Shred Cleansers will need.
"The SHRED Power Cleanse "will keep you satisfied, clear your mind, and leave you several pounds lighter.
About the Author
IAN K. SMITH, M.D. is the New York Times #1 bestselling author of Shred, The 4 Day Diet, The Fat Smash Diet and Extreme Fat Smash Diet. He is a co-host of the television show The Doctors, a medical contributor to The Rachael Ray Show and host of the nationally syndicated radio show HealthWatch.Dr. Smith is the founder of two major national health initiatives--the 50 Million Pound Challenge and the Makeover Mile--that have helped millions of people lose weight and improve their health.A graduate of Harvard, Columbia, and the University of Chicago Pritzker School of Medicine, Dr. Smith was appointed to the President's Council on Fitness, Sports, and Nutrition in 2010.
Advertisement