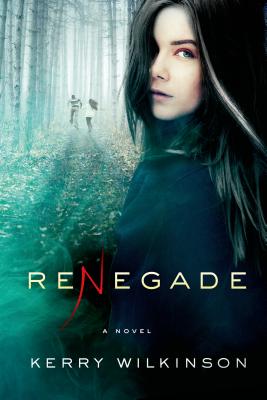 Renegade (Hardcover)
A Novel (The Silver Blackthorn Trilogy #2)
St. Martin's Griffin, 9781250061331, 368pp.
Publication Date: July 7, 2015
* Individual store prices may vary.
Description
The stakes are raised in the second novel of Kerry Wilkinson's Silver Blackthorn Trilogy, Renegade. Silver Blackthorn is on the run. All she really wants is to be reunited with her family and friends but the time for thinking about herself has passed. Now the fates of eleven other teenagers are in her hands - and they are all looking to her for a plan. With an entire country searching for the escaped Offerings, Silver is under pressure to keep them all from the clutches of the Minister Prime, King Victor and the Kingsmen. As expectations are piled upon the girl with the silver streak in her hair, she realizes that life will never be the same again. Huge changes are on the horizon and Silver is in the thick of them . . .
About the Author
Kerry Wilkinson grew up in Somerset, UK, playing ropey-looking computer games for which he needed a keyboard, being rubbish at soccer (or "football" as he calls it), plus reading science fiction and fantasy novels. The Silver Blackthorn trilogy is his first fantasy work, though he is a successful crime writer.
Praise For Renegade: A Novel (The Silver Blackthorn Trilogy #2)…
"Wilkinson keeps the mood tuned to a fever pitch with bouts of hand-to-hand combat, disguises, ruses, secret codes, and cliffhangers." —School Library Journal
"Hand this one to teens who have finished Lauren Oliver's Delirium and Alexandra Bracken's The Darkest Minds to keep them contentedly reading." —Voya Magazine
"Utterly thrilling, wonderfully original - a truly great read." —The Sun (UK)
"Engaging and compelling throughout...I am entirely in love with this series." —LizLovesBooks.com
"Wilkinson does a bang-up job of creating a world that is utterly believable and imaginable." —Escapeintowords.blogspot.co.uk
"Not since George Orwell has there been such an effective use of the British countryside and townships in a dystopian fiction." —A Bit Behind on Books
"British author Wilkinson creates a villain and a system so unpleasant that readers will long to see them destroyed, and the Offerings face as much danger from their companions turning on each other as from their dangerous circumstances. A strong voice and an intricate endgame." —Publishers Weekly on Reckoning
"In a crowded market of apocalyptic YA fiction, this title stands out." —School Library Journal on Reckoning
"There's true joy in Silver's evolving friendships and the game-changing spirit of camaraderie they inspire. This new dystopian novel ultimately engages with its blurring of lines between medieval castles and sci-fi technology." —Kirkus Reviews on Reckoning
"Reckoning had everything I'm looking for in a great read--vivid characters dealing with impossible circumstances, romance, and a fully realized world that kept me flipping pages long into the night." —Heather Anastasiu, author of Glitch and Override, on Reckoning
or
Not Currently Available for Direct Purchase