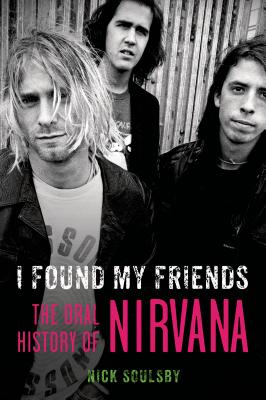 I Found My Friends (Paperback)
The Oral History of Nirvana
St. Martin's Griffin, 9781250061522, 368pp.
Publication Date: March 31, 2015
* Individual store prices may vary.
Description
I Found My Friends re-creates the story of Nirvana, from its earliest days in 1987 to its sudden end seven years later, through the words of the musicians and producers who played and interacted with the band. Soulsby interviewed over 200 musicians from bands that played and toured with Nirvana, including well-known alternative bands such as Hole, Mudhoney, Meat Puppets, Buzzcocks, Butthole Surfers, and the Jesus Lizard, as well as countless others from the alternative rock revolution. Readers get a more personal history of Nirvana than ever before, including Nirvana's consideration of nearly a dozen previously unmentioned candidates for drummer before settling on David Grohl; a recounting of Nirvana's famously disastrous South American shows from never-before-heard sources; and recollections from their first manager, who hosted the band's first ever gig.
I Found My Friends relives Nirvana's meteoric rise from the days before the legend to through their increasingly damaged superstardom. More than twenty years after Kurt Cobain's tragic death, Nick Soulsby removes the posthumous halo from the brow of Kurt Cobain and travels back through time to observe one of rock and roll's most critical bands as no one has ever seen them before.
About the Author
Nick Soulsby is the author of Dark Slivers: Seeing Nirvana in the Shards of Incesticide and blogs about the band on his web site.
Praise For I Found My Friends: The Oral History of Nirvana…
"Fans of Kurt Cobain and Nirvana should find much to savor in this fascinating oral history of one of rock's most iconic bands." —Booklist
"The book ably captures the lost milieu of independent rock, which Nirvana's moment irretrievably transformed." —Kirkus
"[T]his history is captivating enough to distinguish itself among the crowded canon. Hard-core and casual Nirvana fans alike will find this book engaging." —Library Journal
"Nick…demonstrates true passion for the music and a deep understanding of the musicians who create it. His words are more than just ciphers to exchange for dollars, just as the music he's writing about was always more than just noise for profit." —Kurt Danielson, Tad / Vaporland