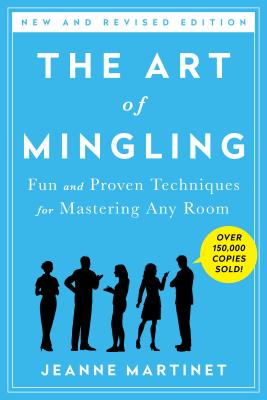 The Art of Mingling, Third Edition
Fun and Proven Techniques for Mastering Any Room
Paperback

* Individual store prices may vary.
Description
Fully revised and updated with 50% new material!
With Jeanne Martinet's trademark wit and practicality, The Art of Mingling hands you the keys to feeling at ease in any social situation
Does the idea of going to a large party make your mouth go dry? Are you more comfortable on Facebook than face-to-face? You're not alone: Ninety percent of the world suffers from minglephobia. Jeanne Martinet has developed a cure, a sure-fire system for overcoming fears and having a great time at any type of business or social gathering. Filled with simple techniques, tricks, tips, lines and maneuvers, and illustrated with entertaining examples, The Art of Mingling teaches you:
* Basic survival strategies for the Truly Terrified
* Opening lines and gambits that really work
* Tools and rules for keeping the conversation going in the right direction
* The all-important etiquette of escape
* Faux pas recovery techniques
* How to avoid the dumb use of smartphones
* The secret to being a good listener
* The right way to follow up online
* and much, much more!
Praise For The Art of Mingling, Third Edition: Fun and Proven Techniques for Mastering Any Room…
"Ms. Martinet believes in mingling the way some people believe in yoga. To her it is a discipline and form of exercise to be practiced on a regular basis." —The New York Times
"Jeanne Martinet's amusing guide contains nifty ideas designed to get the flower off the wall and into circulation." —Letitia Baldridge
"The Art of Mingling takes the intimidation out of party scenes, whether they are business-related or social." —Publishers Weekly
"Jeanne Martinet is an expert at navigating parties." —New York Daily News
"Martinet has developed techniques for working any event with ease." —Chicago Tribune
"Jeanne Martinet has come to the rescue of wallflowers everywhere with The Art of Mingling...a book full of witty one-liners." —Daily Mirror (UK)
"If your idea of absolute terror is a room full of strangers at a party...then you'd benefit from The Art of Mingling." —Single Life Magazine
"Anyone who reads [The Art of Mingling] will end up being the belle of the ball....I love it. I love it. I love it." —Marjabelle Young Stewart
"Having all my life dreaded social mingling with an ever increasing unease, I will now carry The Art of Mingling with me wherever I go, knowing I will no longer be at a loss for words." —J. P. Donleavy
"Boy, do I need Jeanne Martinet's The Art of Mingling... (Martinet notes astutely that we have atrophied mingling muscles.) No more holding up the wall at American Library Association functions!" —Library Journal (editors' pick!)
St. Martin's Griffin, 9781250061768, 272pp.
Publication Date: October 20, 2015
About the Author
JEANNE MARTINET is the author of eight books, including The Art of Mingling, which has sold more than 150,000 copies and been published in ten countries. She has been featured in such publications as The New York Times, Salon, The Boston Globe, Glamour and The Washington Post. She has shared her humor and mingling know-how on many TV and radio shows, including "The Today Show," "The CBS Early Show," NPR's "Morning Edition" and WNYC's "The Leonard Lopate Show." She lives, writes and mingles in New York City.