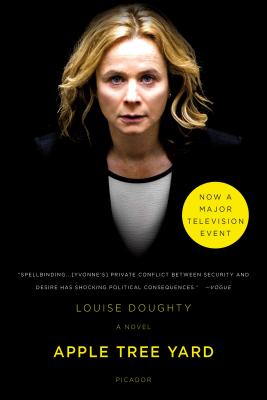 Apple Tree Yard
A Novel
Paperback

* Individual store prices may vary.
Other Editions of This Title:
MP3 CD (1/14/2014)
MP3 CD (1/14/2014)
Hardcover (1/14/2014)
MP3 CD (9/16/2014)
Compact Disc (1/13/2015)
Compact Disc (1/14/2014)
Compact Disc (1/14/2014)
Paperback (1/2/2014)
Description
Soon To Be a STARZ Mini-Series, Starring Emily Watson
Yvonne Carmichael sits in the witness box. The charge is murder. Before all of this, she was happily married, a successful scientist, a mother of two. Now she is a suspect, squirming under florescent lights and the penetrating gaze of the alleged accomplice who is sitting across from her, watching: a man who is also her lover. As Yvonne faces hostile questioning, she must piece together the story of her affair with this unnamed figure who has charmed and haunted her. It is a tale of sexual intrigue and ruthless urges—and of danger, which has blindsided her from a seemingly innocuous angle. Here, in the courtroom, everything hinges on one night in a dark alley called Apple Tree Yard.
Shot through with suspense and masterfully paced, Louise Doughty's novel is "a must read . . . if you liked The Silent Wife, you'll fall hard for Apple Tree Yard" (AARP).
Praise For Apple Tree Yard: A Novel…
"Spellbinding . . . [Yvonne's] private conflict between security and desire has shocking political consequences." —Vogue
"There can't be a woman alive who hasn't once realized, in a moment of panic, that she's in the wrong place at the wrong time with the wrong man . . . A compelling and bravely-written book." —Hilary Mantel
"Doughty writes with consummate pacing and psychological acuity, bringing fresh force to a common regret of adulterous lovers." —The New Yorker
"[It's] fascinating to see a brilliant woman destroy her life with a few impulsive decisions. In Doughty's hands, Yvonne's actions are both shocking and weirdly understandable." —Entertainment Weekly
"Full of equally sharp turns of plot and phrase . . . Apple Tree Yard is very, very good." —Chicago Tribune
"Extraordinary . . . I've never read anything like it." —Ruth Rendell, The Guardian (UK)
"At the start of Louise Doughty's taut and psychologically persuasive novel we find [Yvonne] taking the witness stand at the Old Bailey, accused of complicity in a violent crime and about to be exposed in a highly damaging and compromising lie . . . This is a novel that explores the ease with which we can stray off our safe, familiar paths and become addicted to the stories we tell about ourselves. A disquieting, perceptive and gripping read." —Daily Mail
"Doughty's achievement is to imagine a horribly mundane tragedy--the kind that could happen to anyone, but a tragedy nonetheless . . . It gives nothing away to state that the comprehensiveness of [Yvonne's] public disgrace is harrowingly well-realised . . . The trial itself is a masterful piece of evasion and selective disclosure . . . A compelling cautionary tale of what happens when fantasy begins to occlude real life. 'The trouble with stories is, they are addictive,' Doughty states. In this case, she may never have written a truer word." —The Guardian
"Louise Doughty has written a gripping thriller that calls our own thoughts on morality into question and is impossible to put down. Intelligent and captivating, Apple Tree Yard makes you realize how one bad decision can change the course of your life forever." —Stylist Magazine, Top Ten Must-Reads for June
"Doughty controls the progress of this narrative beautifully, parsing out information with tantalising hints at what is to come . . . Apple Tree Yard is a chilling novel, in part because of the unsparing light it shines on our ability to deceive ourselves. Doughty has a particular gift for unsettling stories, for making us ask difficult questions of ourselves, and this is her strongest book yet. It's not a comfortable read, but it is entirely compelling." —The Observer (London)

"Doughty is a brilliant storyteller who knows how to build the suspense to a breaking point." —The Times (London)

"If a prologue to a novel is to whet the reader's appetite, Louise Doughty provides irresistible temptation with the opening to Apple Tree Yard . . . Recollection, interspersed with the growing tension as the trial plays out in the Old Bailey, provides a perfectly dovetailed structure. But within the thriller framework lies a wealth of acutely observed detail, a dissection of social attitudes and an examination of lust, trust, predatory sex, risky behavior and responsibility . . . As deftly as her lover lured Yvonne into a high-risk relationship, Doughty has skillfully led the reader to cast aside misgivings and trust her confident lead. That the result is unsettling is evidence that there is considerably more to Apple Tree Yard than thrilling narrative alone." —Herald Scotland

"Doughty, like Zoë Heller, Rachel Cusk, and Tessa Hadley, drops sharp, shiver-inducing insights, like winter raindrops, on every page . . . The story is compelling, but Doughty makes sure that we're enthralled by teasing us with tantalising glimpses of future events. Her writing is piercing and potent, overpowering emotions captured in sharp, pithy phrases. For all the tachycardia-inducing detail of the plot, Doughty's view is broad, steeping the story in authenticity. She provides convincing examples of the effects of trauma, such as the atmosphere after a vitriolic outburst at a middle-class dinner party: 'ugly and baffled silence . . . thick in the yellow room'; and describes the larger world, such as a stranger's personal drama on the street. The court scene is one of the best I've ever read, the suspense and tension building to a taut peak. A major theme is how we build up illusions about people we don't know, and fall for our ideal rather than the individual. Others include the way female victims are treated by the criminal law system, the sly manipulation of juries, and the way a series of facts can be arranged and interpreted in a variety of ways, all telling different narratives. Riveting." —The Independent

"Nobody who reads Apple Tree Yard is likely to complain about feeling short-changed . . . Here the sharp domestic details are powerfully combined with (among other things) a dark crime thriller, a gripping courtroom drama and an unforced meditation on the pleasures and dangers of self-deception . . . Superbly teasing." —Reader's Digest

"Certainly not typical thriller territory, but all the more appealing and unexpected for it. I loved this slow burner of a story which ignites into a nail-biting finale . . . Full of sharp, yet almost throwaway observations about women and careers, the differences between men and women, about love and long-term relationships, this book was nothing like what I expected. This was a fascinating read, reminiscent of Nicci French in top form, yet with an added twinge of melancholy." —CrimeFictionLover.com

"Tense, unnerving and gripping." —Woman and Home
Picador, 9781250062031, 336pp.
Publication Date: January 13, 2015
About the Author
Louise Doughty's novel Whatever You Love was short-listed for the Costa Book Award and long-listed for the Orange Prize for Fiction. She is the author of several other novels and a book of nonfiction, A Novel in a Year, based on her hugely popular newspaper column. She also writes plays and journalism and broadcasts regularly for BBC Radio 4. Doughty lives in London.
or
Not Currently Available for Direct Purchase