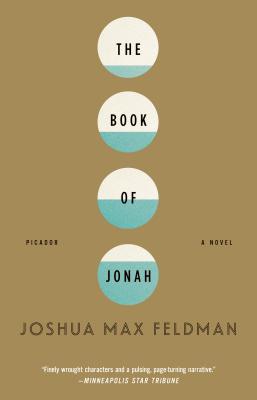 The Book of Jonah
A Novel
Paperback

* Individual store prices may vary.
Other Editions of This Title:
Digital Audiobook (2/3/2014)
Description
"THE STORYTELLING, INFUSED WITH ENERGY THROUGHOUT, GATHERS MOMENTUM AND CULMINATES IN AN ENIGMATIC, UNEXPECTED ENDING."—The New York Times Book Review

The modern day Jonah at the center of Joshua Max Feldman's brilliantly conceived retelling of the Bible's Book of Jonah is a lucky guy: healthy and handsome, with two beautiful women ready to spend the rest of their lives with him, and an enormously successful legal career that gets more promising by the minute. He's celebrating a deal that will surely make him partner at his firm when a bizarre vision at a party changes everything. Jonah tries hard to forget what he's seen, but this disturbing sign is only the first of many he will witness, and before long his life is unrecognizable. As this funny and bold novel moves to Amsterdam and then Las Vegas, Feldman examines the way we live now while asking an age-old question: How can we explain the unexplainable?
Praise For The Book of Jonah: A Novel…
"Finely wrought characters and a pulsing, page-turning narrative." —Star Tribune
"The storytelling, infused with energy throughout, gathers momentum and culminates in an enigmatic, unexpected ending . . . The risk-taking and sheer weirdness of The Book of Jonah is worth applauding." —The New York Times Book Review
"A beguiling first novel . . . Feldman gives ample proof that he can write about well-dressed New Yorkers with the same prickly wit that Claire Messud offered in The Emperor's Children. His satire lacks that astringent bitterness that can make some witty novels seem heartless. And his willingness to pose the big questions to the whirlwind makes for unusually thoughtful reading." —The Washington Post
"Brave and necessary . . . one of the few novels I've read recently that is a genuine page-turner." —Cleveland Plain Dealer
"The Book of Jonah is a debut that heralds great promise . . . Feldman works new and inventive wonders from an ancient template." —Star Tribune
"It is rare that a novel juxtaposes the contemporary world and the biblical one in such dramatic fashion The Book of Jonah is a compelling read, a clever deconstruction of modern life as reflected in an ancient and timeless lens." —Abraham Verghese, author of Cutting for Stone
"Feldman captures the contemporary New York zeitgeist, but also effectively tackles questions of biblical proportions: How can we live in a world we can't comprehend? How can we serve a God whose will we can't understand?" —Shelf Awareness
"Deft and entertaining . . . What a sweet tale this is. While Feldman's prose is assured and sophisticated, the story is one of the oldest. And, in this telling, is worthy of repeating." —New York Daily News
"As up-to-date as an iPhone 5S and as timeless as the question it asks: How do we live a righteous life? For all the ironic cool of his novel's slick, modern surface, like writers of the best moral fiction, Joshua Max Feldman touches us in ways that are anything but superficial." —Bookpage
"[An] enticing debut novel." —Publishers Weekly
"Feldman is clever in his use of the Jonah story, and his novel is of the same strange and enigmatic quality as the original." —Kirkus
"Feldman's expansive tale offers an invigorating, timeless exploration of existential crises within a contemporary world." —Booklist
"Joshua Max Feldman's debut novel is impressive experimentation with allegory and the antihero…Feldman transforms the archaic dichotomy of good-versus-evil into a profoundly contemporary rumination on the binary of evil and truth." —The National Jewish Book Council
"The text of the biblical Book of Jonah is minimal, and its God and its Jonah are ciphers, and their motives enigmatic, but the Jonah of Joshua Feldman's novel is fully realized, a New York corporate lawyer making recognizable compromises until, brushed by the divine, his world dissolves. This engaging novel gives form to an opaque and ancient story while retaining that story's mystery." —Zachary Mason, author of The Lost Books of the Odyssey
"Joshua Feldman offers a shrewd, humorous, and entertainingly modern twist on the Old Testament prophet. He's written a bold and very funny book." —Sarah Shun-lien Bynum, author of National Book Award finalist Madeleine is Sleeping
Picador, 9781250062116, 352pp.
Publication Date: January 27, 2015
About the Author
Joshua Max Feldman is a writer of fiction and plays. Born and raised in Amherst, Massachusetts, he graduated from Columbia University and currently lives in Brooklyn. The Book of Jonah is his first novel.
or
Not Currently Available for Direct Purchase