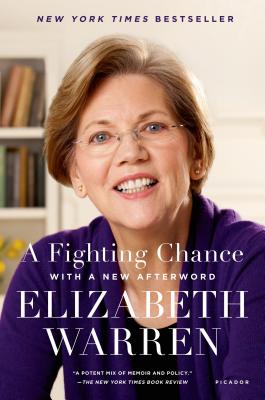 A Fighting Chance
Paperback

* Individual store prices may vary.
Other Editions of This Title:
Digital Audiobook (4/21/2014)
Hardcover (4/22/2014)
CD-Audio (4/22/2014)
Description

A NEW YORK TIMES BESTSELLER

An unlikely political star tells the inspiring story of the two-decade journey that taught her how Washington really works—and really doesn't

As a child in small-town Oklahoma, Elizabeth Warren yearned to go to college and then become an elementary school teacher—an ambitious goal, given her family's modest means. Early marriage and motherhood seemed to put even that dream out of reach, but fifteen years later she was a distinguished law professor with a deep understanding of why people go bankrupt. Then came the phone call that changed her life: could she come to Washington DC to help advise Congress on rewriting the bankruptcy laws?
Thus began an impolite education into the bare-knuckled, often dysfunctional ways of Washington. She fought for better bankruptcy laws for ten years and lost. She tried to hold the federal government accountable during the financial crisis but became a target of the big banks. She came up with the idea for a new agency designed to protect consumers from predatory bankers and was denied the opportunity to run it. Finally, at age 62, she decided to run for elective office and won the most competitive—and watched—Senate race in the country.
In this passionate, funny, rabble-rousing book, Warren shows why she has chosen to fight tooth and nail for the middle class—and why she has become a hero to all those who believe that America's government can and must do better for working families.
Praise For A Fighting Chance…
"A potent mix of memoir and policy...The title of this book reminds us that this is about Warren's fight. She is still the fiery advocate who called for a bureau to protect consumers or, as a second choice, 'no agency at all and plenty of blood and teeth left on the floor.'" —The New York Times Book Review
"Moving...Ultimately, the book's message is that one person can make a difference....After reading this book, it is comforting to know that Elizabeth Warren, with her passion, anger and bluntness, will not be silenced." —The Washington Post
"[Warren's] storytelling is well-paced and engaging....She mixes policy points with rich behind-the-scenes anecdotes." —The Boston Globe
"Intelligent and informative...[Warren is] good, plainspoken company who makes you feel smarter for having spent such easy time with her....Her new book, which is a loving look at her family as well as her country, will only broaden her base." —Entertainment Weekly
"A revealing account of Warren's rise to prominence...[Warren's] arguments demand to be taken seriously....As a politician and activist, Warren's great strength is that she retains the outsider's perspective, and the outsider's sense of moral outrage, which runs throughout A Fighting Chance....She's an indomitable battler for the underdog, and she doesn't take no for an answer." —The New York Review of Books
"The Wall Street watchdog and U.S. senator has produced a readable and sometimes infuriating explanation of the biggest financial crisis of our time." —People
"[Warren] has a compelling story to tell....She is also entertaining about professional politics." —The Economist
"Warren's prose is as...direct as her book's title. She has a good story to tell and she tells it well....Warren's accomplishments defied expectations virtually every step of the way." —The Christian Science Monitor
"Passionate...Her vision [for the country], laid out elegantly and effectively in A Fighting Chance, involves investments by 'we the people,' through our government, in schools, roads and research labs, and in a social safety net for 'the least among us,' investments that are, at once, in our own self-interest and in the national interest." —Pittsburgh Post-Gazette
"Remarkable...A Fighting Chance takes the reader into the nitty-gritty of our nation's most controversial financial decisions with a depth of insight and experience no one else in today's politics can offer....In a time when our country's greatness seems to be in crisis, this is the story of a woman who is the living embodiment of the American Dream." —Harvard Political Review
"Revealing...Warren's book describes the troubling patterns and practices of high-level Washington." —Gretchen Morgenson, The New York Times
"Warren has written a good book....Frank and quite strong." —The Nation
"Warren's moment has arrived....To understand why Sen. Elizabeth Warren is the fastest-rising new star in the Democratic Party...read her new book....A Fighting Chance tells true and important tales about the great scandal of our age, the corruptions that engulf Washington today, and the battles of good people to reform them....[Warren] stands for the integrity and spirit that Americans hunger for in public life, which could someday bring her from one end of Pennsylvania Avenue to the other." —The Hill
"[A] call to arms...Reading the rousing finale of A Fighting Chance … you can hear the sound of the crowd roaring with approval." —Mother Jones
"[Warren] displays a down-home charm and an effortless rapport with everyday people....The book is more memoir than manifesto; Warren emerges as a committed advocate with real world sensibility, who tasted tough economic times at an early age and did not forget its bitterness." —Publishers Weekly (starred review)
"A passionate memoir of one woman's personal story and the larger story of corruption in financial circles and the need for reform that balances the interests of the American middle class against those of the corporate sector....[Warren] offers a behind-the-scenes look at the political dealmaking and head-butting machinations in efforts to restore the nation's financial system." —Booklist (starred review)
Picador, 9781250062253, 400pp.
Publication Date: March 31, 2015
About the Author
Elizabeth Warren is the senior U.S. Senator from Massachusetts. A former Harvard Law School professor, she is the author of several books, including A Fighting Chance, a national bestseller that received widespread critical acclaim. One of nation's most influential progressives, she has long been a champion of working families and the middle class. The mother of two and grandmother of three, she lives in Cambridge, Massachusetts, with her husband, Bruce Mann.
or
Not Currently Available for Direct Purchase