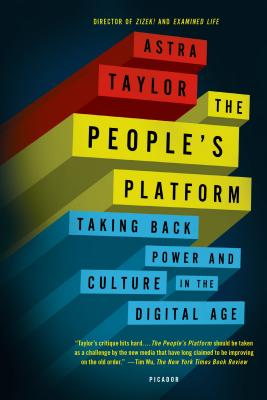 The People's Platform (Paperback)
Taking Back Power and Culture in the Digital Age
Picador, 9781250062598, 288pp.
Publication Date: April 7, 2015
Other Editions of This Title:
Hardcover (4/15/2014)
* Individual store prices may vary.
Description
"Taylor is the Marshall McLuhan or the Neil Postman of our new digital economy, the lonely voice raising urgent questions we need to answer together . . . If The People's Platform doesn't spark the conversation about the kind of democracy and culture we deserve, then we'll deserve the one we get."—NY1 News' The Book Reader

The Internet has been hailed as an unprecedented democratizing force, a place where all can participate equally. But how true is this claim? In a seminal dismantling of techno-utopian visions, The People's Platform argues that the Internet in fact amplifies real-world inequities at least as much as it ameliorates them. Online, just as off-line, attention and influence largely accrue to those who already have plenty of both. A handful of giant companies remain the gatekeepers, while the worst habits of the old media model—the pressure to seek easy celebrity, to be quick and sensational above all—have proliferated in the ad-driven system.
We can do better, Astra Taylor insists. The online world does offer a unique opportunity, but a democratic culture that supports work of lasting value will not spring up from technology alone. If we want the Internet to truly be a people's platform, we will have to make it so.
About the Author
Astra Taylor is the author of The People's Platform (winner of the American Book Award) and made two documentary films, Zizek! and Examined Life. Taylor's writing has appeared in the New York Times, the Washington Post, n+1, and The Baffler, where she is a contributing editor. She lives in New York City.
Praise For The People's Platform: Taking Back Power and Culture in the Digital Age…
"Taylor's critique hits hard . . . The People's Platform should be taken as a challenge by the new media that have long claimed to be improving on the old order." —Tim Wu, The New York Times Book Review
"Taylor is the Marshall McLuhan or the Neil Postman of our new digital economy, the lonely voice raising urgent questions we need to answer together . . . If The People's Platform doesn't spark the conversation about the kind of democracy and culture we deserve, then we'll deserve the one we get." —NY1 News' The Book Reader
"Taylor's smart and nuanced overview of the new media landscape is the best I've recently read and an excellent summary of the mess we're in . . . After reading Taylor's brisk and lucid survey, there's no denying that in online media, the market is falling short." —The Boston Globe
"Do you use the Internet? Then you have to read Astra Taylor's The People's Platform, one of the most important books of the year." —Flavorwire
"Taylor makes a thorough case that the technological advances we've been told constitute progress--that anyone can start a blog, that we can easily keep up with our friends (and frenemies) on Facebook, that Twitter can foment democratic revolution -- are actually masking and, in some cases, exacerbating social ills that have long plagued our society... Compelling and well argued." —Los Angeles Times
"A bracing expression of intelligent outrage--with the manifesto vibe of No Logo and the prescience of Silent Spring. By delivering a streetwise economic analysis of our technological reality, Taylor leaves her reader feeling at once charged and newly aware of being duped.... A smart and needful reminder that we sacrifice our systems of knowledge and communication to corporate interests at our great peril. More importantly, it reminds us that there is no single destiny for us; that we can, and must, engineer more than machines--we must engineer modes of use." —Globe and Mail (Canada)
"In her excellent new book The People's Platform, Astra Taylor thinks through issues of money and power in the age of the Internet with clarity, nuance, and wit. (The book is fun to read, even as it terrifies you about the future of culture and of the economy.)." —The Awl
"Meticulously details how work, education, and the public sphere have been eroded." —National Post (Canada)
"We need books like this. Astra Taylor is a talented documentary-maker who was dismayed by the way her work was appropriated and pirated online. But instead of fuming silently in her studio, she set out to seek an understanding of the paradoxical world that the merging of cyberspace and meatspace has produced. What she finds is a world which is, on the one hand, hooked on an evangelical narrative about the liberating, empowering, enlightening, democratising power of information technology while, on the other, being increasingly dominated and controlled by the corporations that have effectively captured the technology.... The People's Platform will be an invaluable primer for anyone seeking to understand why our networked world isn't all that it is cracked up to be." —The Observer (UK)
"A thoughtful corrective about the nature of a medium that has promoted itself as the great equalizer. Taylor delves deep into a world often assumed incomprehensible to anyone but the archetypal techno-geek. She expertly surveys a broad range of research and opinion, and her conclusions will shake the complacency of anyone who thinks that their computer's firewalls will protect personal privacy and keep them free of the hidden corporate hand surreptitiously shaping their search results." —Quill & Quire (Canada)
"A phenomenally important book... The People's Platform isn't easy to stomach--and that's because it presents plenty of devastating truths....The People's Platform is nothing short of a clear-headed gut-check, but Taylor's message is deceptively simple: That technology is a tool, not a solution. And even if technology has boundless democratizing potential, at current, it hasn't levelled inequalities." —Fast Forward Weekly (Canada)
"With compelling force and manifest-like style, writer and documentary filmmaker Taylor lays out one of the smartest--and most self-evident--arguments about the nature and effect of technology in our digital age.... Taylor's provocative book has the power to help shape discussions about the role of technology in our world." —Publishers Weekly (starred review)
"The Internet is often lauded as an open, democratic marketplace of ideas and goods in which anyone can thrive. In her sweeping critique, documentary filmmaker Taylor challenges this notion, arguing that networked technology has allowed for greater concentration of power and has reduced transparency. Her well-researched, unsettling, and occasionally downright harrowing book explores the consolidation of popularity; the stubborn digital divide; copyright and piracy; and the pervasive power of advertising.... This provocative populist manifesto on an utterly timely subject deserves a wide audience among policymakers and consumers alike." —Library Journal (starred review)
"One of the more incisive voices among the multitudes delivering their visions of what the Internet is and might become.... [A] well-defined examination of media culture... Not to be skimmed. A cogent and genuine argument for the true democratization of online culture." —Kirkus Reviews
"A persuasive book... The author isn't saying we should rebuild the Internet from scratch but, instead, that we should strive to create a more democratic Web in which users are treated like citizens, not consumers or unpaid workers.... A smart, well-reasoned approach to a highly topical subject." —Booklist
"If you've ever had the uncomfortable feeling that we've taken a wrong turn on the way to the future, Astra Taylor's shocking, utterly rational, and elegant book will have you shaking your fist along with her. This is an essential and overdue indictment of our ailing media culture." —Andrew Blum, author of Tubes: A Journey to the Center of the Internet
"The scariest book I've read in a while is also the most exhilarating: there is no better, stronger picture of our bleak new technological landscape and the peppy delusions and deceptions of its profiteers than The People's Platform. But knowledge is power, and Taylor gives us a picture so clear it empowers us to find a way forward through the debris. Read it and revolt." —Rebecca Solnit, author of The Faraway Nearby
"The promise was so utopian, and it really seemed possible! Now we watch as the lauded instrument of 'creative destruction' ends up in the hands of a few giant corporations. What happened? Is there a way out beyond pulling the plug? In response, Astra Taylor has laid out clear arguments, sobering information, and inspiring insights. There have been a lot of books about how the Internet is changing our world, but this is absolutely one of the best. Beautifully written and highly recommended." —David Byrne, author and musician
"Internet policy books seem only to come in two colors: bright dream or dark nightmare. Enter The People's Platform--it's a rainbow of insight. With nuance and a light touch, Astra Taylor exposes the fallacies in contemporary digital punditry. Unlike her peers, she has her eyes on a truly democratic politics. Which makes this a rare book--one that can radically change the way we see the future of digital social change." —Raj Patel, author of The Value of Nothing and Stuffed and Starved
"What happened to the Internet revolution? Why, if everything's so different, does it feel like everything's still the same? Astra Taylor breaks it down here with humor, patience, and an unerring moral sense. This is a brave, inspiring, and necessary book." —Keith Gessen, author of All the Sad Young Literary Men
"Astra Taylor's insights into the 'missing middle' of our present situation are sane, lucid, and generous. This book adjusted my thinking on several scores." —Jonathan Lethem, author of The Ecstasy of Influence
"In this, perhaps the most important book about the digital age so far this century, Astra Taylor reveals the unacknowledged economic system actually running the net. It's a landscape in which leisure might better be classified as labor and the promise of free culture ends up costing us so much more than money." —Douglas Rushkoff, author of Present Shock: Why Everything Happens Now
"Lucid, unsparing, and brilliant, The People's Platform demonstrates how the Internet, hardly a paradise of freedom and equality, has been left in the hands of moguls, oligarchs, and corporate scamsters to produce little more than new forms of exploitation. But it also shows that the utopian promise is not all hot air. Freedom doesn't just happen. It has to be conquered, and this book begins to tell us how." —David Graeber, author of Debt: The First 5,000 Years
"Why has the invention most celebrated for putting the means of expression in the hands of the people produced a few billionaire moguls and a mass of creative producers expected to work for free? Confronting this core inequality of the digital age, Astra Taylor opens a new front in the battle for sustainable culture--and gives us good reason to think that this is a battle we can win." —Jodi Dean, author of Democracy and Other Neoliberal Fantasies