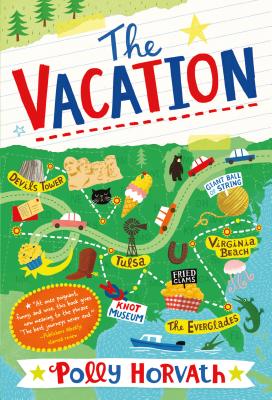 The Vacation (Paperback)
Square Fish, 9781250062796, 224pp.
Publication Date: June 9, 2015
Other Editions of This Title:
Hardcover (8/9/2005)
Compact Disc (11/8/2005)
* Individual store prices may vary.
Description
From the author of the Newbery Honor Book Everything on a Waffle
When his mother decides on a whim to be a missionary in Africa and drags his unwilling father with her, Henry is left in the care of his Aunts Magnolia and Pigg. Henry's sure they dislike him and he's trying to keep his distance, but that becomes more difficult when Mag decides they should take a destination-less road trip. Mag, convalescing from an illness that makes her look like death, is downright crabby. Pigg, tense from driving, is becoming more assertive and less willing to submit to Mag's whims. And while they poke each other—literally—Henry is finding it hard to keep his resolution.
They go to Virginia Beach (it's too hot); try camping in the Everglades (Henry accidentally spends four days floating in a swamp); visit their daddy, Henry's granddaddy (Henry's never met him!); and lose Pigg to love in Oklahoma (what would the radio psychologist Daly Kramer say?) before they finally receive word that Henry's parents are coming back and will meet them in Tulsa to finish the trip with Mag and Henry. But his parents are bickering and Henry is in despair – until he surrenders to the road and decides to let whatever happens happen, but to be there in it all.
Complete with her signature cast of eccentric characters, absurd situations, and heartfelt moments, Polly Horvath writes an on-the-road epic like no other!
About the Author
Polly Horvath has written many books for children and young adults, among them Everything on a Waffle, The Canning Season, and One Year in Coal Harbour. She has won numerous awards including a National Book Award, Newbery Honor, Toronto Dominion Award, International White Raven, and Canadian Library Association's Young Adult Book of the Year. She has also been short-listed for Germany's most prestigious literature award, the Deutscher Jugendliteraturpreis, as well as the Writer's Trust Vicky Metcalfe Award for her body of work and many others. Her books have been New York Times and Publishers Weekly bestsellers and Rosie O'Donnell and Oprah picks. She is translated into over 25 languages and her books are taught in children's literature curricula in North America and internationally. She lives in British Columbia.
Praise For The Vacation…
"* At once poignant, funny, and wise, this book gives new meaning to the phrase 'The best journeys never end.'" —Publishers Weekly, starred review
"* Horvath spins another delightfully offbeat yarn, complete with her signature cast of eccentric characters, wacky situations, poignant moments, and snappy dialogue. Another hit for Horvath." —School Library Journal, starred review
"A new offering from the queen of offbeat is always a welcome holiday." —Kirkus Reviews
"Bitingly funny. A celebration of the clarity that can come when one simply decides just to be." —The Horn Book
"Horvath's unhurried eccentricity is perfectly suited to this kind of picaresque novel. Horvath fans . . . will want to grab a seat on this wierd yet compelling road trip." —The Bulletin of the Center for Children's Books