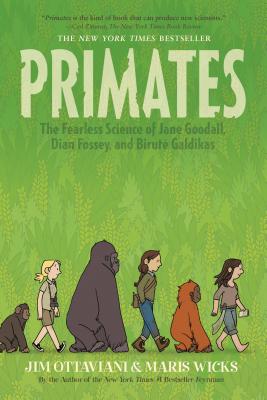 Primates
The Fearless Science of Jane Goodall, Dian Fossey, and Biruté Galdikas
Paperback

* Individual store prices may vary.
Other Editions of This Title:
Hardcover (6/11/2013)
Description
Jim Ottaviani returns with an action-packed account of the three greatest primatologists of the last century: Jane Goodall, Dian Fossey, and Biruté Galdikas. These three ground-breaking researchers were all students of the great Louis Leakey, and each made profound contributions to primatology—and to our own understanding of ourselves.
Tackling Goodall, Fossey, and Galdikas in turn, and covering the highlights of their respective careers, Primates is an accessible, entertaining, and informative look at the field of primatology and at the lives of three of the most remarkable women scientists of the twentieth century. Thanks to the charming and inviting illustrations by Maris Wicks, this is a nonfiction graphic novel with broad appeal.
Praise For Primates: The Fearless Science of Jane Goodall, Dian Fossey, and Biruté Galdikas…
"An accessible introduction to Goodall's, Fossey's and Galdikas' lives and work." —Kirkus Reviews

"A graphic format admirably propels this lightly fictionalized group biography." —The Horn Book

"Presented as dedicated, iconoclastic, and profoundly in awe of the creatures around them, Goodall, Fossey, and Galdikas are inspiring figures, and Ottaviani does a first-rate job of dangling enough tantalizing tidbits to pique readers' interest in the topic." —Booklist

"The story of how each of these women loved primates and lived among them to study their behavior is compelling, and might inspire a whole new generation of scientists to follow in their footsteps." —School Library Journal

"This is an inviting introduction that will undoubtedly lure many readers into further investigation of this groundbreaking fieldwork." —BCCB

"[Ottaviani and Wicks] succeed in conjuring the feel of extraordinary science. And they do so not by manufacturing fake emotion, but by sticking to the reality of being a scientist--the hard punishments of fieldwork, the strains on marriage, the cocktail-party diplomacy back home and, most important of all, the elation of discovery. Especially in its portrayal of this final element,Primates is the kind of book that can produce new scientists." —Carl Zimmer, The New York Times Book Review

"Ottaviani succeeds in capturing their hard work and the thrilling breakthroughs during years of research, without looking away from some of the darker details, such as Leakey's womanizing. Wicks's cartoony illustrations are a great match for the story; they never get bogged down with unnecessary details and briskly move forward the account of the women and their subjects. A riveting, jargon-free overview of one of the great stories of animal research." —Publishers Weekly

"Readers are given a first-person glimpse into Jane's passion for chimps, Dian's determination to protect the world's gorillas, and Birute's enthusiasm for orangutans. The art is simplistic, yet powerful, with interesting details about the scientists' introductions to life with and the study of primates. . . . Primates is an intriguing introduction to three female scientists who changed the way the world defined 'human.'" —VOYA
Square Fish, 9781250062932, 144pp.
Publication Date: August 4, 2015
About the Author
Jim Ottaviani has written fifteen (and counting) graphic novels about scientists. His books include Naturalist (with E.O. Wilson), Astronauts: Women on the Final Frontier, Hawking, The Imitation Game, a biography of Alan Turing, Primates, about Jane Goodall, Dian Fossey, and Biruté Galdikas; and Feynman, about the Nobel-prize winning physicist, artist, and raconteur. His books are New York Times bestsellers, have been translated into a dozen languages, and have received praise from publications ranging from Nature and Physics World to Entertainment Weekly and Variety.

Jim lives in Michigan and comes to comics via careers in nuclear engineering and librarianship.
Maris Wicks
lives in sunny Somerville, Massachusetts. She is the author behind
Human Body Theater
, as well as the illustrator of New York Times Bestselling
Primates
, with Jim Ottaviani. Wicks has also created comics for Spongebob Comics, DC and Marvel. When Maris is not drawing comics, she can be found prepping slides for her collection of vintage microscopes.