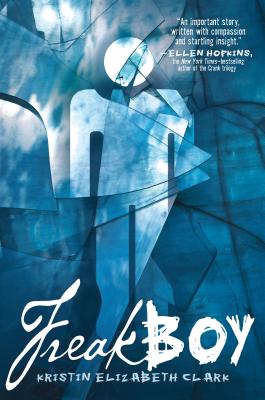 Freakboy (Paperback)
Square Fish, 9781250062956, 448pp.
Publication Date: November 8, 2016
Other Editions of This Title:
Hardcover (10/22/2013)
* Individual store prices may vary.
Description
A powerful novel in verse told from the points of view of a genderqueer teenager, the teen's girlfriend, and a trans woman
"An important story, written with compassion and startling insight." —Ellen Hopkins, The New York Times–bestselling author of the Crank trilogy

From the outside, Brendan Chase seems to have it pretty easy. Brendan is a star wrestler, a video game aficionado, and a loving significant other to seemingly perfect match, Vanessa.
But Brendan feels so wrong. Why does Brenan sometimes fantasize having long hair, soft skin, and gentle curves? Is there even a name for people like Brendan? People who are assigned male at birth but who sometimes want to be girls? Or is Brendan just a freak?
In Freakboy's razor-sharp verse, Kristin Clark folds three narratives into one powerful story: Brendan's exploration of gender; Vanessa, who fights to keep her and Brendan's relationship alive; and Angel, a woman who's struggling to confront her own demons.
Praise for Freakboy:

"Debut novelist Clark uses free verse to write a gripping story about a complex topic: the challenges of growing up transgender or genderqueer." —Publishers Weekly, starred review
"This gutsy, tripartite poem explores a wider variety of identities—cis-, trans-, genderqueer—than a simple transgender storyline, making it stand out." —Kirkus Review, starred review
About the Author
Kristin Elizabeth Clark always knew she wanted to be a writer. She began dabbling in haiku in the third grade – this "experimentation" turned out to be a gateway to the harder stuff: book-length verse. She lives and writes in Northern California where she has worked as a child advocate within the juvenile justice system, and as a children's theatre producer. She is a proud volunteer at Project Outlet in Mountain View, CA.  Freakboy is her young adult debut.
Praise For Freakboy…
"...a gripping story about a complex topic..." —Publishers Weekly, starred review
"*This gutsy, tripartite poem explores a wider variety of identities--cis-, trans-, genderqueer--than a simple transgender storyline, making it stand out." —Kirkus Review, starred review
"It succeeds in conveying the message that "you are not alone" to transgender youth while helping everyone else get a handle on these often-tortured teens. The author succeeds in her mission to foster "greater understanding and acceptance of gender's vast and lovely variation." —School Library Journal
"A sincere, profound rendering of sexuality, queerness, and identity." —The Horn Book