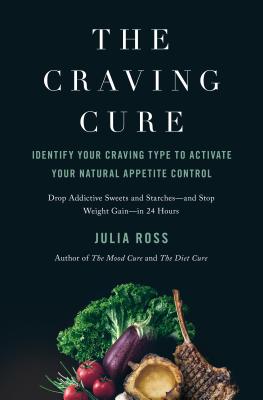 The Craving Cure (Hardcover)
Identify Your Craving Type to Activate Your Natural Appetite Control
Flatiron Books, 9781250063199, 432pp.
Publication Date: December 12, 2017
* Individual store prices may vary.
Description
Drop Addictive Sweets and Starches--and Stop Weight Gain--in 24 Hours

Featuring a 5-part questionnaire to help you identify your personal craving profile
Julia Ross, best-selling author and expert in nutrition and overeating, exposes the real reason so many of us can't stick to a healthy diet: our favorite foods are engineered to be addictive. At her clinic in California, Ross and her colleagues treat food addiction where it starts--in the brain--by triggering our natural appetite-regulating neurotransmitters with nutrients called amino acids. It turns out that these protein concentrates boost our neurotransmitters, which broadcast sensations of satisfaction that no food, including chocolate, can override. Thousands of Ross' clients have abolished their cravings for high-calorie confections using this simple nutritional strategy.
With The Craving Cure, Ross grants all of us access to this revolutionary approach. The process begins with a five-part questionnaire that helps you identify your unique craving profile and specifies the amino acid supplements you need to curb your specific cravings. Ross' clear explanations of why and how to use the aminos empower you to reclaim your natural appetite control, and her anti-craving eating guidelines will permanently strengthen your dietary defenses. A well-researched and clinically-tested rejection of low-calorie, low-saturated fat, and low-protein diets, The Craving Cure reveals how we can effortlessly and permanently eradicate our cravings to lose weight, rediscover our nutritional heritage, and regain optimal mood, energy, and health.
About the Author
Julia Ross is a pioneer in the use of nutritional therapy for the treatment of eating disorders, addictions, and mood problems. The director of several integrative treatment clinics in the San Francisco Bay area since 1980, Ross also trains and certifies health professionals and lectures widely. She is the author of the best-selling books, The Mood Cure and The Diet Cure. Her work has been featured in publications from Vogue to the Journal of the American Psychological Association as well as online and on radio and television programs.
Praise For The Craving Cure: Identify Your Craving Type to Activate Your Natural Appetite Control…
"Julia Ross does it again! This much-needed book addresses the root causes of cravings — how the so-called 'food' industry hijacks our complex brain biochemistry to create insatiable cravings for their products so that they can make money and we can ruin our health. Quite a deal! Read this book to discover how to arm yourself against the outrage and reclaim your health and your brain in the process."
— Hyla Cass, MD, Author of THE ADDICTED BRAIN AND HOW TO BREAK FREE

"In the land of the free, so many of us are imprisoned by cravings. No one knows more about how to break us out of the industrial food trap than Julia Ross. I have been watching her influence grow for twenty years, as word of her revolutionary work using amino acids to target food addiction has spread. The Craving Cure leads us back to real nourishment and true food freedom."
— Sally Fallon Morell, Author of Nourishing Traditions and Nourishing Fats

"Julia Ross is a respected leader in the field of functional medicine. As a result of her groundbreaking work with amino acids, she has developed a well-deserved reputation of the world expert in the use of nutrients to stop overeating and negative moods. The Craving Cure readers are in good hands."
— Richard Shames, MS, Author of Thyroid Power