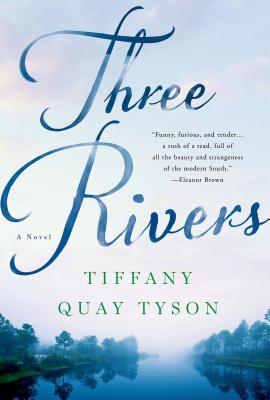 Three Rivers
A Novel
Hardcover

* Individual store prices may vary.
Description
A massive storm was coming straight for Mama's little plot of land in the Mississippi Delta and there was no way any of them could outrun the weather.
For three years Melody Mahaffey has been on the road, touring as a keyboardist with a terrible Christian pop band she can hardly stand. So when her mother calls, full of her usual dire news and dramatic pronouncements, Melody is relieved to pack her bags and call it quits. But at the sprawling, defunct Three Rivers Farm her family calls home, Melody is shocked to discover her father is dying. Even worse, her mother has abandoned the family, leaving Melody the sole caretaker of her father and brain-damaged brother. Sure that her daughter will do the right thing, Geneva leaves to seek spiritual guidance and break things off with her long-time lover.
Rain begins to fall and an epic flood threatens the Mississippi Delta. While Melody tries to get a handle on the chaos at home, a man and his little boy squat on her land, escaping their own nightmare. Obi is on the run from a horrific mistake, and he's intent on keeping his son with him at any cost. When the storm arrives, though, they have no choice but to take shelter in Melody's house. And the waters just keep rising.
A lifetime of lies, misunderstandings and dark secrets bubble to the surface as the flood destroys the land and threatens their lives. Set against the fertile but dangerous landscape of the rural south near the fictional town of White Forest, Mississippi, Three Rivers beautifully weaves together three parallel stories, told over three days, as each character is propelled headlong into the storm.
Praise For Three Rivers: A Novel…
"Gorgeously-written... Tyson, who grew up in Jackson and attended Delta State University, writes with exuberance, confidence and humor. This is her first novel; it should not be her last." —Delta Magazine
"Three Rivers is reminiscent of a Beth Henley play or a Flannery O'Connor story. At its contemporary Southern Gothic best, Three Rivers propels the reader along like the deep, fast currents of the floodwaters Tyson so aptly describes, rushing toward a poignant, cathartic ending."—Gerry Wilson, The Clarion-Ledger
"Three Rivers feels like a modern Southern gothic tale, with big themes and memorable characters. Compelling and entertaining, it's worth your time."—Mississippi Business Journal
"Tyson's good-old-fashioned Southern drama appears right in time for storm season." —Booklist
"Tyson's debut is a modern Southern novel with a dark gothic feel and a few elements of magical realism." —Library Journal
"Tiffany Quay Tyson's funny, furious, and tender debut is a rush of a read, full of all the beauty and strangeness of the modern South." —Eleanor Brown, New York Times bestselling author of The Weird Sisters
"Tiffany Quay Tyson's beguiling debut draws the reader into a fast-paced story of family secrets and lies--no member of the Mahaffey family is quite what they seem. Three Rivers has all the necessary ingredients for a grand Southern tale--complicated families trying to love each other better, epic weather, and a spiritual quest." —Amy Franklin-Willis, author of The Lost Saints of Tennessee
"A dangerous storm in the Mississippi Delta sets this page-turning, emotion-filled debut in motion. Tyson delights throughout with richly crafted characters that will leave you cheering them on as they struggle to find their way to calmer days." —Susan Gregg Gilmore, author of The Funeral Dress
"Three Rivers, Tiffany Quay Tyson's wonderful first novel, is a rich exploration of love, family, obligation, and the South, at times moody and poignant, at times darkly funny. As storm waters flood the Mississippi Delta, three stories converge, secrets come to light, and the characters push toward renewal and a fresh understanding. This story will stick with you long after you close the cover on the final glimpse of the wild, musical landscape." —William Haywood Henderson, author of Augusta Locke
"Three Rivers is a heartfelt, redemptive, sometimes harrowing, and irresistible novel. Tiffany Quay Tyson is an enchanter casting her spell with lyrical prose, evocative details, and spellbinding characters. She knows that every story is many stories, and she handles the complex tales of violence, infidelity, poverty and dire family secrets with intelligence, grace, and courage. She gives me what I long for in fiction: compassion, provocation, and characters I care about as much as she does." —John Dufresne, author of No Regrets, Coyote
"Three Rivers is a torrent of a novel, pulling us into its current and hurling us along from first page to last. Tiffany Quay Tyson writes with a vibrancy, humor, and pathos that will warm your spirit, excite your passions, and melt your heart. At times tender, at times violent, and riveting throughout, Tyson's debut continues the grand tradition of southern storytelling at its finest." —Gary Schanbacher, author of Crossing Purgatory and Migration Patterns
Thomas Dunne Books, 9781250063267, 304pp.
Publication Date: July 21, 2015
About the Author
Tiffany Quay Tyson grew up in Jackson, Mississippi, and attended Delta State University. Her short fiction has been published in The Tulane Review and Peeks & Valleys: A Southern Journal. She lives in Denver, where she has served on the board of directors for Lighthouse Writers Workshop, and occasionally leads workshops for the Lighthouse Young Writers Program.
or
Not Currently Available for Direct Purchase