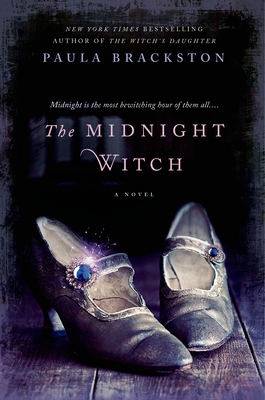 The Midnight Witch (Paperback)
A Novel
St. Martin's Griffin, 9781250063298, 448pp.
Publication Date: March 24, 2015
Other Editions of This Title:
Digital Audiobook (3/24/2014)
Hardcover (3/25/2014)
CD-Audio (12/8/2015)
* Individual store prices may vary.
Description
Midnight is the most bewitching hour of them all…
From Paula Brackston, the New York Times bestselling author of The Witch's Daughter and The Winter Witch, comes a magical tale that is as dark as it is enchanting. Set in high society Edwardian England, The Midnight Witch is the story of a young witch who faces the choice between love and loyalty to her coven…
"The dead are seldom silent. All that is required for them to be heard is that someone be willing to listen. I have been listening to the dead all my life."
Lady Lilith Montgomery is the daughter of the sixth Duke of Radnor. She is one of the most beautiful young women in London and engaged to the city's most eligible bachelor. She is also a witch.
When her father dies, her hapless brother Freddie takes on his title. But it is Lilith, instructed in the art of necromancy, who inherits their father's role as Head Witch of the Lazarus Coven. And it is Lilith who must face the threat of the Sentinels, a powerful group of sorcerers intent on reclaiming the Elixir from the coven's guardianship for their own dark purposes. Lilith knows the Lazarus creed: secrecy and silence. To abandon either would put both the coven and all she holds dear in grave danger. She has spent her life honoring it, right down to her engagement to her childhood friend and fellow witch, Viscount Louis Harcourt.
Until the day she meets Bram, a talented artist who is neither a witch nor a member of her class. With him, she must not be secret and silent. Despite her loyalty to the coven and duty to her family, Lilith cannot keep her life as a witch hidden from the man she loves.
To tell him will risk everything.
About the Author
PAULA BRACKSTON is the New York Times bestselling author of The Witch's Daughter and The Little Shop of Found Things, among others. Before becoming a writer, she was a horse groom, a travel agent, a secretary, a teacher, and a goat herd. Everyone (particularly the goats) is relieved that she's found a job she does properly. When not in her writer's shed, Paula can be found being walked by the dog, hacking through weeds in her vegetable patch, or sitting by the pond with a glass of wine. She lives in Wales with her family.
Praise For The Midnight Witch: A Novel…
"Brackston neatly balances a vivid portrayal of 1913 London on the brink of war with fantastical necromantic set-pieces...The Midnight Witch is a compelling read." —The Guardian (London)
"A sensitive, beautifully written account… If the Brontë sisters had penned magical realism, this would have been the result." —The Guardian (London) on The Winter Witch
"There's a whiff of Harry Potter in the witchy conflict--a battle between undeveloped young magical talent and old malevolence--at the heart of this sprightly tale of spells and romance, the second novel from British writer Brackston (The Witch's Daughter, 2011)…. Love of landscape and lyrical writing lend charm, but it's Brackston's full-blooded storytelling that will hook the reader." —Kirkus on The Winter Witch
"Brackston delivers an intimate paranormal romance that grounds its fantasy in the reality of a 19th century Welsh farm." —Publishers Weekly on The Winter Witch
"Brackston's imaginative story is fascinating, polished and intriguing." —CurledUp.com on The Winter Witch
"Paula Brackston's Winter Witch is a whimsical and mystical tale that's part romance part mystery part fantasy and all extraordinary. Her beautiful narrative moves flawlessly throughout the story… This unique novel will appeal to fans of a multitude of genres from historical to fantasy and will engage fans of all ages as well." —The Reading Frenzy (blog) on The Winter Witch
"Lushly written with a fascinating premise and an enthralling heroine, The Witch's Daughter will linger long in memory after the last page has been savored. Highly recommended." —Sara Poole, author of The Borgia Betrayal, on The Witch's Daughter
"A beautifully written, brilliantly crafted page-turner that completely invests you in the lives and loves of the witch's daughter. A true reading event." —Melissa Senate, author of The Love Goddess' Cooking School, on The Witch's Daughter
"A lyrical and spell-binding time travel fantasy featuring an immortal witch who must summon all her powers to defeat the evil hounding her through the centuries." —Mary Sharratt, author of Daughters of the Witching Hill, on The Witch's Daughter
"With her first novel, author Paula Brackston conjures up a riveting tale of sorcery and time travel. By mixing feminine heroism with masculine might, Brackston successfully captivates readers with characters Bess, an immortal witch, and sinister dark lord, Gideon…. It's almost impossible not to root for the underdog in this magical twist on the classic David vs. Goliath tale. Plus, the skill with which Brackston weaves her characters through time makes this book a fascinating take on global history." —Marie Claire on The Witch's Daughter
"Brackston's first novel offers well-crafted characters in an absorbing plot and an altogether delicious blend of historical fiction and fantasy." —Booklist on The Witch's Daughter
"This pleasantly romantic historical fantasy debut flips lightly between the past experiences of ageless witch Elizabeth Anne Hawksmith and her present-day life in Matravers, England... Bess's adventures are fascinating." —Publishers Weekly on The Witch's Daughter
"Stretching her tale over several centuries, British-based Brackston brings energy as well as commercial savvy to her saga of innocence and the dark arts…. History, time travel and fantasy combine in a solidly readable entertainment." —Kirkus on The Witch's Daughter
"An engaging, well-written novel that will appeal to fans of historical fiction and fantasy alike." —Portland Book Review on The Witch's Daughter
"Part historical romance, part modern fantasy, The Witch's Daughter is a fresh, compelling take on the magical, yet dangerous world of witches. Readers will long remember the fiercely independent heroine who survives plagues, wars, and the heartbreak of immortality to stay true to herself, and protect the protégé she comes to love." —NightOwlReviews.com on The Witch's Daughter
"The Witch's Daughter is a wonderful combination of historical fiction and paranormal. Brackston's story alternates between past and present as she mixes tales of Elizabeth's early life with the present day, tying in historical events including Jack the Ripper and the horrors of WWI... Overall, a really enjoyable read." —BookBitch.com on The Witch's Daughter
"Readers who enjoy historical fantasy built around an epic struggle between good and evil should enjoy this original take on the theme." —HistoricalNovels.info on The Witch's Daughter
"An enjoyable read." —Genre Go Round Reviews on The Witch's Daughter
"This tale spans centuries and walks the line between good and the darker side of magic. Magic and those who possess it have been feared and persecuted throughout most of human history. Find out what it is like to live for hundreds of years, mostly in solitude, and have to struggle with having the power to help people, but being afraid to use that power." —Affaire de Coeur on The Witch's Daughter
"Women will certainly love the independent, feisty female characters, but the narrative is wonderfully imaginative and the plot fast-moving and filled with action. This novel is highly recommended for witches and warlocks alike." —Historical Novel Society on The Witch's Daughter
"The combination of stories from the past and the present meld nicely, and the author adds some clever twists so the reader never knows exactly from whom the next Gideon apparition will arise. Perhaps the best twist is the ending--leaving an opening for another book, but at the same time furnishing the reader with quite a satisfactory ending." —The National Examiner (UK) on The Witch's Daughter
"Ambitious and thought-provoking, this book will lure you into vivid, visceral worlds where evil lurks at every turn. The beautifully crafted BOOK OF SHADOWS will be etched on my mind for a long time. What an action-packed, emotionally powerful film it would make too." —Sally Spedding, author of STRANGERS WAITING, on The Witch's Daughter
"An unforgettable story by a highly original new writer." —Rebecca Tope, author of the Cotswold crime series, on The Witch's Daughter
"The Witch's Daughter is a must read for anyone who loves magic set in the real world, who craves a well-written novel with historical elements along with romance and witchcraft tied into a tension-filled plot and vivid imagery, and, of course, who seeks an escape from their own lives if only for a moment." —Huffington Post on The Witch's Daughter
"...compelling and beautiful...a book to be savored. I look forward to reading more from this wonderful writer who always manages to take my breath away." —SF Site on Book of Shadows