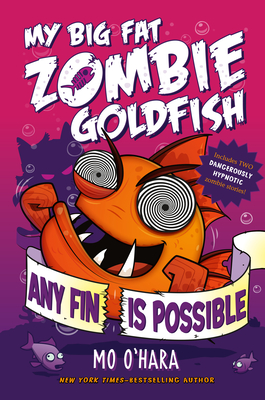 Any Fin Is Possible (Hardcover)
My Big Fat Zombie Goldfish
Feiwel & Friends, 9781250063533, 224pp.
Publication Date: March 1, 2016
Other Editions of This Title:
Paperback (3/7/2017)
Paperback (9/6/2016)
Paperback (3/1/2016)
Hardcover (3/3/2015)
Hardcover (9/6/2016)
* Individual store prices may vary.
Description
When Tom rescued Frankie the goldfish from his older brother's evil science experiment by zapping him back to life with a battery, he never expected his pet to become a BIG FAT ZOMBIE GOLDFISH with incredible hypnotic powers…but it's helpful when they are thwarting his big brother's evil plans.
Tom and Pradeep are about to find out the truth behind the ancient Egyptian Curse of the Cat King, when their evil big brothers crash their overnight stay at the history museum. Dodging booby traps, avoiding evil, possibly mummified kittens...it's all in a night's work for a zombie goldfish!
Then, there's something fishy going on at sports day. All the athletic kids seem to be losing their sporting abilities, while Tom's evil big brother Mark has suddenly become amazing at every single sport. Can Frankie help Pradeep and Tom to foil Mark's evil plans? Or will Mark and his pet vampire kitten, Fang, take home the gold?
About the Author
Mo O'Hara is the author of the My Big Fat Zombie Goldfish series. She grew up in Pennsylvania and now lives in London, where she works as a writer, actor, and storyteller, visiting theaters and schools all across the UK and Ireland. Mo and her brother once brought their own pet goldfish back from the brink of death (true fact).

Marek Jagucki, the illustrator of the My Big Fat Zombie Goldfish series, is a graduate of Falmouth School of Art and Design. He is a full-time illustrator and graphic designer based in Yorkshire, UK.
Praise For Any Fin Is Possible: My Big Fat Zombie Goldfish…
"A kooky, zany little story about a boy and his pet zombie goldfish, Frankie. The kids in my library are already clamoring for this book and I can't get it ready for the shelves soon enough for them. Keep up the good work" —Wendy A. Emlinger, on Amazon.com on MY BIG FAT ZOMBIE GOLDFISH
"I saw this book on sale at Walmart, and I couldn't resist picking it up. The cover just popped out at me. It's a good sized book for young readers. I read it in one sitting, and I loved it!" —Angela Roquet on Amazon.com on MY BIG FAT ZOMBIE GOLDFISH
"The book is packed with bonkers humour … Anyone who likes books by Dav Pilkey would seriously love this book." —Biteso, for TheGuardian.com on MY BIG FAT ZOMBIE GOLDFISH
"Finding Nemo meets Shaun of the Dead! Boys will be diving in to enjoy Mo O'Hara's two laugh-out-loud stories about an evil big brother, a best friend who comes to the rescue and an amazing zombie goldfish." —Lancaster Evening Post on MY BIG FAT ZOMBIE GOLDFISH
"My Big Fat Zombie Goldfish had everything a boy could want. When your first book is absolutely perfect, children do expect you to carry on the same vein. Thankfully, Mo has pulled it off again with a sequel just as good as the original." —The Bookbag on THE SEAQUEL
"I liked the book very much because it was extremely silly, and it had a mad zombie goldfish that did really cool things." —Fan review on TheGuardian.com on THE SEAQUEL
"Mo O'Hara writes stories that children can imagine themselves taking part in – and that is a large part of the magic. " —The Bookbag on FINS OF FURY