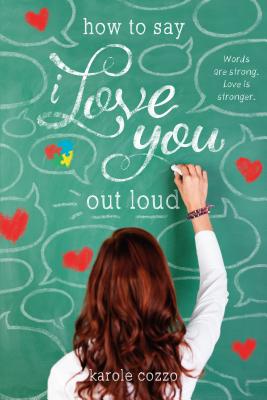 How to Say I Love You Out Loud (Paperback)
Swoon Reads, 9781250063595, 240pp.
Publication Date: August 4, 2015
* Individual store prices may vary.
Description
Tackling real world issues with sensitivity and grace, this is a touching contemporary novel about learning to accept yourself, speak out for others and let people into your heart.
When Jordyn Michaelson's autistic brother joins her at her elite school, she's determined not to let anyone know they're related. Even if that means closing herself off to all her closest friends, including charming football stud Alex Colby. But she just can't shake the memory of kissing Alex last summer, and the desire to do it again.
Can Jordyn find the courage to tell Alex how she really feels—and the truth about her family—before he slips away forever?
Chosen by readers like you for Macmillan's young adult imprint Swoon Reads, Karole Cozzo's heartfelt debut novel How to Say I Love You Out Loud will stay with readers long after they have finished reading.
Praise for How to Say I Love You Out Loud:
"A budding romance with family drama and a feel-good ending." —School Library Journal
"A book of acceptance, bravery, and most of all, love. " —Bibliophile Soprano
"An impactful story about love, compassion, and the power of your voice." —Snuggly Oranges
About the Author
Karole Cozzo, author of How to Say I Love You Out Loud, How to Keep Rolling After a Fall, and The Truth About Happily Ever After, lives outside of Philadelphia with her loving husband, unendingly exuberant daughter, and eternally pleasant son. She is a school psychologist by day and a lover of all things colorful and creative by night. Karole spends her free time drawing with her young artists-in-residence, making photo books, decorating her home, and of course, writing.
Praise For How to Say I Love You Out Loud…
"A budding romance with family drama and a feel-good ending." —School Library Journal

"A book of acceptance, bravery, and most of all, love. It's a book that will touch everyone's hearts." —Bibliophile Soprano
"Powerful and emotional, and it brings autism to light in a way I had never considered it before . . . It's an impactful story about love, compassion, and the power of your voice." —Snuggly Oranges
"What a wonderfully written and poignant story! This story hit me from two angles—one as the sibling of a person with a disability and the other as a high school guidance counselor. A beautiful story woven with just enough romance and drama to keep you on your toes." —Casey, reader on SwoonReads.com