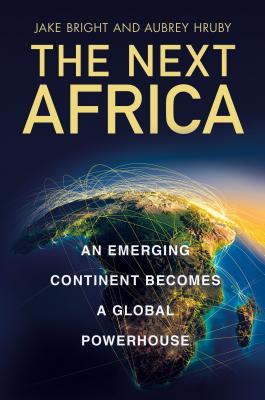 The Next Africa
An Emerging Continent Becomes a Global Powerhouse
Hardcover

* Individual store prices may vary.
Description
The Next Africa, an Axiom Best Business Book Award winner, will change the way people think about the continent. The old narrative of an Africa disconnected from the global economy, depicted by conflict or corruption, and heavily dependent on outside donors is fading. A wave of transformation driven by business, modernization, and a new cadre of remarkably talented Africans is thrusting the continent from the world's margins to the global mainstream.
In the coming decades the magnitude of Africa's markets and rising influence of its people will intersect with other key trends to shape a new era, one in which Africa's progress finally overshadows its challenges, transforming an emerging continent into a global powerhouse. The Next Africa captures this story.
Authors Jake Bright and Aubrey Hruby pair their collective decades of Africa experience with several years of direct research and interviews. Packed with profiles; personal stories, research and analysis, The Next Africa is a paradigm-shifting guide to the events, trends, and people reshaping Africa's relationship to the world.
Bright and Hruby detail the cross-cutting trends prompting Silicon Valley venture capital funds and firms like GE, IBM, and Proctor & Gamble to make major investments in African economies, while describing how Africans are stimulating Milan runways, Hollywood studios, and London pop charts.
The Next Africa introduces readers to the continent's burgeoning technology movement, rising entrepreneurs, groundbreaking philanthropists, and cultural innovators making an impact in music, fashion, and film. Bright and Hruby also connect Africa's transformation to its contemporary immigrant diaspora, illustrating how this increasingly affluent group will serve as the thread that pulls the continent's success together.
Finally, The Next Africa suggests a fresh framework for global citizens, public policy-makers, and CEOs to approach Africa. It will no longer be "The Hopeless Continent", nor will it become an overnight utopia. Bright and Hruby offer a more nuanced, net-sum, and data-rich approach to analyzing an increasingly complex continent, reconciling its continued challenges with rapid progress.
The Next Africa describes a future of a more globally-connected Africa where its leaders and citizens wield significant economic, cultural, and political power--a future in which Americans will be more likely to own African stocks, work for companies doing business in Africa, buy African hits from iTunes, see Nigerian actors win Oscars, and learn new African names connected to tech moguls and billionaires.
Praise For The Next Africa: An Emerging Continent Becomes a Global Powerhouse…
"The future of Africa is a daunting subject handled with acumen by Bright and Hruby...This is a welcome and extensive addition to the dialogue about an oft-undervalued continent." —Publishers Weekly online
"The Next Africa captures the pulse of a continent on the move, detailing the events, trends, and people reshaping Africa's relationship to the world. It includes one of the best accounts I've read on the rise of Silicon Savannah and the technology movement driving Africa's transformation." —Bob Collymore, CEO of Safaricom (purveyor of M-PESA)
"Historically, Africa has been viewed by many as a problem to solve - but now there is a growing recognition it is in fact an opportunity to seize. This book explains why Africa is now open for business - with entrepreneurs leading the way." —Steve Case, Co-Founder of AOL and CEO of Revolution
"In this bold and intelligent work, Jake Bright and Aubrey Hruby give insight into the trends the GE saw that influenced their prioritization of Africa as a region of choice for investment." —Jay Ireland, President and CEO of General Electric Africa
"The Next Africa authors Jake Bright and Aubrey Hruby are two well-informed, influential policy wonks and business consultants focusing on all the new opportunities in the 54 countries in the continent of Africa, which is larger than the USA, China and India combined." --Hazel Henderson, seekingalpha.com
Thomas Dunne Books, 9781250063717, 304pp.
Publication Date: July 21, 2015
About the Author
JAKE BRIGHT is a writer, consultant, and Whitehead Fellow of the Foreign Policy Association focusing on global finance, business, and Africa's transformation. He contributes as an editor and independently for publications including Fortune, The Financial Times This Is Africa, Bloomberg LP, and U.S. News & World Report. Bright speaks frequently on international business topics in media and thought leadership forums.

AUBREY HRUBY is an advisor to investors and companies doing business in Africa.  In her decade of working across 20 plus African countries as the former Managing Director of the Whitaker Group and through her own companies, she helped to facilitate over $2 billion in investment and capital to the region. She is a Fellow at the Atlantic Council's Africa Center and speaks regularly on African business issues.
or
Not Currently Available for Direct Purchase