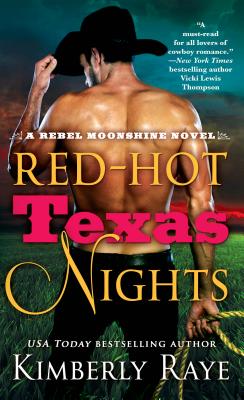 Red-Hot Texas Nights (Mass Market Paperbound)
St. Martin's Press, 9781250063960, 336pp.
Publication Date: March 1, 2016
Description
Bestselling author Kimberly Raye's rousing new series continues in "Red-Hot Texas Nights." Get ready for squabbling kin, steamy nights, and mouth-watering romance...
LOVE IS ALWAYS INTOXICATING
When it comes to feuds, the Tuckers and the Sawyers do it Texas-style The legendary moonshiners have been doing battle for more than a century, and they're nowhere near ready to call a truce. Especially when Brandy Tucker, a self-taught chef, mixes up a brew that rivals the original-only to find the recipe's gone missing. And the culprit seems to be Tyler McCall, a professional bullrider as hot as the Lone Star sun, despite the Sawyer blood running through his veins.
IN THE LONE-STAR STATE
Brandy is a sweet, sassy distraction Tyler doesn't need-especially not when he's preparing for a a competition that will either make or break his career. The more Brandy and Tyler cross paths with one another, the less they can can ignore the heat that sizzles between them. Should they give in to their fiery passions-even if they both risk getting burned? All it takes is one kiss to find out...
The next book in the Rebel Moonshine series, "Red-Hot Texas Nights" brings the heat
"Ms. Raye is adept at mixing humor with sizzling love scenes...an entertaining reading experience "-"A Romance Review.
About the Author
Bestselling author Kimberly Raye started her first novel in high school and has been writing ever since. She has published more than sixty-five novels, including Texas Thunder, and two of them are prestigious RITA Award finalists. She's also been nominated by Romantic Times BOOK Reviews for several Reviewer's Choice awards, as well as a Career Achievement award. She lives deep in the heart of the Texas Hill Country with her husband and their children. She's an avid reader who loves Diet Dr. Pepper, chocolate and cowboys. Especially cowboys. Kim also loves to hear from readers.
Advertisement