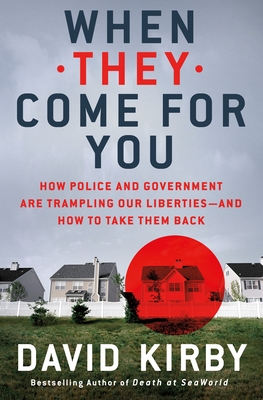 When They Come for You
How Police and Government Are Trampling Our Liberties - and How to Take Them Back
Hardcover

* Individual store prices may vary.
Other Editions of This Title:
Digital Audiobook (10/28/2019)
CD-Audio (11/5/2019)
Description
A revealing book about how government, law enforcement, and bureaucratic interests are seizing our property, our children, our savings, and our fundamental American rights—and how to fight back.

Liberty and justice for all is the bedrock of American democracy, but has America betrayed our founders' vision for the nation? In When They Come For You, New York Times bestselling author David Kirby exposes federal, state, and local violations of basic constitutional rights that should trouble every American, whether liberal, conservative, or libertarian. Free speech, privacy, protection from unreasonable search and seizure, due process, and equal protection under the law are rights that belong to every American citizen, but are being shredded at an alarming rate all across the country.

Police and prosecutorial misconduct, overzealous bureaucrats with virtually unchecked power, unwarranted searches, SWAT-style raids on the homes of innocent Americans, crackdowns on a free press and the right to protest, removing children from their parents without cause, "debtors prisons," restricting freedom of health choice, seizing private assets for government profit, and much more demonstrate how deeply our rights and our national values are eroding. When They Come For You uses true stories of everyday citizens to reveal how our federal, state, and municipal governments, police, lawmakers, judges, revenue agents, unelected power brokers, and even government social workers are eviscerating our most fundamental liberties. And, it shows how people are fighting back—and winning.
Praise For When They Come for You: How Police and Government Are Trampling Our Liberties - and How to Take Them Back…
"Rage-inducing, impeccably researched, and timely…an absolute must-read." —Booklist, Starred Review

"Harrowing…This detailed and often shocking book...is investigative reporting at its most effective." —Publishers Weekly

"When They Come For You is an easy read about a too often and too easily ignored reality—repeated intrusions by state and federal authorities into the liberties of our people. Written from the perspective of individuals who describe abuses ranging from warrantless home raids to unconstitutional crackdowns on protesters and the press, the book offers a memorable yet deeply disturbing vision of a nation that prides itself on the liberties it protects for its people but which too often strays from that vision." —Floyd Abrams

"This timely book documents the growing consensus across the ideological spectrum that government bodies—police departments, agencies, bureaus, and others—have strayed far beyond their constitutional limits and are widely abusing their power. From civil forfeiture to the militarization of the police, from sending people to jail for minor offenses to free speech violations, David Kirby compellingly captures why all Americans, regardless of their politics, should be concerned about this alarming overreach. But this book is not simply a litany of abuses. It also offers practical and much-needed alternatives to restore power to individuals and to better protect the constitutional rights to which all persons are entitled." —Scott G. Bullock, President and General Counsel, Institute for Justice

"David Kirby's When They Come For You sheds light on individual and systemic injustices taking place in modern day America. He sets forth a roadmap of meaningful ways to resist the erosion of free speech, free press, due process, equal protection under the law and other fundamental constitutional principles and values. The book is a must read for all Americans who believe in Freedom, Justice, Equality and Fairness for ALL, especially in the Trump era." —Norman Siegel, former executive director of the New York Civil Liberties Union

"When They Come For You is a clarion call for us to stand and take notice that our Constitution is being assailed, one amendment at a time. Kirby's meticulous research and fine writing come alive with stories of real people whose liberties and even lives have been taken by bad actors cloaked in governmental authority. As much as it pains me -- a third generation federal prosecutor and daughter of an FBI agent -- to read Kirby's reporting, his book reveals painful truths that Americans ignore at their peril." --Lis Wiehl, New York Times bestselling author and former federal prosecutor

"Virtually every freedom we take for granted is at risk. David Kirby's latest book proves this with deeply troubling stories that reveal an alarming picture of a nation heading perilously off track. Much like those profiled whose fundamental rights were trampled, you might think it couldn't happen to you -- until they come for you. As the target of illegal federal electronic surveillance myself, I can attest that threats to our liberty are a real and present danger. Fortunately, there is reason for hope: Kirby also illuminates how ordinary Americans have fought back against government overreach and often prevailed, proving that ultimately we do have the power, if only we use it." --Sharyl Attkisson, New York Times bestselling author of The Smear and Stonewalled

"David Kirby's eye-opening book arrives at a critical historic moment, when U.S. citizens are at loggerheads about the fundamental nature of our democracy. His passionate reporting uncovers cracks in the constitution and government institutions that have the potential to harm everyone, regardless of political affiliation. This important work is alarming, yes, but also a powerful call for action." --Julie Salamon, author of Hospital and An Innocent Bystander: The Killing of Leon Klinghoffer

St. Martin's Press, 9781250064363, 400pp.
Publication Date: October 29, 2019
About the Author
DAVID KIRBY is the author of Evidence of Harm, which was a New York Times bestseller, winner of the 2005 Investigative Reporters and Editors award for best book, and a finalist for the New York Public Library Helen Bernstein Award for Excellence in Journalism; Animal Factory, an acclaimed investigation into the environmental impact of factory farms; and Death at SeaWorld, a scientific thriller about the lives of killer whales in captivity and the people who fought for their liberation. He lives in New York City.