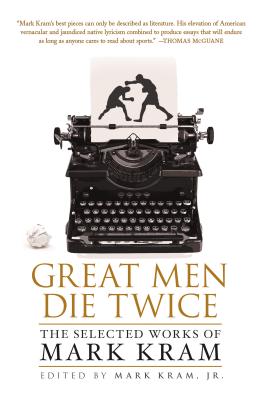 Great Men Die Twice (Paperback)
St. Martin's Press, 9781250064998, 304pp.
Publication Date: June 23, 2015
* Individual store prices may vary.
Description
Imagine Mad Men set not in the advertising world but at 1960s Sports Illustrated, a place where the finest sports staff of any generation was attended by an open bar and almost unlimited expense account. This was the world Mark Kram lived and wrote in, along with his peers including Frank Deford, Dan Jenkins and other major talents. A high school graduate with a gift for revealing the hearts of his subjects, Kram would become one of the greatest sports writers of all time, covering the famed rivalry between Muhammad Ali and Joe Frazier, Negro League baseball star Cool Papa Bell, doomed soccer legend George Best, Olympic gold medal sprinter Edwin Moses, and others.
The New York Times obituary of Kram in June, 2002 saluted his work in Sports Illustrated by calling him one of its "most lyrical writers of the 1960s and 1970s." Great Men Die Twice selects his best work with a moving introduction by his son, Mark Kram Jr., the PEN/ESPN Award-winning author of Like Any Normal Day.
About the Author
MARK KRAM was one of Sports Illustrated's most acclaimed writers during the 1960s and 70s, and published more pieces on Muhammad Ali for the magazine than any other writer, along with many other features. He also contributed to Esquire, Gentleman's Quarterly, Playboy, and other publications. His articles on boxing have been widely anthologized, including The Best American Sports Writing of the Century, edited by David Halberstam, and The Fights, a collection of essays edited by Richard Ford. His book Ghosts of Manila (HarperCollins, 2001) is the classic account of the third fight between Ali and Joe Frazier. A native of Baltimore, he died in June 2002. MARK KRAM, JR. is the author of Like Any Normal Day, which received the PEN/ESPN Award for Literary Sports Writing. His feature articles have won the Sigma Delta Chi award from the Society of Professional Journalists and has been published six times in The Best American Sports Writing Anthology. Kram lives in New Jersey with his family.