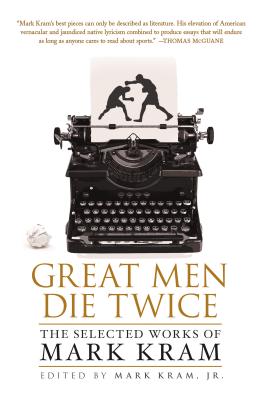 Great Men Die Twice
The Selected Works of Mark Kram
Paperback

* Individual store prices may vary.
Description
Imagine Mad Men set not in the advertising world but at 1960s Sports Illustrated, a place where the finest sports staff of any generation was attended by an open bar and almost unlimited expense account. This was the world Mark Kram lived and wrote in, along with his peers including Frank Deford, Dan Jenkins and other major talents. A high school graduate with a gift for revealing the hearts of his subjects, Kram would become one of the greatest sports writers of all time, covering the famed rivalry between Muhammad Ali and Joe Frazier, Negro League baseball star Cool Papa Bell, doomed soccer legend George Best, Olympic gold medal sprinter Edwin Moses, and others.

The New York Times obituary of Kram in June, 2002 saluted his work in Sports Illustrated by calling him one of its "most lyrical writers of the 1960s and 1970s." Great Men Die Twice selects his best work with a moving introduction by his son, Mark Kram Jr., the PEN/ESPN Award-winning author of Like Any Normal Day.
Praise For Great Men Die Twice: The Selected Works of Mark Kram…
"[Kram] understood the history and the strategy of the ring, and he could describe a jab or a roundhouse right with the precision that made you feel it...his prose was energetic, inventive...and enormously fun to read." —The New York Times

"Richly created stories...[Kram's] writing forever elevated sports reporting to an art form." —The Washington Review of Books

"Mark Kram's best pieces can only be described as literature. His elevation of American vernacular and jaundiced native lyricism combined to produce essays that will endure as long as anyone cares to read about sports." —Thomas McGuane

"Mark Kram was brittle, but he could be brilliant. At his best, as this collection shows, he wrote about sports as well as anybody ever did. At his very best, no one ever wrote nonfiction for magazines as well as Mark did." —Frank Deford

"There has never been another sports writer quite like Mark Kram, brilliant and haunted, with an eye for the fallen and forgotten and the power to capture Ali and Frazier as they destroyed each other in pursuit of greatness. With prose that was by turns muscular, cerebral, and soulful, Kram painted word pictures that deserved life beyond the magazines they appeared in. Now, thanks to this shimmering collection, justice is done." —John Schulian, editor, Football: Great Writing About The National Sport

"This wondrous collection of stories will introduce a new generation of readers to Mark Kram's genius…These stories bleed with raw beauty and insight." —Michael Leahy, author of When Nothing Else Matters: Michael Jordan's Last Comeback
St. Martin's Griffin, 9781250064998, 304pp.
Publication Date: June 23, 2015
About the Author
MARK KRAM, JR. is the author of Like Any Normal Day, which received the PEN/ESPN Award for Literary Sports Writing. His feature articles have won the Sigma Delta Chi award from the Society of Professional Journalists, been awarded top honors by the Associated Press for three consecutive years, and been published six times in The Best American Sports Writing Anthology. Kram lives in New Jersey with his wife and two daughters.