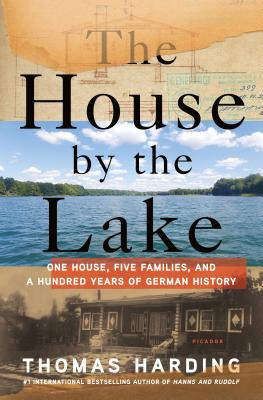 The House by the Lake (Hardcover)
One House, Five Families, and a Hundred Years of German History
Picador, 9781250065063, 464pp.
Publication Date: July 5, 2016
Other Editions of This Title:
Paperback (7/3/2017)
* Individual store prices may vary.
Description
A Finalist for the Costa Biography Award
Longlisted for the Orwell Prize

Named a Best Book of the Year by
The Times (London) • New Statesman (London) • Daily Express (London) • Commonweal magazine
In the summer of 1993, Thomas Harding traveled to Germany with his grandmother to visit a small house by a lake on the outskirts of Berlin. It had been her "soul place," she said—a holiday home for her and her family, but also a refuge—until the 1930s, when the Nazis' rise to power forced them to leave.
The trip was his grandmother's chance to remember her childhood sanctuary as it was. But the house had changed, and when Harding returned once again nearly twenty years later, it was about to be demolished. It now belonged to the government, and as Harding began to inquire about whether the house could be saved, he unearthed secrets that had lain hidden for decades. Slowly he began to piece together the lives of the five families who had lived there: a wealthy landowner, a prosperous Jewish family, a renowned composer, a widow and her children, a Stasi informant. All had made the house their home, and all but one had been forced out.
The house had weathered storms, fires and abandonment, witnessed violence, betrayals and murders, and had withstood the trauma of a world war and the dividing of a nation. Breathtaking in scope and intimate in its detail, The House by the Lake is a groundbreaking and revelatory new history of Germany, told over a tumultuous century through the story of a small wooden house.
About the Author
THOMAS HARDING is an author and journalist who has written for the Financial Times, The Sunday Times, The Washington Post, and The Guardian, among other publications. He is the author of The House by the Lake (which was a shortlisted for the 2015 Costa Biography Award) and the #1 international bestselling book Hanns and Rudolf (which won the 2015 Jewish Quarterly-Wingate Prize, was shortlisted for the 2013 Costa Biography Award, and has been translated into many languages). He lives in Hampshire, England.
Praise For The House by the Lake: One House, Five Families, and a Hundred Years of German History…
"A fascinating window on a tumultuous period."—Financial Times
"The House by the Lake is an extraordinary book…. History is too often detached from the people who live through it, producing a soulless account of the past. Not this book, however. Harding has extracted the past from the dust that collects between floorboards and from layers of peeling wallpaper."—The Washington Post
"The House by the Lake skips between its varied occupants and [historical] events to present an admirably clear and concise history of modern Germany. It's an impressive feat of archival and investigative research. Fascinating revelations abound…. [A] powerful book."—The Economist
"The House by the Lake meticulously chronicles two linked feats of reclamation: the author's reconstruction of the house's life and times and his quest to restore the building itself…. The principal achievement of The House by the Lake is Harding's portrayal of the ordinary lives, loves, and foibles of the people who passed through the house. He manages to show, too, how historical currents carried them along, channeling them into Nazi Party politics, Stasi spying, and other not entirely voluntary pursuits. This is a tale of multiple dispossessions, but also of adaptation and resiliency."—Julia M. Klein, The Boston Globe
"An epic, fact-filled, multi-voiced saga told with pace, verve and warmth, and rich in fascinating revelations....[Harding] regales us with murder, espionage, de-Nazification trials and simple family drama, and at the end of his masterful tale we understand more about Germany's difficult past and appreciate what makes a house a home."—Minneapolis Star Tribune
"In his absorbing personal history, The House by the Lake: One House, Five Families, and a Hundred Years of German History, Harding recounts, with a measured pathos, the experiences of a succession of tenants. It is a story of aspiration, fleeting joy, escape and the small-scale dramas of domestic life…. For all the political and personal upheaval detailed here, Harding writes with a restraint that's all the more impressive given his personal connection to the material....Harding makes excellent use of eyewitness testimony, interviews with Gross Glienicke villagers, family papers, government archives and other documents, as he moves across a century of time."—Newsday
"Breathtaking in scope and intimate in its detail, Harding's book is a groundbreaking and revelatory history of Germany, told over nearly a century through the story of a small wooden house."—Anne Hammock, Florida Times-Union "Book of the Week"
"By tracing the lives of the different families who lived there, Harding sheds fresh light on the German 20th century, a tale of war, spies, murder and political, racial and social division. His account of the house is a superb work of social history, told with tremendous narrative verve."—The Sunday Times (London)
"This is a history that is often poignant, sometimes heartening, and never other than intimate... This is a gentle but rewarding book, carefully tuned into the marginal voices recorded in the history of one small house by a lake."—Clare Mulley, The Spectator (UK)
"Diamond-brilliant... If a webcam had been left on at number 101 Gross Glienicke for 90 years, the record could not have been more vivid or revelatory. Harding's research, from eyewitness accounts to the files of ministries, is jaw-dropping. This is an extraordinary book. Five Stars."—Sunday Express (UK)
"This emblem of tyranny [the Berlin Wall] was just another fact of life for those living in its shadow. And that is, perhaps, the most important lesson of Harding's book. History, which we learn about as a series of ideological abstractions, is lived concretely. This is why an ordinary house can serve so effectively as a symbol of the German experience." —Adam Kirsch, The New Statesman
"It would be hard to write an original and moving account of the tortured 20th-century history of Germany. But, in The House by the Lake, Thomas Harding succeeds remarkably... A tragic and beautifully told history."—The Jewish Chronicle
"Impressive... A deft history of a cabin containing many secrets." —The Independent (UK)
"The house by the lake has survived economic booms, busts, extremist ideology, persecution, barbed wired fences, blame and retribution and this book is a potent reminder that behind all these, are human stories."—Country Life
"In The House by the Lake, the simple villa loved and lost by Thomas Harding's family magically becomes the setting for the great clashes of the twentieth century, and for a Technicolor cast—victims, villains and ordinary compromisers—struggling not to be crushed by them. Personal and panoramic, heart-wrenching yet uplifting, this is history at its most alive."—A. D. Miller, author of Snowdrops and The Faithful Couple
"A passionate memoir about Germany."—Neil MacGregor, author of A History of the World in 100 Objects and Germany: Memories of a Nation
"This revelatory and compelling book is a clear must-read for anyone interested in German history during the past tumultuous century. The House By The Lake is a deeply moving story of endurance - of place as well as people. It is also uplifting as we learn of how the crumbling wreck of the house is restored to a haven of reconciliation and peace for the community and visitors to enjoy, and to heed its history which has been so brilliantly exposed."—Lyn Smith, author of Forgotten Voices
"With the narrative drive of a great novelist and the meticulous research of a great historian, Harding has crafted a moving, instructive and important book."—Herald Scotland
"A fascinating and revealing account of a century of German social and political history, told in an effortlessly accessible way."—David Lodge, author of Changing Places
"A superb portrait of twentieth century Germany seen through the prism of a house which was lived in, and lost, by five different families. A remarkable book."—Tom Holland, author of In The Shadow Of The Sword: The Battle for Global Empire and the End of the Ancient World
"Harding recounts not only his family's story, but also those of the others who inhabited the beautiful country house, most notably composer (and one-time member of the Nazi party) Will Meisel and, later, secret police informant Wolfgang Kuhne. In doing so, he also traces the complicated German history of the mid- and late-twentieth century…. The overarching notion of using a building to trace a family's and a country's troubled history is affecting and even, at times, inspirational."—Booklist
"An absorbing account."—Library Journal
"Extraordinary... A masterpiece of microcosmic history."—The Bookseller
"Original, personal, moving and uplifting... [Harding] writes engagingly and sympathetically."—The Literary Review
"Harding writes of love and loss, of victims and villains, of struggle and survival in a heart-wrenching family memoir that many novelists would envy for powerful story, colourful characters and cool style."—Saga Magazine
or
Not Currently Available for Direct Purchase