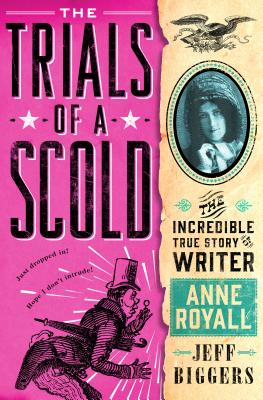 The Trials of a Scold (Hardcover)
The Incredible True Story of Writer Anne Royall
Thomas Dunne Books, 9781250065124, 272pp.
Publication Date: November 7, 2017
* Individual store prices may vary.
Description
"A role model for those of us living in the age of Trump"--Dorothy Allison
Longlisted for the PEN/Jacqueline Bograd Weld Award for Biography
Anne Royall was an American original, a stranger to fear who defied 19th century skeptics as a prolific literary force, satirist and social critic.
Drawing from Royall's largely overlooked literary works, Jeff Biggers's Trials of a Scold is a groundbreaking and passionate biography of Anne Royall, America's first female muckraker, who was convicted as a "common scold" in 1829 in one of the most bizarre trials in the nation's history.
Publishing her first book in 1826 at the age of 57, Royall reinvented herself as a "women politico" a generation before the Women's Suffrage Movement. She was a pioneering travel writer and satirist who broke ground on the wagon trails a generation before Mark Twain, and an investigative journalist who took on bankers and prison conditions a half century before muckrakers Ida Tarbell and Nellie Bly. She was the author of 10 original books, and publisher of a newspaper in Washington, DC for 25 years until the age of 85.
One of the most famous, sharp-witted and controversial women of her times, Royall was raised in the backwoods of the South but educated herself in one of the great libraries in the region. She openly cohabitated with her husband prior to their wedding, but was then left widowed and destitute after her husband's family declared their marriage invalid. Turning to writing, Royall acquired fame and then enemies for her scathing and hilarious denouncements of corruption, incompetence and the blurry lines between church and state.
About the Author
JEFF BIGGERS is an American Book Award-winning journalist, cultural historian and playwright. He is the author of several works of memoir and history, including Reckoning at Eagle Creek, which was the recipient of the David Brower Award for Environmental Reporting. His award-winning stories have appeared in The New York Times, Washington Post, The Atlantic, and on National Public Radio. Biggers is a regulator contributor to Al Jazeera America, Huffington Post, and Salon.
Praise For The Trials of a Scold: The Incredible True Story of Writer Anne Royall…
Praise for The Trials of a Scold:
"Biggers clearly admires his subject, who was, he writes 'a bulwark against the entry of religious extremists into the corridors of power.'"--Wall Street Journal
"A lively and witty chronicler, Biggers covers Royall's trial as well as her upbringing in the woods of Appalachia. Captivating and thoroughly researched."--Publishers Weekly (starred review)
"Biggers creates a detailed portrait of this dynamic writer and provides historical context for Royall's life and adventures while maintaining a flowing narrative. Readers will appreciate the depth of his research and greatly enjoy learning Royall's fascinating story." --Booklist
"As Biggers illuminates Royall's place in Jacksonian America, you can't help but notice the parallels between then and now: Jacksonian populists sparred with Eastern establishment types, a growing Evangelical movement aspired to power, and petty gossip dominated Washington. The Trials of a Scold reveals Anne Royall's eccentricities, her peppery writing and her remarkable, brave life."--BookPage
"[Royall] was funny and foul-mouthed. See why novelist Lee Smith calls Royall "the most interesting woman that I have never heard of."--WV Living Magazine

"A contemporary of Alexander Hamilton, Anne Royall deserves her own musical. Short of that we have Jeff Biggers' wonderful exploration of what made her the most despised woman of her time, originator of the term "redneck: and an exemplary journalist who had to fight off charges that she was a "common scold" and an evil person. We forget that in her time that was actually an actionable charge and that she could have been sent to prison for speaking the truth and addressing the misbehavior and outrages of the powerful men of her age. That she managed to write with a wicked sense of humor made her all the more dangerous—as well as a role model for those of us living in the age of Trump. Jeff Biggers is a wonderful writer and almost as brave as his role model—the incomparable Anne Royall." --Dorothy Allison, author of the New York Times bestselling novels, Bastard Out of Carolina and Cavedweller
"Major environmentalist and activist Jeff Biggers turns to 18th century America to bring us a surprising story from the mountains of western Virginia the most interesting woman that I, for one, had never heard of, despite my own Appalachian heritage. A true pioneer in every way, the muckraking and myth-making journalist, travel writer, and social critic Anne Royall was called both 'heroine' and 'common scold' in her time; her story holds reverberations and implications for us today." --Lee Smith, author of Dimestore: A Writer's Life
"Anne Royall is a marvelous subject, a bold eighteenth-century woman writer with a stinging wit and a contrarian approach. Challenging, intrepid, and unconventional, she played an important part in American cultural history."--Roxana Robinson, author of four New York Times Notable Books of the Year, including Georgia O'Keefe: A Life
"Trials of a Scold is a fascinating account of a woman who defied nineteenth-century societal constraints to attain national prominence and power as a muckraking journalist. But there is much more to her life and to her story, and in Jeff Biggers' capable hands she is fully realized. Trials of a Scold does what only the best biographies do: blend meticulous research into a narrative that reads like a novel."--Ron Rash, author of the 2009 PEN/Faulkner finalist and New York Times bestseller Serena and Above the Waterfall
"God Bless the intemperate muckraker! God bless the courageous truth teller who speaks for the poor, the abused, and exploited rather than currying favor with the rich, the powerful and self-righteous! God Bless the pointed wit of their sharpened tongues! How hard it is to be the often shot messenger! They save us from our habitual cruelty, denial and hypocrisy. Anne Royall was once such and suffered greatly for her passion for justice. Jeff Biggers should be honored for telling her tale and reminding us in this age of the corporate press what a truly free press can be when practiced by a person like Anne." --Robert Shetterly, artist, Americans Who Tell the Truth
Praise for Jeff Biggers:
"Jeff Biggers's inspiring book should be a best seller immediately. It is a 'how-to' book—how to assert your fundamental rights and how to speak out in the manner of the American Revolution footsloggers, whose descendants they are. Read it and your faltering hopes will rise." —Studs Terkel on The United States of Appalachia
"This is a world-shaking, belief-rattling, immensely important book. If you're an American, it is almost a patriotic duty to read it."—Elizabeth Gilbert, author of Eat, Pray, Love on Reckoning at Eagle Creek
"Perhaps no issue captures better what it means to be American than the contentious legislative debate around who can become American. Certainly, that question will be a major part of the November election, and into the fray comes an examination of the controversial policies and practices in Arizona: State Out of the Union"–Publishers Weekly, Top Ten Social Science Titles, 2012
"Nobody writes about Appalachia like Jeff Biggers. His voice is a swirl of history and memory, of fact and analysis, of hillbilly wisdom and journalistic outrage. Reckoning at Eagle Creek is bigger and brawnier than a memoir or cultural chronicle—it's a passionate howl from the dark heart of American coal country."—Jeff Goodell, author, Big Coal
or
Not Currently Available for Direct Purchase