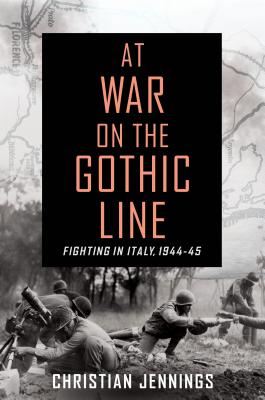 At War on the Gothic Line (Hardcover)
Fighting in Italy, 1944-45
Thomas Dunne Books, 9781250065179, 384pp.
Publication Date: March 8, 2016
* Individual store prices may vary.
Description
In the autumn of 1944, as Patton's army paraded through Paris, another Allied force was gathering in southern Italy. Spearheaded by over 100,000 American troops, this vast, international army was faced with a grim task—break The Gothic Line, a series of interconnected German fortifications that stretched across the mountains of northern Italy. Striving to reach Europe's vulnerable underbelly before the Red Army, these Allied soldiers fought uphill against entrenched enemies in some of the final and most brutal battles of the Second World War.
In At War on the Gothic Line, veteran war correspondent and historian Christian Jennings provides an unprecedented look inside this unsung but highly significant campaign. Through the eyes of thirteen men and women from seven different countries, Jennings brings history to life as he vividly recounts the courageous acts of valor performed by these soldiers facing overwhelming odds, even as many experienced discrimination at the hands of their allies and superiors.
Witness the courage of a young Japanese-American officer willing to die for those under his command. Lie in wait with a troop of Canadian fur trappers turned snipers. Creep along mountain paths with Indian warriors as they assault fortified positions in the dead of night. Learn to fear a one-armed SS-Major guilty of some of the most atrocious war-crimes in the European theater. All these stories and more pack the pages of this faced-paced, action-heavy history, taking readers inside one of the most important, and least discussed, campaigns of World War Two.
About the Author
CHRISTIAN JENNINGS has been an investigative journalist, historical, science and current affairs author and war correspondent for over twenty years, working mainly in the Balkans, Africa and EU countries. From 1999 - 2012 he wrote for such publications as The Economist, The Daily Telegraph, The Scotsman and Wired magazine. He is the author of Bosnia's Million Bones. Originally from the UK, he has lived in Kosovo, Bosnia, Macedonia and Serbia. He currently lives in Turin, Italy.
Praise For At War on the Gothic Line: Fighting in Italy, 1944-45…
"An excellent book refreshingly unlike most tedious, confusing war stories. Jennings brings his easy journalistic style and thorough fact finding to one of the most desperate conflicts of the war, teaching us how war stories should be written." —Kirkus Reviews [starred review]
"Investigative journalist Jennings does an excellent job of examining the efforts to dislodge the Germans by interweaving the personal experiences of several soldiers with the broader aspects of the Italian campaign.... This is a fine survey of a frequently neglected and still controversial element of WWII." —Booklist
"An excellent account of the final eleven months of the war in Italy, worth reading by anyone interested in the Second World War." —strategypage.com
"Jennings's book is military history at its most engaging." —The Spectator (UK)
"At War on the Gothic Line is a compelling account of the epic battles to liberate Northern Italy in 1944-45 that have been previously ignored by historians. Superbly told through the eyes of the men and women who fought there - Allies, Germans and partisans - this outstanding book admirably recounts one of the bloodiest chapters in the longest military campaign of World War II." —Carlo D'Este, author of Patton: A Genius for War
"At War on the Gothic Line is a beautifully written, compulsively readable testament to astonishing courage - and utter barbarism - on a lesser-known front during the Second World War. Jennings evokes with great narrative skill the triumph and tragedy of the brutal fighting in Italy. A vital contribution to a great gap in our knowledge." —Paul Hamm, author of Hiroshima, Nagasaki
"Jennings's chronicle of one of World War II's least-known campaigns is as thrilling as it is erudite. The author never lets his readers catch their breath: as an experienced war correspondent, he knows what it is like to be close to the fighting and there are moments when you can all but smell the cordite. Vivid, enthralling and authoritative, At War on the Gothic Line is military history at its pacy best." —John Hooper, author of The Italians.
"This book is fascinating: a vivid and refreshingly new and important angle on the war in Italy."
—Professor David Stafford, author of Mission Accomplished: SOE and Italy 1943-'45