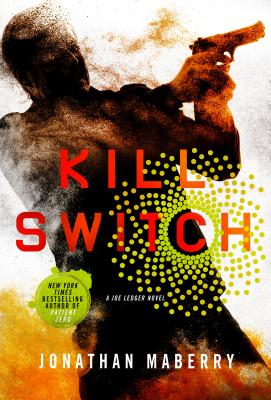 Kill Switch (Paperback)
A Joe Ledger Novel
St. Martin's Griffin, 9781250065254, 544pp.
Publication Date: April 26, 2016
Other Editions of This Title:
Digital Audiobook (4/25/2016)
CD-Audio (4/26/2016)
* Individual store prices may vary.
Description
What do you do when the power goes off?

Terrorists have acquired a terrible new weapon that can crash the power grid and plunge America into a new dark age. A coordinated attack is planned to shut out all lights and emergency services to ten major cities. Planes will fall, hospitals will go dark, no help will come.

And in that terrible darkness, a dreadful plague will be released. If the lights go off, nothing can stop the bioweapon from killing millions.

At the same time, the intelligence services are being torn apart from within by a plague of betrayal, murder, and suicide. Even the Department of Military Sciences is stumbling in its response to the growing threat.

Time is running out, and Joe is being hunted by a terrifying new kind of assassin. A team of remote viewers have the ability to take over any person and turn ordinary citizens into killers. Where can you turn when there's nobody left to trust?

Joe Ledger faces his deadliest challenge as friends and allies become enemies and all of the lights begin to go out…
About the Author
JONATHAN MABERRY is a New York Times bestselling and multiple Bram Stoker Award-winning author of Deep Silence, Kill Switch, Predator One, Code Zero, Fall of Night, Patient Zero, the Pine Deep Trilogy, The Wolfman, Zombie CSU, and They Bite, among others. His V-Wars series has been adapted by Netflix, and his work for Marvel Comics includes The Punisher, Wolverine, DoomWar, Marvel Zombie Return and Black Panther. His Joe Ledger series has been optioned for television.
Praise For Kill Switch: A Joe Ledger Novel…
"Is Kill Switch recommended? Yes, without question...Series fans will certainly have much to celebrate in this new Joe Ledger entry. Those who somehow missed or avoided the series are urged to seek out the previous titles and join the ranks of those who so admire this wonderfully unique, suspenseful and endlessly ingenious series." — Bookgasm

"A blend of sf, horror, technothriller, and crime novel, this is one of the best adrenaline reads out there." —Library Journal, starred review

"Maberry evokes Lovecraftian elements and modern-day thriller tropes to craft a fast-paced tale that incorporates a wide array of conspiracy theories, fringe culture motifs, and Cold War weird science into a sort of kitchen-sink affair that shouldn't work nearly as well as it does." — Publishers Weekly

Praise for Predator One:

"An action-packed read that sets hearts pumping and fingers quickly turning those pages... enjoy this thrilling roller-coaster ride of a book." —The San Francisco Chronicle (4 1/2 stars)

"A harrowing addition to the Joe Ledger series...fast-paced and gripping." —SFSignal.com (4 1/2 stars)

Praise for Jonathan Maberry:

"Top grade horror fiction." —Booklist, (Starred Review) on Code Zero

"A fast-paced, brilliantly written novel. The hottest thriller of the New Year! In The King of Plagues, Jonathan Maberry reigns supreme." —Brad Thor, #1 New York Times bestselling author of The Athena Project

"Wow! From the first page of Patient Zero you know you're in the hands of a master...This is high-concept with brains, action with soul and fast paced tension with psychological insight." —M.J. Rose - bestselling author of The Reincarnationist

"The Ledger novels are exciting sf thrillers that just happen to involve stuff that's a little out there...Readers familiar with the series will need no prodding to check this new one out." —Booklist, starred review on Extinction Machine

"Capt. Joe Ledger of the Department of Military Sciences returns for his exuberant eighth adventure (after 2015's Predator One), in which he once again has to prevent a disaster of apocalyptic proportions.... With his enemies able to hijack brains and turn allies into traitors, Joe can't trust anyone, turning this into one of his most personal missions yet. Maberry evokes Lovecraftian elements and modern-day thriller tropes to craft a fast-paced tale that incorporates an a wide array of conspiracy theories, fringe culture motifs, and Cold War weird science into a sort of kitchen-sink affair that shouldn't work nearly as well as it does. The sheer intensity of the story takes a heavy toll on Ledger and his team, leaving it anyone's guess where Maberry will take readers next" - Publisher's Weekly
or
Not Currently Available for Direct Purchase