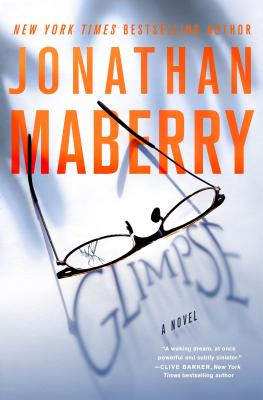 Glimpse
A Novel
Hardcover

* Individual store prices may vary.
Other Editions of This Title:
Digital Audiobook (3/26/2018)
Paperback (3/10/2020)
CD-Audio (3/27/2018)
Description
"A waking dream, at once powerful and subtly sinister." —Clive Barker, New York Times bestselling author

A chilling thriller that explores what happens when reality and nightmares converge, and how far one will go to protect the innocent when their own brain is a threat.
From New York Times bestselling author Jonathan Maberry comes a novel that puts a bold new spin on the supernatural thriller.
Rain Thomas is a mess. Seven years an addict and three difficult years clean. Racked by guilt for the baby she gave up for adoption when she was sixteen. Still grieving for the boy's father who died in Iraq. Alone, discarded by her family, with only the damaged members of her narcotics anonymous meetings as friends. Them, and the voices in her head.
One morning, on the way to a much-needed job interview, she borrows reading glasses to review her resume. There is a small crack in one lens and through that damaged slice of glass she sees a young boy go running down the aisle of the subway train. Is he screaming with laughter or just screaming? When she tries to find the boy, he's gone and no one has seen him.
The day spins out of control. Rain loses whole chunks of time. She has no idea where her days went. The voices she hears are telling her horrible things. And even stranger things are happening. Unsure whether she is going insane, Rain sets out to find answers to long buried questions about an earlier life she has avoided for years—in what may be the most dangerous collision of all, that between reality and nightmare.
How far will one person go to save someone they love?
Read on at your own peril...
Praise For Glimpse: A Novel…
"A waking dream, at once powerful and subtly sinister." —Clive Barker, New York Times bestselling author
"Jonathan Maberry delivers a perfect suspenseful, edge-of-your-seat tale that will keep you riveted! I've 'Glimpsed' the future and no one tells it better than Jonathan. Jonathan Maberry is always my go-to author for awesome!" —#1 New York Times bestseller Sherrilyn Kenyon
"With Glimpse, Jonathan Maberry carries us into the fertile liminal zone between waking and dreaming. Monsters dwell there, but so do some unexpected heroes, and none is more unexpected than the tragically damaged Rain Thomas. Rain has been living her life just one small drop of hope away from hopelessness, yet it's upon her slender and storm-tossed frame that Maberry hangs the fate of his world. She's a poignant creation, and it's impossible not to root for her as she makes her way through this wonderful (and wonder-filled) nightmare of a book." —Scott Smith, New York Times bestselling author of The Ruins
"Jonathan Maberry is a shapeshifter of a writer, able to get into his characters so deeply that we never doubt his truth for a minute." —Charlaine Harris, #1 International bestseller
"Jonathan Maberry—a master of his craft—has written something exceptional with GLIMPSE ... a relentless and seductive book with real bite, and real heart. Rain's courage inspires, and Doctor Nine will haunt our dreams." —Rachel Caine, New York Times bestselling author of The Great Library series
"Award-winning author Jonathan Maberry hits it out of the park with his latest chilling tour de force, GLIMPSE. He channels the best of Stephen King and Peter Straub to create a harrowing story of a mother and a lost child who are besieged by dark forces shadowing their pasts and futures. Raw and beautiful, detailed and explosive, here is a story that will haunt you long after you close the book."
—James Rollins, New York Times bestseller of The Seventh Plague
"With GLIMPSE, Jonathan Maberry has crafted an extraordinary novel that transcends genre. He has created characters we long to know and touch; and a plot that twists and turns with each engrossing page. GLIMPSE is horror and a dose of fantasy. It's also about people, the human experience, both the frailty and strength that may come to the fore under extraordinary circumstances. A must read for those who love suspense and horror—or, just a remarkably excellent work of fiction!" —New York Times bestseller Heather Graham,
"Once again Jonathan Maberry weaves an unsettling tale that creeps its way into the shadowland between dreams and reality. Like footsteps behind you in a dark alley he masterfully ignites the flames of imagination giving a GLIMPSE of horrors that inhabit this world and the others." —Tony Eldridge, Producer of The Equalizer
"Jonathan Maberry knows how to turn words into cold sweat, and GLIMPSE shows him at his finest. Always one of our best suspense writers, Maberry delivers an engrossing, pulse-pounding novel about twisted lives and a determined, haunted woman readers will not soon forget. You will be as captivated by his characters as they are captivated by their fears and their destiny." —Kevin J. Anderson, #1 New York Times bestselling author of ETERNITY'S MIND.
"A woman suddenly discovers she is losing chunks of time and seeing things. Alarmed by specters glimpsed from the corner of her vision and the depths of her subconscious, she embarks on an unnerving search for answers, only to encounter a disturbing truth she could never have imagined. Eerie and evocative, GLIMPSE, by Stoker-award-winning Jonathan Maberry, is a nightmarish ride into the human psyche."—David Morrell, New York Times bestselling author of Murder As a Fine Art
"Maberry consistently delivers delightful dread, and GLIMPSE is his scariest yet." — #1 New York Times bestseller Scott Sigler
"Nobody brings the pain in modern horror like Jonathan Maberry. He's a master at the height of his game, and seeing what he does next is always an absolute delight." —Seanan McGuire, New York Times bestselling author
"So scary I wished I could close my eyes as I read it—but I didn't want to miss a word. The brilliant Jonathan Maberry—evocative, chilling and somehow terrifyingly knowledgeable about the dark necessities of the human heart—will grab you by the throat and not let go. Fair warning—leave the lights on." —Hank Phillippi Ryan, Agatha, Anthony and Mary Higgins Clark Award winning author
"With Glimpse, Jonathan Maberry, once again, expertly weaves together the genres of crime and horror to create a fun, poignant, and powerful novel sure to please his longtime fans and win him some new ones." —criminalelement.com
St. Martin's Press, 9781250065261, 352pp.
Publication Date: March 27, 2018
About the Author
JONATHAN MABERRY is a New York Times bestselling and multiple Bram Stoker Award-winning author of Deep Silence, Kill Switch, Predator One, Code Zero, Fall of Night, Patient Zero, the Pine Deep Trilogy, The Wolfman, Zombie CSU, and They Bite, among others. His V-Wars series has been adapted by Netflix, and his work for Marvel Comics includes The Punisher, Wolverine, DoomWar, Marvel Zombie Return and Black Panther. His Joe Ledger series has been optioned for television.
or
Not Currently Available for Direct Purchase