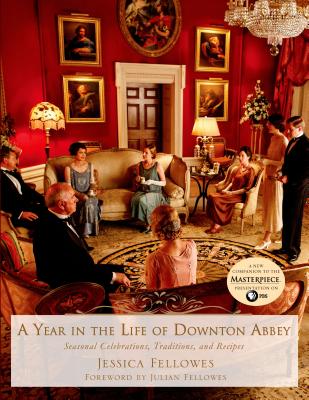 A Year in the Life of Downton Abbey (Hardcover)
Seasonal Celebrations, Traditions, and Recipes (The World of Downton Abbey)
St. Martin's Press, 9781250065384, 320pp.
Publication Date: October 28, 2014
* Individual store prices may vary.
Description
It's 1924 and there have been many changes at Downton Abbey since the family and their servants first welcomed us there twelve years ago. A generation of men has been tragically lost at the front; children are once again breathing new life into the great house; a chauffeur now sits at the Grantham dinner table; and skirt hems continue to rise.
Still, in the midst of all this upheaval, many things at Downton remain largely unchanged. Nanny still holds sway in the nursery, and there are still summer fetes to be organized, menus to be planned, and farms to be run.
This gorgeous book explores the seasonal events and celebrations of the great estate—including house parties, debutantes, the London Season, yearly trips to Scotland, the sporting season, and, of course, the cherished rituals of Christmas. Jessica Fellowes and the creative team behind Downton Abbey invite us to peer through the prism of the house as we learn more about the lives of our favorite characters, the actors who play them, and those who bring this exquisite world to real life.
A Year in the Life of Downton Abbey is packed full of exclusive new photographs, with a delicious array of traditional British recipes adapted for modern kitchens: kedgeree, orange marmalade, asparagus tarts, cream of watercress soup, Irish stew, lemon barley water, meringues with red berries, parmesan straws, Christmas pudding with brandy butter and more. From the moment when the servants light the fires against the chill of January, through the last family game of charades and the servants' Christmas ball, this magnificent book invites us to take part in twelve months in the life of Downton Abbey.
About the Author
JESSICA FELLOWES is the
New York Times
and
Globe and Mail
bestselling author of
The World of Downton Abbey.
Formerly the Deputy Editor of
Country Life,
she has also been a columnist for the
London Paper.
Jessica also writes for the
Daily Telegraph, Telegraph Weekend, The Lady
and
Sunday Times Style,
and lives with her family in London.
Julian Fellowes is the Emmy Award-winning writer and creator of Downton Abbey and the winner of the 2001 Academy Award for Best Original Screenplay for Gosford Park. He also wrote the screenplays for Vanity Fair and The Young Victoria. He is the bestselling author of Snobs and Past Imperfect. His other works include The Curious Adventure of the Abandoned Toys and the book for the Disney stage musical of Mary Poppins.
As an actor, his roles include Lord Kilwillie in the BBC Television series Monarch of Glen and the 2nd Duke of Richmond in Aristocrats, as well as appearances in the films Shadowlands, Damage, and Tomorrow Never Dies.
He lives in London and Dorset, England.
Praise For A Year in the Life of Downton Abbey: Seasonal Celebrations, Traditions, and Recipes (The World of Downton Abbey)…
"Downton Abbey is a cultural phenomenon, [with] many and varied famous fans." —The Daily Beast
"This series has a connoisseur's eye for the most exquisite emblems of privilege and breeding and a fan's gusto for intrigue and melodrama." —The New York Times
"Gorgeous color photos from the set (with all those fabulous clothes on display)...A great page turner--while wearing white gloves, of course, darling." —Star Tribune on The Chronicles of Downton Abbey