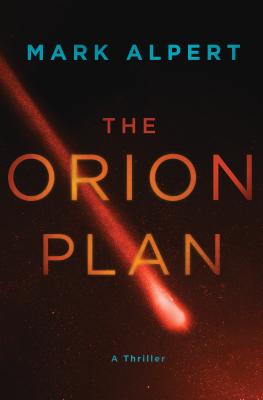 The Orion Plan (Hardcover)
A Thriller
Thomas Dunne Books, 9781250065414, 336pp.
Publication Date: February 16, 2016
* Individual store prices may vary.
Description
Scientists thought that Earth was safe from invasion. The distance between stars is so great that it seemed impossible for even the most advanced civilizations to send a large spaceship from one star system to another.
But now an alien species—from a planet hundreds of light-years from Earth—has found a way.
A small spherical probe lands in an empty corner of New York City. It soon drills into the ground underneath, drawing electricity from the power lines to jump-start its automated expansion and prepare for alien colonization.
When the government proves slow to react, NASA scientist Dr. Sarah Pooley realizes she must lead the effort to stop the probe before it becomes too powerful. Meanwhile, the first people who encounter the alien device are discovering just how insidious this interstellar intruder can be.
In The Orion Plan, Mark Alpert presents a fascinating story of first contact with an alien intelligence far beyond what we can imagine.
About the Author
MARK ALPERT, author of the internationally bestselling thriller Final Theory and its sequel, The Omega Theory, is a contributing editor at Scientific American. His work has also appeared in Fortune Magazine, Popular Mechanics and Playboy. He lives in Manhattan with his wife and two children.
Praise For The Orion Plan: A Thriller…
Praise for The Orion Plan
"One of the best writers after Michael Crichton at transforming futuristic science into believable fiction." —Kirkus Reviews
"Readers of Michael Crichton and James Rollins should enjoy this one." —Booklist

Praise for Mark Alpert
"Mark Alpert knows his stuff and proves it yet again in The Furies. History, science, and witchcraft blend seamlessly into a taut, riveting new thriller that explores the secrets buried in our genetic code. From its frightening start to its explosive ending, this book had my fingers tightening ever harder on its pages. Here's a great story, expertly told." —James Rollins, New York Times bestselling author
"Alpert has a knack for making unbelievable things seem not only plausible but also completely real.... Alpert's carefully constructed alternate history of witchcraft —and sorcery, too—is very clever. Good stuff." —Booklist on The Furies
"Alpert does a superb job of balancing the action and the science.... He's delivered his best book to date, and comparisons to Michael Crichton are warranted." —Associated Press on Extinction
"Extinction is a book which will have a wide appeal to many fans of different authors, whether they like Daniel Wilson, Tom Clancy, or Ray Kurzweil." —Wired.com
"Scientific hubris leads to an apocalyptic threat in this strong near-future thriller." —Publishers Weekly on Extinction
"Mark Alpert's novels just keep getting better and better. He is truly the heir to Michael Crichton, writing cutting-edge science-based thrillers that will keep you obsessively turning the pages. Extinction is brilliant, a believable premise that not only feels plausible but will probably come true in one form or another. Which is terrifying. I highly recommend it." —Douglas Preston, #1 bestselling author
or
Not Currently Available for Direct Purchase