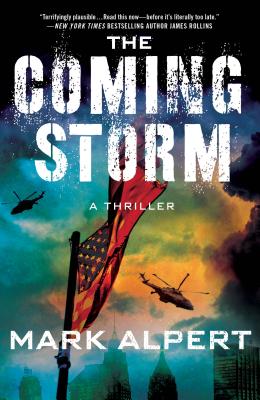 The Coming Storm (Hardcover)
A Thriller
St. Martin's Press, 9781250065421, 336pp.
Publication Date: January 8, 2019
Other Editions of This Title:
Digital Audiobook (1/7/2019)
* Individual store prices may vary.
Description
"This novel isn't just ripped from the headlines, it's an alarm bell ringing from the near-future, a prescient warning of where we're headed next. Read this now--before it's literally too late." - New York Times bestselling author James Rollins
America is on the brink of collapse, devastated by a brutal government trying to silence its citizens, in The Coming Storm, the next action-packed thriller from Mark Alpert.
New York City, 2023: Rising seas and superstorms have ravaged the land. Food and electricity are scarce. A dangerous Washington regime has terrorized the city, forcing the most vulnerable and defenseless people into the flood-ravaged neighborhoods. The new laws are enforced by an army of genetically enhanced soldiers, designed to be the fiercest and cruelest of killers. Genetic scientist Dr. Jenna Khan knows too much about how these super-soldiers were engineered: by altering the DNA sequence in ways that could change the fabric of humanity.
Escaping arrest and on the run, Jenna joins forces with a genetically enhanced soldier gone rogue and a Brooklyn gang kingpin to resist the government's plan to manipulate the DNA of all Americans. The race is on to stop the evil experiment before it spreads the genetic changes…and transforms the human species forever.
"THE COMING STORM illustrates a terrifying near future that has a direct line of sight to the politics and crises of today...there's no doubt the book should make us sit up and listen." - The Big Thrill
About the Author
MARK ALPERT, author of the internationally bestselling thriller Final Theory and its sequel, The Omega Theory, is a contributing editor at Scientific American. His work has also appeared in Fortune Magazine, Popular Mechanics and Playboy. He lives in Manhattan with his wife and two children.
Praise For The Coming Storm: A Thriller…
Praise for Extinction
Alpert does a superb job of balancing the action and the science. He's delivered his best book to date, and comparisons to Michael Crichton are warranted. —Associated Press
One part 24, one part Six Million Dollar Man, and one part Terminator, Alpert's AI thriller is executed with inventiveness and skill. —Wired.com
As intelligent as it is frightening, a riveting journey to the next stage of evolution. Here is a cautionary tale for the new millennium, fraught with suspense and political intrigue. A chilling punch to the gut. —James Rollins, New York Times bestselling author of Bloodline
A scary, sophisticated thriller that will give survivalists plenty to think about. —Kirkus Reviews
"Mark Alpert's novels just keep getting better and better. He is truly the heir to Michael Crichton, writing cutting-edge science-based thrillers that will keep you obsessively turning the pages. Extinction is brilliant, a believable premise that not only feels plausible but will probably come true in one form or another...I highly recommend it." —Douglas Preston, #1 bestselling author of Impact and Blasphemy
Mark Alpert's novel Extinction is an amazing ride through a very possible near future. —Vernor Vinge, author of A Fire Upon the Deep
"[Extinction] is quite a ride...Alpert's best writing yet!" —J. Richard Gott, author of Time Travel in Einstein's Universe
"Scientific hubris leads to an apocalyptic threat in this strong near-future thriller." —Publishers Weekly
"Michael Crichton was a master of the genre. Extinction, by Mark Alpert, is almost as good." —The Globe and Mail