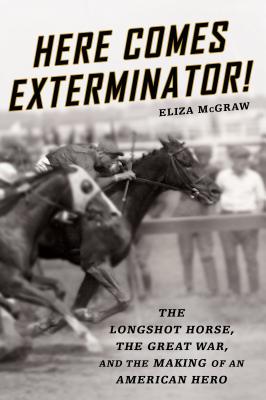 Here Comes Exterminator! (Hardcover)
The Longshot Horse, the Great War, and the Making of an American Hero
Thomas Dunne Books, 9781250065698, 336pp.
Publication Date: April 26, 2016
Other Editions of This Title:
MP3 CD (9/20/2016)
* Individual store prices may vary.
Description
The father of the Kentucky Derby called him "the greatest all-around Thoroughbred in American racing history." Sportswriter Grantland Rice simply called him "the greatest racehorse." Now Eliza McGraw tells the story of how a gangling, long-shot Kentucky Derby winner named Exterminator became one of the most beloved racehorses of all time.
Here Comes Exterminator! draws readers into the golden age of racing, with all its ups and downs, the ever-involving interplay of horses and people, and the beauty, grace, fear, and hope that are a daily part of life at the track. Caught between his hotheaded millionaire owner and his knowledgeable trainer, Exterminator captured fans' affection with his personality, consistency, athleticism, and heart.
Exterminator's staggering success would dramatically change the world of horse-racing. He challenged the notion that American horses would never live up to Europe's meticulously charted bloodlines and became a patriotic icon of the country after World War I. And his longevity established him as one of the public's most beloved athletes, paving the way for equine celebrities like Seabiscuit and showing Americans they could claim—and love—a famous racehorse as their own.
About the Author
ELIZA MCGRAW is a contributing writer for EQUUS magazine, an American Horse Publications award winner, and author of two instructional equestrian books. Her horse-related work has appeared in The Chronicle of the Horse, The Blood-Horse, and Mid-Atlantic Thoroughbred. She contributes to the New York Times' racing blog, writes a column for Raceday 360, and frequently writes for The Washington Post. She teaches writing at American University and earned degrees in English from Columbia University and Vanderbilt University.
Praise For Here Comes Exterminator!: The Longshot Horse, the Great War, and the Making of an American Hero…
"Before there was Seabiscuit there was Exterminator, the long-shot Thoroughbred that won the Kentucky Derby--and America's devotion--in 1918. His story is a wonderful ride." —People
"Exterminator's come-from-behind story captured hearts (and still-standing records, such as 33 stakes wins by a North American thoroughbred) as told in this deeply researched profile." —Garden and Gun
"A great read if you like horse racing and want to learn what life was like in the early 1900s, when newspapers were king, people named Vanderbilt, Hancock and Belmont were famous owners and horses were big news." —Eric Sondheimer, The Los Angeles Times
"A beguiling tale of an ungainly gelding—"gawky, awkward, and practically lop-eared,"—who held the racing world in thrall during his career (1917–24) and still holds the record of 33 stakes wins by a Thoroughbred raced in North America."
—Booklist
"Readers who couldn't get enough of Laura Hillenbrand's Seabiscuit will welcome this new title; with its colorful cast of characters and exciting down-to-the-wire action, it should have wide appeal."
—Library Journal
"Before Seabiscuit, before Man o' War, Exterminator raced his way into America's heart. Eliza McGraw shows how his cheerful endurance still wins our enduring love."
—Dorothy Ours, author of Battleship: A Daring Heiress, a Teenage Jockey, and America's Horse
"A great book about a great horse."
—Susan Richards, author of Chosen by a Horse
"Eliza McGraw's story of an unflappable, courageous, almost-overlooked champion, Exterminator – who shocked the racing world when he won the Derby in 1918 – is an exciting, mud-soaked, triumphant journey from starting gate to finish line."
—Martha Sherrill, author of Dog Man: An Uncommon Life on a Faraway Mountain
"This horse deserves a monument! Eliza McGraw takes us on an incredible ride on the back of one amazing horse. With impeccable research she meticulously weaves this lost tale of a champion of champions. A great horse - a great story - a truly great read!"
—Robin Hutton, author of the New York Times bestseller Sgt Reckless: America's War Horse
"Yes, there was another race horse who also stole America's heart. And now there is a book that artfully captures this love affair between 'The Galloping Hatrack' and his fans. Meticulously researched and a compelling read about the golden age of horse racing. Well done, Ms. McGraw. You don't even have to be a horse nut to love this book."
—Jody Jaffe, author of the Natalie Gold series