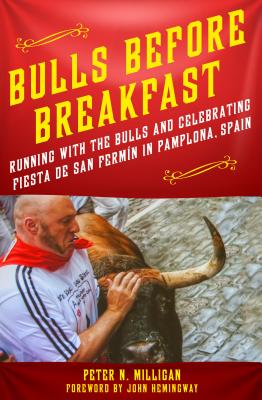 Bulls Before Breakfast
Running with the Bulls and Celebrating Fiesta de San Fermín in Pamplona, Spain
Hardcover

* Individual store prices may vary.
Description
Ever since Ernest Hemingway popularized the fiesta de San Fermín with the publication of The Sun Also Rises in 1926, the world has been enthralled with the concept of running with the bulls. For millions, running with the bulls remains on their bucket list, and for Hemingway fans it is a lifelong dream. For Peter N. Milligan, it is a way of life. Part memoir and part travel guide, Bulls Before Breakfast recounts Milligan's many adventures in Pamplona, Spain. In his dozen years of visiting the fiesta de San Fermín, Milligan has run with the bulls over 70 times and accumulated stories both thrilling and terrifying.
Bulls Before Breakfast is the definitive guide to Pamplona, its famed fiesta, and the surrounding Kingdom of Navarra. It is also a memoir of two brothers running with the bulls and exploring every corner of the city, the countryside, the mountains, the beaches, and the famed restaurants of the Basque hinterland. The book focuses on local knowledge, and the hidden mysteries of this closed, private culture and community. Milligan has slowly pried open this trove of secrets over the past twelve years, all while refining the art of getting between the horns of a massive, perfect Spanish killing machine, el toro bravo, and running for his life.
Praise For Bulls Before Breakfast: Running with the Bulls and Celebrating Fiesta de San Fermín in Pamplona, Spain…
"Waggishly smart." - The Telegraph
"A wonderful book that makes you want to go to Pamplona." - Frommers.com
"Readers will be inspired." - NPR
"Milligan is an expert." - CNN
"Dive into...terrifying true stories about the running of the bulls." - Travel+Leisure
"Milligan projects a sense of grandeur onto the event. . . . A colorful portrait of Pamplona." - Chicago Tribune
"A thoroughly engaging look at the celebration itself, its long history, and the ongoing controversy that surrounds it. Beyond the bulls, this is an exhilarating travelogue of two brothers exploring the Navarra region, its food and customs and hidden treasures, and the relationships that they form and reinforce each year as they applaud one another and prepare for the next season." —Booklist
"Best book out about everything you need to know before running with the Pamplona bulls whose author survived 70 runs. A must read if only to learn that every manhole cover there is ice. Exciting even for the non-runner. Should be Pamplona's Official Book on the subject." —Robert F. Burgess, Hemingway's Paris and Pamplona: Then and Now
"At times hilarious at others deadly serious, Bulls Before Breakfast is a fun, vivid, informative, lyrical and authentic exploration of the San Fermin Festival through the lens of an author who truly loves it. Both Peter Milligan and his brother Ari suffered serious injury and returned to Pamplona to run with the bulls which is one of the truest tests of a bull runner. Both of these Mozos are the real thing and I feel very honored to run bulls with them." —Bill Hillmann, American bull runner and author
"I have been covering San Fermin for years now for the Associated French Press and Peter is by far the foreigner I have met with the deepest knowledge, the most passion, and the greatest respect for the fiesta and all its traditions." —Daniel Silva, AFP
"A rip-roaring, bull running, bovine snorting, tale of a city, people and fiesta I love. But it's so much more. It's the story of two brothers travels in and around the beautiful countryside and coast that surrounds Pamplona, full of history and humour, antics and anecdotes, glorious mishaps and gorgeous meals. A truly moveable feast!" —Tim Pinks, thirty-year-plus fiesta veteran and author of the Pamplona tale Bullseye
"One of the world's most colourful events told by one of its most colourful characters. I first met Peter Milligan and his friend Ari in the thick of the crowd while I was making a documentary about the festival. We were about to be charged at by Bulls. Peter explained that we were "not running against them – we're running with them… joining the herd on their last morning in the sun as they go to the bullring." As Peter tells of his experience of Bulls Before Breakfast its clear he is just regular guy who is simply passionate about what he does. It has nothing to do machismo; but is a unique experience that forges friendships in no other way. Peter takes you right into the narrow streets and gives a heart thumping account of what it's like to run with bulls and he also offers a superb guide to the intricacies of the festival. It is a brilliant, vivid and very personal account and perfect reading for anyone thinking of running with the bulls in Pamplona. Not that they should." —Jason Farrell, Sky News journalist, filmed "Running with the Bulls" by FilmWorks
St. Martin's Press, 9781250065735, 320pp.
Publication Date: June 30, 2015
About the Author
Peter N. Milligan graduated Rutgers University School of Law - Camden with a Doctorate of Law (JD) and founded the Law Office of Peter N. Milligan, Esq. in 1996, where he has represented more than 2,000 clients. Peter has traveled much of the country and the world. As of this writing, Peter has run with the bulls 70 times in Pamplona, Spain. The annual fiesta de San Fermín is his all-consuming passion. Peter resides in a suburb of Philadelphia with his wife and two sons.
or
Not Currently Available for Direct Purchase