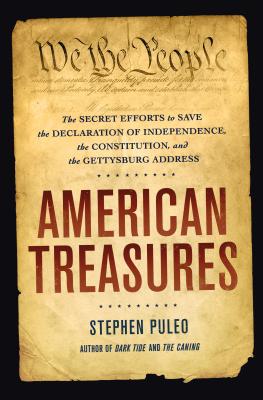 American Treasures
The Secret Efforts to Save the Declaration of Independence, the Constitution, and the Gettysburg Address
Hardcover

* Individual store prices may vary.
Other Editions of This Title:
Digital Audiobook (8/29/2016)
Paperback (9/5/2017)
Compact Disc (8/30/2016)
Compact Disc (8/30/2016)
MP3 CD (8/30/2016)
MP3 CD (8/30/2016)
Description
Stephen Puleo's American Treasures is a narrative history of America's secret efforts to hide its founding documents from Axis powers, and its national tradition of uniting to defend the definition of democracy.

A Boston Globe Bestseller

On December 26, 1941, Secret Service Agent Harry E. Neal stood on a platform at Washington's Union Station, watching a train chug off into the dark and feeling at once relieved and inexorably anxious. These were dire times: as Hitler's armies plowed across Europe, seizing or destroying the Continent's historic artifacts at will, Japan bristled to the East. The Axis was rapidly closing in.

So FDR set about hiding the country's valuables. On the train speeding away from Neal sat four plain-wrapped cases containing the documentary history of American democracy: the Declaration of Independence, the Constitution, the Gettysburg Address, and more, guarded by a battery of agents and bound for safekeeping in the nation's most impenetrable hiding place.

American Treasures charts the little-known journeys of these American crown jewels. From the risky and audacious adoption of the Declaration of Independence in 1776 to our modern Fourth of July celebrations, American Treasures shows how the ideas captured in these documents underscore the nation's strengths and hopes, and embody its fundamental values of liberty and equality. Stephen Puleo weaves in exciting stories of freedom under fire - from the Declaration and Constitution smuggled out of Washington days before the British burned the capital in 1814, to their covert relocation during WWII - crafting a sweeping history of a nation united to preserve its definition of democracy.
Praise For American Treasures: The Secret Efforts to Save the Declaration of Independence, the Constitution, and the Gettysburg Address…
"captivating...American Treasures brings to life the creation and safeguarding of the United States' establishing documents, along with other irreplaceable items that have gone undercover in times of crisis....For the historically minded reader, American Treasures holds a wealth of knowledge about the founding documents and a celebration of American life, liberty and the pursuit of happiness. As Puleo himself puts it, the history of these documents is the history of America." - Parade

"A novel perspective on American history that focuses on the story of the country's founding documents and the Americans who composed, safeguarded, and preserved them for the benefit of future generations. A fast moving presentation and a solid retelling of an inspiring story." - Kirkus

"An engrossing account of the creation, consecration, and conservation of the documents that defined American democracy. Readers will take away a new appreciation for the vision and savvy of government officials in finding ways to insure such treasures would survive" - Library Journal

"In a series of useful and interesting tangents, Puleo describes some of the histories of these documents and occasional threats they have faced since their creation. This unique, easily digestible, and well-researched saga is ideal for general readers" - Booklist

"His vivid and detailed descriptions of characters and events will make readers feel like they are in the room with historic figures." - Patriot Ledger
St. Martin's Press, 9781250065742, 432pp.
Publication Date: August 30, 2016
About the Author
STEPHEN PULEO is the author of several books, including Dark Tide (Beacon, 2003); Due to Enemy Action (Lyons Press, 2005); and The Caning (Westholme, 2012). Formerly an award-winning newspaper reporter, he is a contributor to American History magazine, among other publications. He holds a master's degree in history and has taught history at Suffolk University in Boston. He resides in Massachusetts with his wife, Kate.
or
Not Currently Available for Direct Purchase