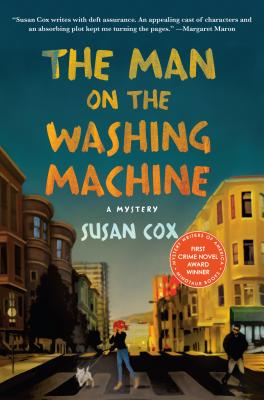 The Man on the Washing Machine (Hardcover)
A Mystery (Theo Bogart Mysteries #1)
Minotaur Books, 9781250065803, 304pp.
Publication Date: December 15, 2015
* Individual store prices may vary.
Description
When former party girl and society photographer Theophania Bogart flees to San Francisco to escape a high-profile family tragedy, a series of murders drags her unwillingly out of hiding. In no time at all she discovers she's been providing cover for a sophisticated smuggling operation, she starts to fall for an untrustworthy stranger, and she's knocked out, tied up and imprisoned. The police are sure she's lying. The smugglers are sure she knows too much. Her friends? They aren't sure what to believe.
The body count is rising and Theo struggles to find the killer before she's the next victim or her new life is exposed as an elaborate fraud. But the more deeply entangled she becomes, the more her investigation is complicated by her best friend, who is one of her prime suspects; her young protégé, who may or may not have a juvie record; her stern and unyielding grandfather, who exposes an unexpected soft center; and the man on her washing machine, who isn't quite what he appears, either.
Susan Cox's Minotaur Books/Mystery Writers of America First Crime Novel Award-winning novel is a charming debut with wacky, colorful characters and a delightfully twisted mystery.
About the Author
SUSAN COX is a former journalist. She has also been marketing and public relations director for a safari park, a fundraiser for non-profit organizations, and the president of the Palm Beach County (Fla.) Attractions Association. She considers herself transcontinental and transatlantic, equally at home in San Francisco and Florida and with a large and boisterous extended family in England. She frequently wears a Starfleet communicator pin, just in case. Her first novel, The Man on the Washing Machine, won the 2014 Minotaur Books/Mystery Writers of America First Crime Novel Competition.
Praise For The Man on the Washing Machine: A Mystery (Theo Bogart Mysteries #1)…
"When Theo Bogart's privileged London life turns into a national horror story, she flees to San Francisco, hoping for peace and anonymity, only to realize that one of her friendly neighbors is a murderer. Debut novelist Sue Cox writes with deft assurance. She has created an appealing cast of characters and an absorbing plot that kept me turning the pages well past midnight." —Margaret Maron
"A quirky, aromatic concoction of mystery, suspense, and humor. Theophania Bogart is a welcome addition to the cozy genre: A Brit with a mysterious past, intent on reinventing herself in San Francisco. Her adopted neighborhood includes a host of eccentric shopkeepers and engaging characters, including a teenage hoodlum with a big heart and a tubby dog named Lucy. Add a dash of romance, a dollop of humor, a gift for English understatement, and The Man on the Washing Machine makes for a heavenly-scented, fabulous read!" —Juliet Blackwell
"A fast-paced page turner. Sue Cox's debut novel will delight mystery aficionados." —Carolyn Hart
"I adored this book. Get your hands on it as fast as you can, and open the door to Susan Cox's inimitable heroine, Theo Bogart. With an Englishwoman's wit, and a San Franciscan's grit, Theo plunges through more murderous turns and twists than San Francisco's famed Lombard Street." —Louise Ure
"What a terrific debut! No wonder this is a winner. It has just what I enjoy most in a mystery - pace, punch and nonstop fun." —Peter Lovesey
"Intriguing characters. Snappy writing. A San Francisco setting to die for. Reading The Man on the Washing Machine is like having a spa day with the wittiest woman in town." —Susan Dunlap
"The Man on the Washing Machine is perfect for anyone who loves a mystery with a twist of wry, an engaging, witty sleuth with a dark secret, an unusual setting and yes indeed, a man on the washing machine! I hope this exceptional debut is the first of many clever, murderous outings for the terrific Theo Bogart." —Gillian Roberts
or
Not Currently Available for Direct Purchase