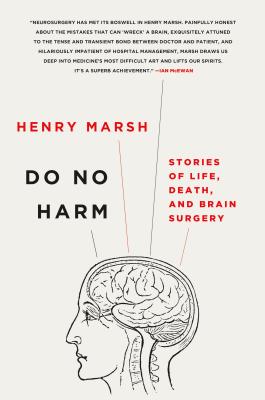 Do No Harm
Stories of Life, Death, and Brain Surgery
Hardcover

* Individual store prices may vary.
Other Editions of This Title:
Digital Audiobook (5/25/2015)
CD-Audio (5/26/2015)
Paperback (6/7/2016)
Description
The Instant New York Times best seller!

Riveting. ... [Marsh] gives us an extraordinarily intimate, compassionate and sometimes frightening understanding of his vocation. - The New York Times

Winner of the PEN Ackerley Prize
Shortlisted for both the Guardian First Book Prize and the Costa Book Award
Longlisted for the Samuel Johnson Prize for Non-Fiction
A Finalist for the Pol Roger Duff Cooper Prize
A Finalist for the Wellcome Book Prize
A Financial Times Best Book of the Year
An Economist Best Book of the Year
A Washington Post Notable Book of the Year
A New York Times Notable Book of the Year

What is it like to be a brain surgeon? How does it feel to hold someone's life in your hands, to cut into the stuff that creates thought, feeling, and reason? How do you live with the consequences of performing a potentially lifesaving operation when it all goes wrong?

In neurosurgery, more than in any other branch of medicine, the doctor's oath to "do no harm" holds a bitter irony. Operations on the brain carry grave risks. Every day, leading neurosurgeon Henry Marsh must make agonizing decisions, often in the face of great urgency and uncertainty.

If you believe that brain surgery is a precise and exquisite craft, practiced by calm and detached doctors, this gripping, brutally honest account will make you think again. With astonishing compassion and candor, Marsh reveals the fierce joy of operating, the profoundly moving triumphs, the harrowing disasters, the haunting regrets, and the moments of black humor that characterize a brain surgeon's life.

Do No Harm provides unforgettable insight into the countless human dramas that take place in a busy modern hospital. Above all, it is a lesson in the need for hope when faced with life's most difficult decisions.
Praise For Do No Harm: Stories of Life, Death, and Brain Surgery…
"Neurosurgery has met its Boswell in Henry Marsh. Painfully honest about the mistakes that can 'wreck' a brain, exquisitely attuned to the tense and transient bond between doctor and patient, and hilariously impatient of hospital management, Marsh draws us deep into medicine's most difficult art and lifts our spirits. It's a superb achievement." —Ian McEwan

"His love for brain surgery and his patients shines through, but the specialty--shrouded in secrecy and mystique when he entered it--has now firmly had the rug pulled out from under it. We should thank Henry Marsh for that." —The Times

"When a book opens like this: 'I often have to cut into the brain and it is something I hate doing' – you can't let it go, you have to read on, don't you? Brain surgery, that's the most remote thing for me, I don't know anything about it, and as it is with everything I'm ignorant of, I trust completely the skills of those who practice it, and tend to forget the human element, which is failures, misunderstandings, mistakes, luck and bad luck, but also the non-professional, everyday life that they have. Do No Harm: Stories of Life, Death and Brain Surgery by Henry Marsh reveals all of this, in the midst of life-threatening situations, and that's one reason to read it; true honesty in an unexpected place. But there are plenty of others – for instance, the mechanical, material side of being, that we also are wire and strings that can be fixed, not unlike cars and washing machines, really." —Karl Ove Knausgaard, Financial Times

"Marsh, one of our leading neurosurgeons, is an eloquent and poetic writer. Do No Harm offers a rare behind-the-scenes look at the most mysterious part of human life. His descriptions of neurosurgery are at once fascinating and illuminating; a gripping memoir of an extraordinary career." —Daniel J. Levitin, PhD, author of The Organized Mind and This Is Your Brain On Music

"Do No Harm is a penetrating, in-the-trenches look at the life of a modern day neurosurgeon. With rare and unflinching honesty, Henry Marsh describes not only the soaring triumphs but the shattering tragedies that are so much a part of every surgeon's life. A remarkable achievement." —Michael J. Collins, author of Hot Lights, Cold Steel

"A soul-baring account of a practical-minded neurosurgeon who does not suffer fools or believe in souls, who favors 'statistical outlier' over 'miracle,' and who admits that a surgeon's ultimate achievement is marked by patients who 'recover completely and forget us completely.' Readers, however, will not soon forget Dr. Marsh." —Katrina Firlik, author of Another Day in the Frontal Lobe: A Brain Surgeon Exposes Life on the Inside

"Do No Harm is a fascinating look into the reality of life as a neurosurgeon. The personal patient stories are gripping, providing the public with an incredibly candid look into the imperfections and perfections of a dedicated neurosurgeon. In Do No Harm, Dr. Marsh takes the reader into deep into a world of life, death, and everything in between. Despite it all, Dr. Marsh's commitment to his patients and his profession never wavers. You will not be able to put this book down." —Paul Ruggieri M.D., surgeon and author of Confessions of a Surgeon and The Cost of Cutting

"Do No Harm dares to reveal the raw and tender humanity behind brain surgery. Each story invites readers into the private thoughts of a neurosurgeon and astonishes them with the counterintuitive compassion required in the operating room." —Michael Paul Mason, author of Head Cases

"The outstanding feature of Do No Harm is the author's completely candid description of the highs and lows of a neurosurgical career. ... For its unusual and admirable candor, wisdom and humor, Do No Harm is a smashing good read from which the most experienced and the most junior neurosurgeons have much to learn." —AANS Neurosurgeon

"This thoughtful doctor provides a highly personal and fascinating look inside the elite world of neurosurgery, appraising both its amazing successes as well as its sobering failures." —Publishers Weekly (Starred Review)

"One of the best books ever about a life in medicine, Do No Harm boldly and gracefully exposes the vulnerability and painful privilege of being a physician." —Booklist (starred review)

"Henry Marsh peels back the meninges to reveal the glistening, harrowing, and utterly compelling world of neurosurgery. Top-notch medical writing." —Danielle Ofri, MD, PhD, author of What Doctors Feel: How Emotions Affect the Practice of Medicine

"The Knausgaard of neurosurgery. ... Marsh writes like a novelist." —The New Yorker

"Riveting. ... [Marsh] gives us an extraordinarily intimate, compassionate and sometimes frightening understanding of his vocation." —The New York Times

"A surprising page-turner, Do No Harm is British neurosurgeon Henry Marsh's mesmerizing memoir of his career highlights and low points, a fascinating blend of derring-do and humble pie. ... Marsh's prose is elegant and seasoned, with no false bravado. ... Marsh's gift for words helps him share his sense of wonder with his readers." —Seattle Times

"There's no denying the vicarious thrill of peeking over a neurosurgeon's shoulder in the operating theater, and Dr. Marsh delivers plenty of hospital drama. Yet what sticks with you are the moments when the lens flips and the field of view widens, and you realize that, in learning about the minutiae of neurosurgery, you're gaining insight into life itself." —The Wall Street Journal

"Like the work of his fellow physicians Jerome Groopman and Atul Gawande, Do No Harm offers insight into the life of doctors and the quandaries they face as we throw our outsize hopes into their fallible hands." —The Washington Post
Thomas Dunne Books, 9781250065810, 288pp.
Publication Date: May 26, 2015
About the Author
HENRY MARSH studied medicine at the Royal Free Hospital in London, became a Fellow of the Royal College of Surgeons in 1984 and was appointed Consultant Neurosurgeon at Atkinson Morley's/St George's Hospital in London in 1987. He has been the subject of two documentary films, Your Life in Their Hands, which won the Royal Television Society Gold Medal, and The English Surgeon, which won an Emmy, and is the author of the New York Times bestselling memoir Do No Harm and NBCC finalist Admissions. He was made a CBE in 2010.
Coverage from NPR