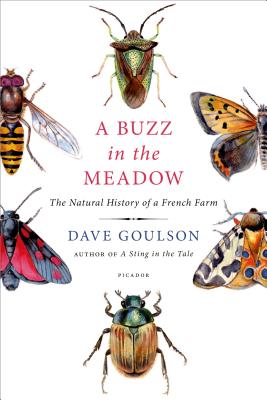 A Buzz in the Meadow (Hardcover)
The Natural History of a French Farm
Picador, 9781250065889, 288pp.
Publication Date: April 28, 2015
Other Editions of This Title:
Paperback (5/10/2016)
* Individual store prices may vary.
Description
A CONSERVATIONIST'S DEEPLY PERSONAL AND FASCINATING REFLECTION ON OWNING AND REVITALIZING A FARM IN RURAL FRANCE

A Sting in the Tale, Dave Goulson's account of a lifetime studying bees, was a powerful call to arms for nature lovers everywhere. Brilliantly reviewed, it was shortlisted for the Samuel Johnson Prize for the best nonfiction book of the year, and debuted the already renowned conservationist's ability to charm and educate, and tell an absorbing story.
In A Buzz in the Meadow, Goulson returns to tell the tale of how he bought a derelict farm in the heart of rural France. Over the course of a decade, on thirty-three acres of meadow, he created a place for his beloved bumblebees to thrive. But other creatures live there too, myriad insects of every kind, many of which Goulson had studied before in his career as a biologist. You'll learn how a deathwatch beetle finds its mate, why butterflies have spots on their wings, and see how a real scientist actually conducts his experiments.
But this book is also a wake-up call, urging us to cherish and protect life in all its forms. Goulson has that rare ability to persuade you to go out into your garden or local park and observe the natural world. The undiscovered glory that is life in all its forms is there to be discovered. And if we learn to value what we have, perhaps we will find a way to keep it.
About the Author
Dave Goulson studied biology at Oxford University and is now a professor of biological sciences at the University of Stirling. He founded the Bumblebee Conservation Trust in 2006, whose groundbreaking conservation work saw him win the Heritage Lottery Award for Best Environmental Project and "Social Innovator of the Year" from the Biology and Biotechnology Research Council in 2010.
Praise For A Buzz in the Meadow: The Natural History of a French Farm…
"In A Buzz in the Meadow: The Natural History of a French Farm, his delightfully sunny and fascinating follow-up to A Sting in the Tale, he takes inquisitive travelers and science enthusiasts alike on a tour through his meadow and rural French home-from the dirt up." —The New York Times Book Review

"An engrossing and surprisingly endearing book. If [Goulson's] delightful narrative doesn't cure your entomophobia, nothing will." —The New York Times Book Review (special issue)

"[Goulson] woos readers with a personable tale of his well-intentioned (and sometimes bumbling) mission to create a natural environment for wildlife on a derelict plot of French land....VERDICT: A strong voice in the canon of environmental writings, a call to action, and a relatable narrative combine in this highly recommended text." —Library Journal (starred review)

"An artful blend of E.O. Wilson and Barry Lopez, with a continental flair. Backyard naturalists, regardless of their locale, will delight in the amiable company of this witty and thoughtful guide." —Booklist

"A charming but serious warning of the need to protect our natural ecosystems from heedless, irreversible destruction." —Kirkus Reviews

"Professor Goulson is a most amusing writer, which makes the times when he is being minatory all the more striking. His comic technique is the deftly inserted word....It is laughter, or rather the joy of life that is expressed by laughter, that knits A Buzz in the Meadow together." —The Guardian (London)

"Warm and delightful: I frequently found myself wanting to put it down to go bird and bee watching, to find for myself the species [Goulson] discusses." —NPR on A Sting in the Tale

"A Sting in the Tale is both a whodunit as well as a revealing study of a bug on whom we depend a great deal." —The Seattle Times on A Sting in the Tale

"Goulson transforms what could be dry material with stinging wit." —New York Post on A Sting in the Tale

"Much more than a series of romantic wildlife walks. [Goulson] is adept at weaving profound biological concepts in with accounts of nearly being shot off the root by a zealous French huntswoman or decoding the head-banging knocks of deathwatch beatles....A trove of elegant and fascinating ecological tales" —BBC Wildlife

"A wonderfully entertaining one-man campaign to persuade the world to love his favourite animals--insects....A Buzz in the Meadow feels like a cross between Peter Mayle's stories of homemaking in Provence and Gerald Durrell's works of domestic mayhem among Greek wildlife. Goulson has a similar comic gift to both, but although he may choose to play it for laughs, he is the cleverest fool you could imagine....A blend of scientific evidence and amusing travelogue that engages the reader as much with the eloquence of its argument as with the charm of its good humour." —The Mail on Sunday (London)

"You can't help but be charmed by the intriguing stories of paper moths, spotted butterflies and mating praying mantises." —The Big Issue (London)

"Goulson writes with infectious enthusiasm....His passionate interest in and defence of the planet's smallest inhabitants makes the book a lively and important read." —The Sunday Times (London)

"Goulson's sheer enthusiasm for wild things, from the lizards, mice and spiders that share his home to minute tardigrades or 'water ears' that wriggle in damp moss cushions, is that of a young Gerald Durrell on Corfu....He engages his readers in clear, lively language, avoids jargon and presents his thesis with a smile, not doom and gloom." —The Spectator (London)

"What begins as a scientfici rural idyll becomes a journey into the imperilled territory of Rachel Caron's Silent Spring." —Nature

"[Dave Goulson] is among the brightest things in the recent flowering of composite works of nature writing, natural history and memoir." —The Observer (London)
or
Not Currently Available for Direct Purchase