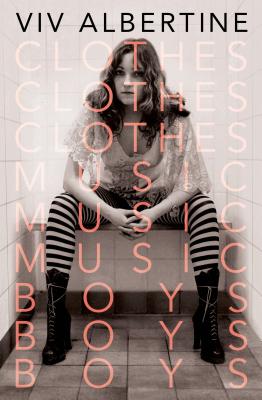 Clothes, Clothes, Clothes. Music, Music, Music. Boys, Boys, Boys.
A Memoir
Hardcover

* Individual store prices may vary.
Other Editions of This Title:
Paperback (8/27/2019)
Paperback (12/17/2015)
Description
A feminist musician icon, Viv Albertine reveals the rocking, uncompromising story of her life on the front lines at the birth of the British punk movement and beyond in this exciting, humorous, and inspiring memoir.

Selected by the New York Times as one of the 50 Best Memoirs of the Past 50 Years

Viv Albertine is a pioneer. As lead guitarist and songwriter for the seminal band The Slits, she influenced a future generation of artists including Kurt Cobain and Carrie Brownstein. She formed a band with Sid Vicious and was there the night he met Nancy Spungeon. She tempted Johnny Thunders…toured America with the Clash…dated Mick Jones…and inspired the classic Clash anthem "Train in Vain." But Albertine was no mere muse. In Clothes, Clothes, Clothes. Music, Music, Music. Boys, Boys, Boys., Albertine delivers a unique and unfiltered look at a traditionally male-dominated scene.

Her story is so much more than a music memoir. Albertine's narrative is nothing less than a fierce correspondence from a life on the fringes of culture. The author recalls rebelling from conformity and patriarchal society ever since her days as an adolescent girl in the same London suburb of Muswell Hill where the Kinks formed. With brash honesty—and an unforgiving memory—Albertine writes of immersing herself into punk culture among the likes of the Sex Pistols and the Buzzcocks. Of her devastation when the Slits broke up and her reinvention as a director and screenwriter. Or abortion, marriage, motherhood, and surviving cancer. Navigating infidelity and negotiating divorce. And launching her comeback as a solo artist with her debut album, The Vermilion Border.

Clothes, Clothes, Clothes. Music, Music, Music. Boys, Boys, Boys. is a raw chronicle of music, fashion, love, sex, feminism, and more that connects the early days of punk to the Riot Grrl movement and beyond. But even more profoundly, Viv Albertine's remarkable memoir is the story of an empowered woman staying true to herself and making it on her own in the modern world.
Praise For Clothes, Clothes, Clothes. Music, Music, Music. Boys, Boys, Boys.: A Memoir…
"Ms. Albertine's book is wiry and cogent and fearless.… Her book has an honest, lo-fi grace. If it were better written, it would be worse." —Dwight Garner, The New York Times

"Forget Katniss And Tris - Viv Albertine Is Your New Hero." —MTV.com

"A fully realized portrait of its author." —Rolling Stone, "10 Best Music Books of 2014"

"A memoir full of raw and uncompromising anecdote and opinion, Clothes, Clothes, Clothes. Music, Music, Music. Boys, Boys, Boys is an unflinching account of a life lived on the frontiers of experience, by a true pioneer." (#1 on the "Books of the Year 2014" —Rough Trade

"If you love this music, then this book is fascinating and essential. If not, it's fascinating and inspiring. It's occasionally coarse, and often terribly funny and fun." —Amazon.com, Amazon Book of the Month Featured Debut

"This honest, defiant book from the Slits' guitarist is a lesson in how to look back from middle age…no self-aggrandisement, but occasionally a quiet, defiant pride in her achievements. The list of which, I am delighted to note from her latest music, continues to grow." —The Guardian (UK)

"[A] blazing, rueful memoir." —Greil Marcus for barnesandnoble.com

"Viv Albertine's tell-all is a razor-edged self-portrait...Shot through with humor, pathos, and sheer strength of will, Albertine tells of finding early influences in Captain Beefheart and John Lennon, going to art school with on-and-off lover Mick Jones and a nascent Adam Ant, and forming the Flowers of Romance with Sid Vicious, all before pivotally teaming up with the Slits....The book is a testament to Albertine's unbending passion for music that's uplifting and heartbreaking in equal measure." —Pitchfork, "2014 Gift Guide"

"The best rock memoir by some distance of 2014 wasn't written by a big name such as John Lydon or Bernard Sumner but by Viv Albertine." —The Guardian, "The Best Music Books of 2014"

"Crammed with wicked observations and keen memories -- especially what and whom she was wearing throughout her fashion-obsessed life -- Albertine's book is sharp and quick-witted. She knows her way around a sentence and exudes confidence. Like singer Marianne Faithfull's revelatory autobiography Faithfull which detailed her life as a '60s 'It' girl, Rolling Stones muse, junkie and chanteuse, Albertine throughout the decades questions assumptions of femininity, propriety and creativity." —The Los Angeles Times

"An extraordinarily candid chronicle…even the most casual fans will find it a captivating and very personal account of an artist's life, of overcoming the self-doubt that lingers even in the face of artistic triumph." —Future of Music Coalition, "Our Favorite Music Books of 2014"

"A profoundly unsparing and affectionate memoir… I haven't seen anything that captures the different sides of punks so well… there is an enormous tenderness to Albertine's memoir…Clothes is as great as the music was and deserves a place on the shelf beside London Calling." —Bookforum

"The Slits guitarist chronicles what it was like to live through punk's first wave. 57 Books to Read This Fall, Fall Preview Feature" —New York Magazine

"Funny, sad, and evocative." —Sunday Times, "Pop Music Book of the Year" (UK)

"A frank and fearless account of sex, drugs and life on the cultural frontline." —Esquire Weekly

"[A] bold, empowering work." —Publishers Weekly

"Viv from the get-go was fabulous, exciting, cool and inarguably integral to the history of punk. Her book, an eyewitness account of love, chaos and reflection, is a gender slashing, guitar smashing report from the radical front." —Thurston Moore

"I saw Viv Albertine of The Slits…How do I feel? Lucky….I realized I hadn't really witnessed fearlessness in a long time, at least not at a rock show. As one of my friends put it, more succinctly: 'This was one of the punkest things I have ever seen.'" —Carrie Brownstein (Portlandia) reviewing Viv Albertine show in Brooklyn for NPR Music in 2009

"Oh @viv_albertine I salute you. Such honesty!" —Nigella Lawson on Twitter

"Viv Albertine was a member of all-female punk band The Slits. That's a fascinating stroy in itself, but her upbringing and, more importantly, her frank and visceral style make this a really gripping read. Shocking and enjoyable." —The Bookseller (A Top 5 Monthly Bookseller Choice for June)

"While we see the world through Albertine's eyes, it's the rare, raw, glimpse into the birth of punk that makes this book so relevant…. Hearing the story from a woman's point of view makes for very interesting reading… The pace is sharp and punchy, just like punk lyrics… Rarely can a book be so personal yet still resonate with a whole movement--and beyond." —Stylist Magazine (UK)

"[Albertine's] book is both a bold chronicle of her personal ups and downs and a historical document that blows holes in the established punk narrative in which men are the major players and women merely window dressing." —The Independent (UK)

"'With a title that is an incantation and a picture of the gorgeous author on its cover, Viv Albertine's autobiography is quite something. It promises a punk snog'n'tell, but is a real tease: strident, uncertain, compelling, with a structure that jerks all over the place via snapshots of Albertine's life. This is maddening and magnificent all at the same time." —Suzanne Moore, The Guardian (UK)

"Unflinching, candid, revelatory: the perils of being a pioneer." —Jon Savage, award-winning author of England's Dreaming: Anarchy, Sex Pistols, Punk Rock, and Beyond

"A brutally honest book about the blood, guts, sweat and tears that went into becoming a woman in the Seventies. You don't need to be a fan of the Slits or even punk to be gripped from the off" —The Telegraph (UK)

"Her voice is important in the back story of women in British rock, but she is now as original and interesting an entertainer in words as in music." —The Times (UK)
Thomas Dunne Books, 9781250065995, 432pp.
Publication Date: November 25, 2014
About the Author
Songwriter and musician Viv Albertine was the guitarist in the hugely influential female punk band The Slits. A confidante of the Sex Pistols and the Clash, Viv was a key player in British punk culture. Alongside The Slits, she collaborated with numerous musicians, including Adrian Sherwood, before marking out a career in television and film production. After a hiatus of twenty-five years, Viv's first solo album, The Vermillion Border, was released in 2012 to great critical acclaim.