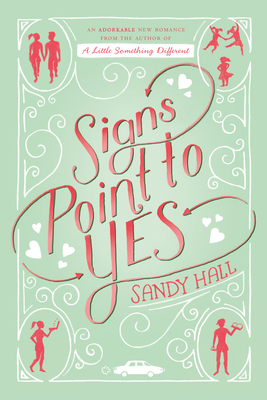 Signs Point to Yes (Paperback)
An Adorkable Romance
Swoon Reads, 9781250066008, 288pp.
Publication Date: October 20, 2015
* Individual store prices may vary.
Description
From the author of A Little Something Different comes another delightfully adorkable contemporary teen novel filled with secrets, questions, and a little superstition.
If only Jane's Magic 8 Ball could tell her how to get through the summer. With her "perfect" sister, Margo, home for her "perfect" internship, Jane is not going to be able to spend the summer writing fan fiction, as she had planned. And her emergency babysitting job requires Jane to spend the whole summer in awkward proximity to her new crush, Teo, a nerdy-hot lifeguard with problems of his own. With his best friend out of town, Teo finds himself without anyone to confide in...except Jane. Will Jane and Teo be able to salvage each other's summer? Even the Magic 8 Ball doesn't have the answer...but signs point to yes.
Sandy Hall returns with her signature wit and charm in All Signs Point to Yes, a novel about love in all its forms.
Praise for Signs Point to Yes:
"An authentic teen voice with plenty of charm." —School Library Journal
"Funny and charming." —Booklist
"Another layered, super-charming romance from the author of A Little Something Different." —Melissa Albert, BNTeen Blog
"Hall does a great job of creating a budding romance while interjecting bits of comedy throughout the novel." —VOYA
About the Author
SANDY HALL is the author of A Little Something Different and Signs Point to Yes. She is a teen librarian from New Jersey, where she was born and raised, and has a BA in Communication and a Master of Library and Information Science from Rutgers University. When she isn't writing or teen librarian-ing, she enjoys reading, marathoning TV shows, and taking long scrolls through Tumblr.
Praise For Signs Point to Yes: An Adorkable Romance…
"Fun and original, Hall's sophomore novel has an authentic teen voice with plenty of charm. A standout addition to library shelves." —School Library Journal
"Funny and charming, all signs point to yes that this sweet story of love-whether in romance, friendship, or family-has something for everyone." —Booklist
"Another layered, super-charming romance from the author of A Little Something Different." —Melissa Albert, BNTeen blog
"Hall does a great job of creating a budding romance while interjecting bits of comedy throughout the novel." —VOYA
"If ever two people should get together, it's Gabe and Lea…The magnetic pull is so strong, in fact, that everyone they come into contact with can feel it, and it is through Gabe and Lea's interactions with others that their stories unfold…A fun, light romance that will appeal to male and female readers alike." —School Library Journal on A Little Something Different
"This is a sprightly first offering… the multi-person perspectives make for a clever hook. Romance with a twist." —Booklist on A Little Something Different
"A Little Something Different is perfect for YA readers who like cute, romantic contemporaries like those written by Stephanie Perkins, Jennifer E. Smith and Kasie West. I really enjoyed it--I want to hug it!--and am looking forward to reading more from Sandy Hall." —Wondrous Reads
"What a cute and sweet read. A Little Something Different is exactly that – a romance story that is different from any I've read before, and one that leaves you with a silly smile on your face. The perfect rainy-day read, that's for sure!" —Xpresso Reads