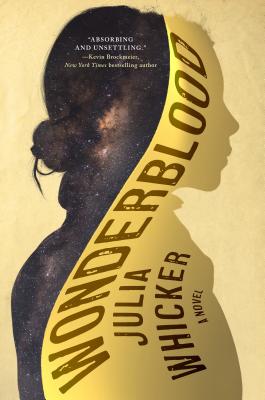 Wonderblood
A Novel
Hardcover

* Individual store prices may vary.
Other Editions of This Title:
Digital Audiobook (4/2/2018)
Description
Set 500 years in the future, a mad cow-like disease called "Bent Head" has killed off most of the U.S. population. Those remaining turn to magic and sacrifice to cleanse the Earth.

Wonderblood is Julia Whicker's fascinating literary debut, set in a barren United States, an apocalyptic wasteland where warring factions compete for control of the land in strange and dangerous carnivals. A mad cow-like disease called "Bent Head" has killed off millions. Those who remain worship the ruins of NASA's space shuttles, and Cape Canaveral is their Mecca. Medicine and science have been rejected in favor of magic, prophecy, and blood sacrifice.

When traveling marauders led by the bloodthirsty Mr. Capulatio invade her camp, a young girl named Aurora is taken captive as his bride and forced to join his band on their journey to Cape Canaveral. As war nears, she must decide if she is willing to become her captor's queen. But then other queens emerge, some grotesque and others aggrieved, and not all are pleased with the girl's ascent. Politics and survival are at the centre of this ravishing novel.
Praise For Wonderblood: A Novel…
"Whicker has imagined a fierce future...Dense, dark, haunting." —Booklist

"Whicker's debut sets the stage for a possible series full of bloodlust, court intrigue, and unforgettable characters. For fans of Emily St. John Mandel's Station Eleven, N.K. Jemisin's "Broken Earth" series, and George R.R. Martin's "Song of Ice and Fire" books." —Library Journal

"Told in rich, dense prose, Whicker's fantasy feels like a blood-steeped dream: there are mummified heads and a religion based on astronauts. The story's voice is vibrant and warm as the Florida heat" —Publishers Weekly

"In a novel marked with heart-stopping violence, brutal ritual, surreal courtly intrigue, and moments of piercing beauty, Julia Whicker imagines a clash of religions in a broken future. The characters, and their world, are unforgettable." —Vivien Shotwell, author of Vienna Nocturne

"Visceral and intense... a fully built-out world, rich with color and detail." —Charles Yu, author of How to Live Safely in a Science Fictional Universe

"Wonderblood is a richly imagined, otherworldly tale about the power - and danger - of faith and belief. I loved this book's beautiful prose and its startling, brutal, and poetic images; I loved its unique premise and masterful worldbuilding; I loved its complicated, passionate, and mesmerizing characters. Julia Whicker is a genius. This is a strange, daring, and masterful first novel." —Edan Lepucki, New York Times bestselling author of California

"A richly imagined broken world, one whose land, customs, history, and people are so sharply conveyed that they seem almost to have been incised into the page. I admire Wonderblood for its absorbing and unsettling story, for the uncanny beauty of its prose, but above all else for the daring of its tone, which begins in pitch darkness and brightens not to white but to a more lustrous black." —Kevin Brockmeier, New York Times bestselling author

"In fiercely glittering prose Julia Whicker evokes an apocalyptic America where medicine is illegal, everyone is searching for portents and only a severed head can offer protection. I love how richly imagined this novel is and I love how relentlessly it moves towards its amazing climax. Wonderblood is a stunning debut." —Margot Livesey, New York Times bestselling author
St. Martin's Press, 9781250066060, 304pp.
Publication Date: April 3, 2018
About the Author
Julia Whicker received her MFA at the Iowa Writers Workshop in 2006, where she won both the prestigious Capote Fellowship and the Teaching-Writing Fellowship. She's had her poetry published in the Iowa Review, Word Riot, and The Millions, among others, and has been nominated for a Pushcart Prize. A version of the first chapter of Wonderblood was published in the literary journal, Unstuck.
1. Which character did you like most and why? The least?
2. Do any of the characters grow or change over the course of the novel? If so, who do you think changed the most? Why?
3. Do you think the author did a good job building the novel's world? What stood out to you as well imagined? What felt unbelievable?
4. Did the violence of the world of Wonderblood seem like it could actually happen in the future, or was it fanciful? Why or why not? Does it matter to you?
5. The faith (and faithlessness) of several characters plays a significant role in this book. What does faith mean to you?
6. What elements of the story structure did you find especially pleasing or distracting? These could be things like point of view, chronology, passage of time, etc.
7. What scene did you like the best? The least?
8. What do you think the author's purpose was in writing this novel?
9. Women in this book play various important roles. How do you think the female characters (Aurora, Orchid, the Pardoness, Alyson, etc. . . .) challenged the male characters?
10. How did the female characters feel they were marginalized by the society in which they lived? Was gender important in your reading of this novel?
11. In Wonderblood, the future looks and feels a lot like the past. Why do you think the author chose to depict the future this way? Does this resonate with you, or is your vision of the future much different?
12. Were all plot points satisfyingly resolved for you, or were you left wanting more?
or
Not Currently Available for Direct Purchase