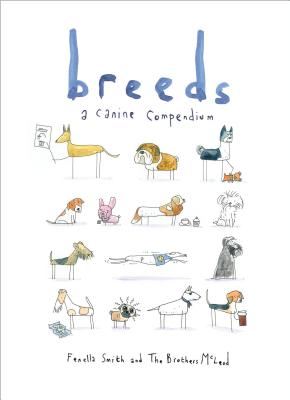 Breeds
A Canine Compendium
Hardcover

* Individual store prices may vary.
Description
The perfect gift book for dog lovers.
A charming guide to over 100 dog breeds, each depicted in a beautiful watercolor and accompanied by a description that wittily conveys its most salient characteristics. From Afghan to Yorkie, Breeds will make dog owners howl with delight.
Afghan Hound - Tall, elegant, and well behaved. Dogs with excellent eyesight. Have a tendency to be aloof. Will require shampoo (curlers optional).
Borzoi - The wolf-hunter of Russia, this wonderfully tall and swift breed was once used in hunts with packs of over a hundred dogs! These days they prefer to relax by the fire and read Tolstoy.
Corgi - Spirited yet loyal dogs. Unusually large ears, all the better for hearing with. The Queen's favorite and they know it.
Dachshund - A long, loving, and inquisitive dog. Slightly neurotic - will spend large parts of the day worrying.
Scottie - Elegant and compact. Trots along like a dressage horse. Deeply suspicious of other dogs, all of whom are considered lesser beings.
Flatiron Books, 9781250066336, 160pp.
Publication Date: October 20, 2015
About the Author
FENELLA SMITH runs an eponymous ceramics and homewares company. Her bohemian upbringing in the English countryside, was largely spent playing with her brothers and the dogs. Her collections, which include animal designs and flowers, are inspired by the memories of this childhood. She now lives in Hemley-on-Thames with her dog Bramble. Her products are stocked by Liberty and Bloomingdales among others.
THE BROTHERS MCLEOD are Fenella's older brothers and are BAFTA-winning illustrator-animators.
or
Not Currently Available for Direct Purchase